St. Louis Blues: 3 Players Who Must Step Up Against Los Angeles Kings in Game 3
May 3, 2012

Dilip Vishwanat/Getty Images
After dominating the San Jose Sharks in the first round of the 2012 Stanley Cup playoffs, the St. Louis Blues find themselves in an 0-2 hole to the Los Angeles Kings.
Now, they head out to LA to try to stop the bleeding in Game 3 on Thursday.
A lot must change for Ken Hitchcock's crew if the Blues are going to turn things around.
Let's take a look at three players who are going to have to step up their efforts for the Blues to avoid losing their third straight game.
Brian Elliott
It's hard to pin the Game 2 loss on Elliott, as both he and the entire defense played terribly.
But, five goals is still way too many to allow in one playoff game. He's going to have to increase his focus and pick up his teammates after their mistakes.
With Jaroslav Halak slowly getting healthier, this might be Elliott's last chance to save his starting goalkeeper position.
If he can hold the Kings to one or two goals on Thursday, there's no reason the Blues shouldn't win Game 3.
Alex Pietrangelo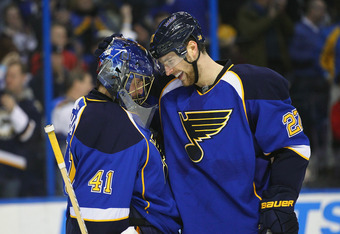 Dilip Vishwanat/Getty Images
Pietrangelo wasn't at all to blame for the Game 2 loss, since he was out with an injury.
Clearly though, this Blues team needs him more than they need any other defenseman.
Therefore, Pietrangelo is going to have to come back on Thursday and have a monster game.
He's going to need to be sharp on defense and also spark some offensive chances if the Blues are going to be more competitive in Game 3.  
David Backes
Backes is the captain of this team, and with that title comes greater responsibility.
It'll be his job in Game 3 to make sure his teammates are ready to play. If he can't get his teammates more involved in the first period on Thursday, it'll reflect poorly on him.
He has three points already this series, assisting on two of the Blues' three goals and scoring the other one, but he needs to motivate his teammates to play as hard as he's playing.
Great leaders make their teammates better, too. He needs to keep tapping away and wearing down the Kings' defense so his teammates can get better shots.