Falling out of Contention: NHL Players Likely Moving to Non-Playoff Teams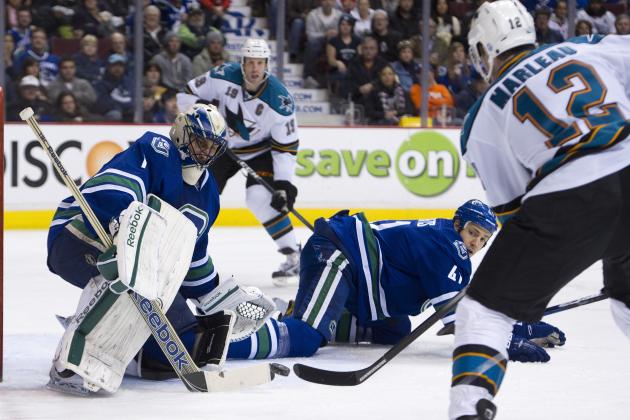 Rich Lam/Getty Images

The NHL is more competitive now than it has ever been.
Out west, the 10th-place Dallas Stars finished the regular season with only eight less regulation or overtime wins than the Presidents' Trophy-winning Vancouver Canucks. In the east, the 10th-place Tampa Bay Lightning finished only five regulation/OT wins behind the second-place Boston Bruins.
Both the Canucks and Bruins—the two teams that competed for last year's Stanley Cup—were eliminated in Round 1. With Chicago, Pittsburgh, Detroit, Anaheim, Carolina and Tampa Bay all missing the playoffs or losing in Round 1, the NHL will have an eighth different Stanley Cup champion in as many seasons.
In a league where success is so hard to come by, it's even harder to sustain. This applies primarily to teams, but it applies to players as well.
Over the past 13 seasons, 12 different players will have won the league MVP. And while being the best player in the league is almost impossible to maintain, being on the best team is difficult in its own right.
With only one champion every season of the 30 teams that want a championship, 29 teams will be disappointed. Of those 29 teams, 15 will have fallen short in the postseason and will be searching for ways to get over the hump. The 14 remaining teams will be doing everything they can to bring in better players.
Of course, the natural consequence of this is that certain individuals will move from good teams to bad teams. Let's take a look at four talented players who are likely to move from contenders to pretenders this summer.
Begin Slideshow

»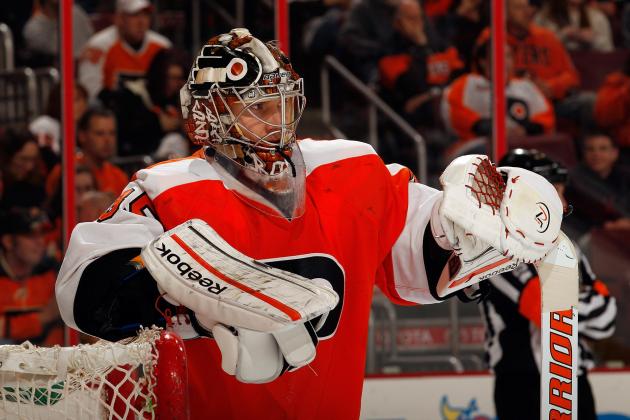 Rob Carr/Getty Images

Two years ago, the Philadelphia Flyers had the most hectic goaltending situation in the NHL.
Ray Emery, Michael Leighton and Brian Boucher all made at least 25 starts during the 2009-10 season. Things settled a little bit last year, but Boucher and rookie Sergei Bobrovsky still competed for starts.
Flyers general manager Paul Holmgren decided that this instability in net was keeping the team from playing up to its potential. So Holmgren moved two top-six forwards—Mike Richards and Jeff Carter—in order to clear cap space.
He then used this cap space to bring in veteran goaltender Ilya Bryzgalov.
Bryzgalov struggled early, and Bobrovsky received a good deal of playing time. But Bryzgalov seemed to settle in as the season progressed and looks like the No. 1 guy in Philly for the foreseeable future.
While Bobrovsky wouldn't make a terrible backup, the Flyers would be smart to move the 23-year-old this offseason. He has the talent to become a star in the NHL, and many struggling franchises looking to rebuild would love to have a guy like Sergei in net.
Several teams could be players in a Bobrovsky trade, but the Tampa Bay Lightning look like a practical fit. With two aging goaltenders—Dwayne Roloson and Mathieu Garon—who had insufficient 2011-12 seasons, the Lightning will look to start fresh in net.
Tampa will likely be actively shopping forward Ryan Malone, a talented winger who would bolster Philly's third line.
The Flyers, who are more in need of defense than offense, would likely want a guy like Eric Brewer in addition.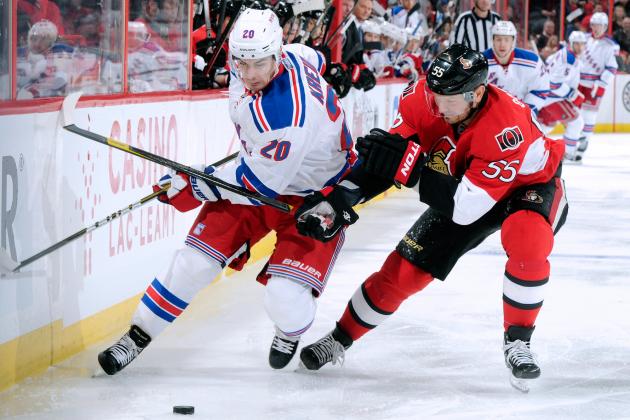 Richard Wolowicz/Getty Images

To almost everybody's surprise, the Ottawa Senators made the playoffs this season. They did so with a strong group of forwards, a young superstar defenseman and solid goaltending.
One thing they did not get was consistent defense from their blue line. So, why would the Sens move a high-profile defenseman like Sergei Gonchar?
Because he is part of the problem.
Gonchar turned 38 last month, and his age is clearly catching up with him. His cap hit of $5.5 million is also troublesome, as Ottawa wants to be as active as possible in free agency this summer.
So, the Senators could go two routes: Either dump Gonchar and his salary for minimal returns, or move Gonchar for another bloated contract.
The first option would mean Ottawa shipping Gonchar to a young team that's desperate for defense and flexible cap-wise. The New York Islanders, Winnipeg Jets and Colorado Avalanche all come to mind.
The second option could mean a trade to Edmonton for Shawn Horcoff.
The underachieving Oilers forward has an identical cap hit of $5.5 million, but Ottawa would be getting the player with more upside in the deal.
In return, the Oilers would get the veteran defenseman they so desperately need.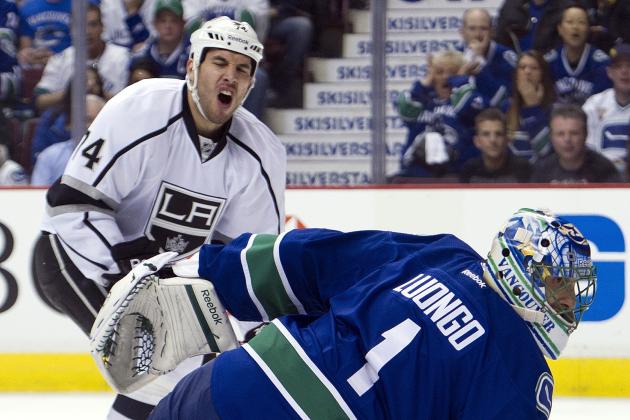 Rich Lam/Getty Images
Don't look back Bobby, Cory Schneider is gaining on you!
Roberto Luongo is a great goaltender. He has been for his whole career. And at age 33, Bobby Lu still has several high-quality seasons ahead of him.
Luongo himself has little to do with the reason Vancouver will actively try to move him this offseason. His backup, Cory Schneider, has everything to do with it.
Luongo posted another fine season in 2011-12, going 31-14-8 with a 2.41 GAA and a .919 save percentage. Meanwhile, Schneider was 20-8-1 with a 1.96 GAA and a .937 save percentage.
While having two high-quality netminders is a nice luxury, it has become clear in Vancouver that once-future starter Cory Schneider has become the now starter.
This means that Luongo and his $5.3 million cap hit—one of the NHL's largest hits among goaltenders—is not worth keeping around as a backup, especially considering the Canucks' complete lack of cap space.
So, who would be willing to pay Luongo?
Well, just about anyone without a great goaltender would have to at least entertain the idea. However, the Canucks do not want to send a potentially franchise-changing player to a team in the Western Conference.
In the Eastern Conference, only Tampa Bay, Winnipeg, Toronto and Florida seem to be in dire need of a No. 1 goaltender.
Because of Winnipeg's potential move to the Western Conference and Florida's history with Luongo, the Lightning and Maple Leafs appear to be the best suitors. Both teams have young talent at forward and on the back end, so it would be a matter of the Canucks naming their package.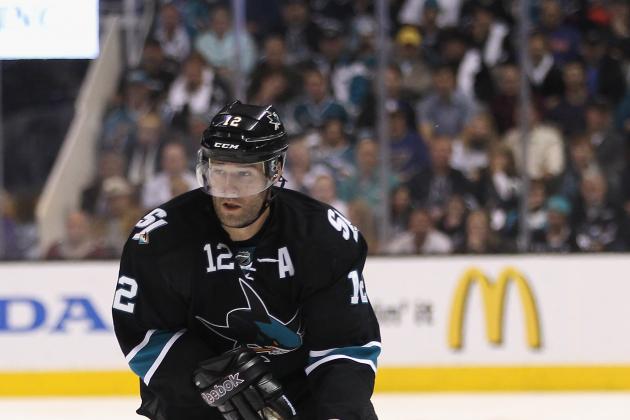 Ezra Shaw/Getty Images

Very few players have been with one team as long as Patrick Marleau has been with the San Jose Sharks. Marleau has played 14 seasons, 1,117 regular-season games and 129 playoff games with San Jose.
He's also been more productive than most any other player during that time. Marleau has scored 387 goals in his career, scoring 30 in all but one season since the lockout.
With that said, his days in teal are likely numbered.
Marleau fell into a terrible slump down the stretch during the 2011-12 season, and his team did as well. When the Sharks needed their leader to step up, he became invisible, and it almost cost the team a playoff berth.
Once San Jose made the playoffs, Marleau was no better—scoring zero points in the team's first-round loss.
The Sharks realize that they need to shake up their core. Marleau is the most likely player to be moved due to his disturbing struggles but high trade value.
Marleau's $6.9 million cap hit makes him fairly hard to move, but any young team looking for a dynamic winger and go-to scorer should be willing to take the risk, considering Marleau's rare ability and the fact that only two years remain on his contract.
San Jose would obviously want another big-time player in return, and a younger one at that.
This immediately places Rick Nash of the Columbus Blue Jackets at the top of the Sharks' wish list. The Buffalo Sabres are another potential player, as they could offer a top-six package of Drew Stafford and Derek Roy.