NHL Playoffs 2012: Keys to a Game 2 Victory for New York Rangers
April 29, 2012

Bruce Bennett/Getty Images
The New York Rangers started the Eastern Conference semifinals on the right foot by knocking off the Washington Capitals 3-1 on Saturday afternoon.
Despite the lackluster showing from the Caps, the Rangers know that this isn't a team to fool around with and that they need to put a stranglehold on the series tomorrow night at Madison Square Garden.
Here are three keys to an extremely important Game 2.
Continue to Shut Down Ovechkin
Ovechkin continued his disappointing 2012 playoffs with another average output. He played just over 21 minutes of ice time, but was largely ineffective throughout.
The Rangers limited Ovechkin to just one shot on goal the entire time he was on the ice. One of his shots went with during a 5-on-3, and another was blocked during that same power play.
The Capitals players know that they need to get more out of their players. Nicklas Backstrom said this:
"Yeah absolutely," Backstrom said. "We've got to start scoring goals. I think we created a couple chances tonight. We hit the post three times, I think. So it's tough, but overall we didn't play a good game. We've got to play a little tighter and just be better. That was not good enough."
Continue to Feed Chris Kreider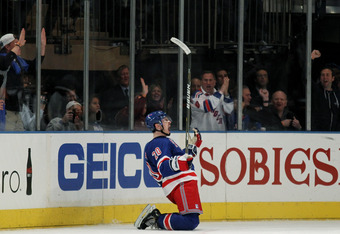 Bruce Bennett/Getty Images
Chris Kreider is on top of the world right now. Just three weeks ago, he led the Boston College men's hockey team to a national championship.
In Game 7 of the opening series against the Ottawa Senators, the 20-year-old netted the game-winner. On Saturday, he hammered home a would-be game-winner if he hadn't fed an assist to Brad Richards shortly after.
The Rangers need to keep feeding Kreider's ego, as success is the best thing for a young player in a crucial situation. If John Tortorella continues to give Kreider enough ice time, and Kreider continues to play like a seasoned pro, he could become a staple in Rangers' lore forever.
Finish Strong
The Capitals hung with the Rangers for the first two periods, grinding out the first 40 minutes to the tune of a 1-1 tie.
It was the third period when the rangers took control of the game, and it happened rather quickly.
Chris Kreider scored the second goal of his young NHL career seven minutes into the third. He followed up his slap shot goal by feeding the puck to Brad Richards, who put the biscuit in the basket, slipping it past Capitals' goalie Braden Holtby.
The Rangers could only muster eight shots through the opening two periods, but nearly matched that total with six in the final period alone.
In the final 20 minutes, the Rangers proved they were the better team in this contest, and if they want to take a commanding lead, they'll need to finish strong in Game 2.