Roger Federer: French Open Heartbreak Makes Him Underrated and Dangerous
May 14, 2012

Clive Brunskill/Getty Images
Roger Federer enters his bid for a 2012 French Open title with less fanfare and expectations than rivals Rafael Nadal and Novak Djokovic. Is it possible the Swiss Maestro is being overlooked?
Federer's journey through years of clay has been excruciating because of his talent and success. It's a special kind of pain resulted from brilliant play but bitter defeat. He is one of the greatest players ever on clay, but has been agonized and humbled unlike on any other surface.
The red clay is a kind of inferno with circles of suffering designed to ensnare and scorch even the greatest champions. It's like the underworld described in Dante's epic poem The Divine Comedy as the author's character journeyed through Hell.
Red clay inferno rewards only those who willfully submit their own stubbornness, and who yield to its implacable demands for patience.
It deadens the biggest serves and forehand shots in an oven of heat and humidity that linger or swirl on the whims of a solar wind. The tennis ball bounces high and lazy, daring the combatants to swing too hard and succumb to the forbidden greed of quick rewarded points.
The red clay has consumed many talented players who are unwilling to exchange strokes with an inferior opponent. Even the great Pete Sampras could not fight through its frustrations. It cannot be defeated, only survived.
But the clay-court journey of Federer has not been lost in limbo. It's a story of heartbreak, but also redemption and triumph, and it could lead to one more heavenly reward this June.
Purgatorio
Federer has won ten clay titles in 22 finals appearances, including 6-7 at ATP Masters 1000 and 1-4 at the French Open. Were it not for his 2-10 record vs. Nadal in these tournaments, he would have reversed the most glaring weakness to his otherwise immortal career. It's his Achilles' heel and a reminder of his humanity.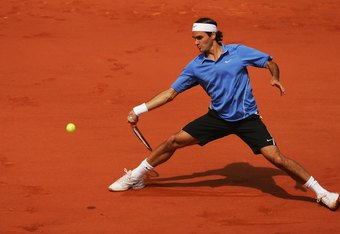 Matthew Stockman/Getty Images
In 2004, Federer was seeded No. 1 at the French Open, but wilted in the third round with a straight sets defeat to an injury-riddled Gustavo Kuerten.
Though he expressed his disappointment in losing to a proud former champion, Federer missed out on a sweep of all four Grand Slam titles. He also lost his only real chance to win the French Open before the devilish Nadal would arrive to torment his existence.
The 2006 French Open loss to Nadal was another heartbreaking interruption to a Grand Slam sweep. It was another illustration of too many unforced errors (51 to Nadal's 28), and a backhand that would never be able to solve Nadal's otherworldly topspin.
Even tennis legend Mats Wilander criticized Federer, saying he didn't have enough guts to play with Nadal.
The 2011 French Open may have been Federer's third-greatest French Open disappointment, off the heels of his impressive win over a streaking Novak Djokovic.
Federer started strong with 5-2 and set point, but missed a drop shot volley just wide of the court. Suddenly, his momentum evaporated underneath Paris's hot sun. Chalk it up to misfortune or inevitable defeat, but either way, it's a near impossibility to extend Nadal on clay.
Paradiso
In 2009, a year after Federer had plummeted to the depths of his worst defeat, Fate cleared a path by removing the invincible Nadal.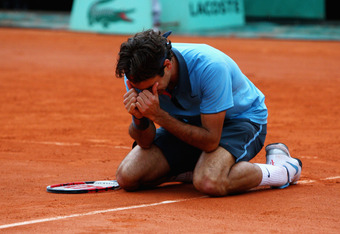 Ryan Pierse/Getty Images
Federer would not be denied. He passed through inferno with a straight-sets victory over proxy finalist Robin Soderling, and he finally seized the Holy Grail.
At long last, he had arrived in Paradise to the fulfillment of his personal quest to the joy of his supporters and to anyone who could appreciate the emotion of redemption in sports.
Federer who would later call it "maybe my greatest victory," could not contain tears of joy as he knelt upon Roland Garros clay for the only time to offer a benediction of gratitude in overcoming his career's greatest demand.
It was an important triumph for Roger Tennis, validating the claim that he could have won several more French Open titles if Nadal had not been an obstacle. It also meant his all-court skills could succeed on the surface normally anathema to all-court champions.
Resurrezione
While Djokovic chases the Novak Slam and Nadal looks to answer his own demons, Federer is no longer expected to roll to a French Open title. Many even dismiss Federer's chances. That would be a mistake, especially for an opposing player.
Without the demanding pressure of years past, Federer will be more at peace in playing his tennis. He can hit loose, aggressive and employ his various spins and shots.
Federer will still win points off his serve. He will also find occasions to hit winners, but his command of shots is more important than stubbornly blasting forehands. He can find success by placing drop shots and slicing forehands.
Federer can win points finding opportunities at the net. In the 2005 French Open semifinal against Nadal, he went to net 59 times. A year later, he won 73 percent of his 41 net forays.
Federer's variety may be enhanced this year with an improved backhand. Hitting earlier may not yield more winners, but hitting on the rise can take away many high topspin balls that have traditionally pinned him in the outer realms of baseline rallies. This could be the difference in a handful of points, games and a single set.
At age 30, Federer can choose to enjoy his wonderful success, and lately, has seemed to do so. He recently cited an increase of confidence in his game. Win or lose, he has found peace on the insufferable clay.
But Federer still has a burning desire to compete and win. He has a champion's heart and has every intention of winning one more time at Roland Garros.
Even Hell can be turned into Paradise.
CLICK HERE to read about Federer's Grand Slam victories