Roger Federer: 6 Ways His Beautiful Tennis Is Still the Best
May 7, 2012

Clive Brunskill/Getty Images
Roger Federer will play in the Matua Madrid Open, but he will not merely play tennis. He will personify another memory upon the millions he has already created.
There is method to legend, and even in the twilight of his career, Federer is an originator of beautiful tennis in a way no other player can replicate. Age is timeless as far as greatness is concerned.
Beautiful tennis will forever be synonymous with Federer. Tennis fans are versed in mortal descriptions of Federer such as "classical," "graceful" and "talented." There are limitless expressions of praise, but nobody else's tennis can be called as beautiful.
Federer has not just changed tennis, but has changed the way fans watch tennis. They watch him create points with new imagination. They watch him manipulate time itself, which will be a subtle refrain in the following piece.
My descriptions and observations come from yet another viewing of the semifinal match in the 2012 Australian Open versus Rafael Nadal. Even in defeat, Federer showed that there are at least six important ways his beautiful tennis is still the best.
I. Grand Entrance
Federer is one of the few tennis players I must watch before the match starts. He passes through the entranceway onto Centre Court of Rod Laver Arena with regal stoicism. His aura connects with the fans, but he is focused to give his next greatest effort, as if someone out there is watching him for the first or last time.
Other tennis players bounce when they warm up, but Federer floats. He sweeps his racket from low to extra high when loosening up, his body only giving abbreviated turns on the exchanges.
And his eyes are framed with a determined darkness. No wasted motion or thought. He has hit millions of shots, but even he must steady himself for a match.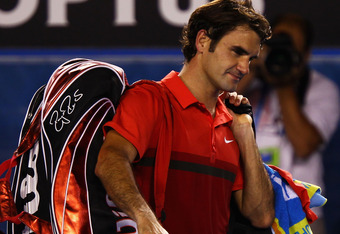 Clive Brunskill/Getty Images
The price of admission has already been met before the coin toss. We're watching him hit balls in a packed stadium through TV sets thousands of miles away, but we want to be there.
Had someone never seen tennis, they would find fulfillment watching Federer warm up.
Would any of us love to one day stumble upon some remote clay court in the outposts of Switzerland to watch an aging Federer quietly hit tennis balls? If you look hard enough, you will see this the next time he warms up.
II. Royal Serve
My favorite Federer serve is from the ad (left side) side of the court. It's more difficult for a right-hander to hit wide enough to pull the player off the court, but Federer is masterful.
He will toss the ball in the air, arch his back and glide slowly into the serve as if he still has a minute to decide where to place it. If the opponent cheats over too wide, a fluid 124 mph blast up the T will quickly end the point.
But the most exciting option is when Federer leans slightly in midair, like the Tower of Pisa, and directs the ball out wide to kiss the serving square line or bank it into the corner pocket.
Following the serve, Federer lands like a cat, and his feet are ready for anything on the right 75 percent of the court. If the ball comes back short, his forehand will control or end the point.
III. Kingly Composure
Tennis composure is more than outward behavior. It is inward coolness and nerve through split-second decisions and pressure-mounting attacks. It means employing his very best strokes at just the right amplitude. Federer's tennis genius is both a cause and effect from his tennis efficiency.
Early in the first set, Nadal pounds at his backhand, but Federer is unrattled. He's hitting the ball earlier, interrupting its high hop and sending it back with improved speed and depth. He is unafraid to hit winners.
In the midst of a deadlocked rally, he suddenly rifles one of the hardest backhands of his career, as if shot from a cannon. It tops the baseline and disappears before Nadal can even prepare his racket.
It's an astounding shot that stems from his courage to hit the shot. He can hit nearly as hard as Juan Martin del Potro, but he plays in so many other dimensions. Another time will call for another option, something soft and uneccentric, but just as efficient.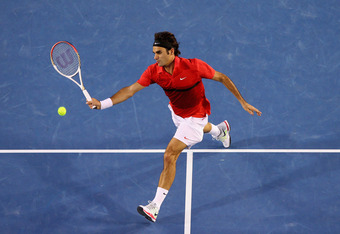 Cameron Spencer/Getty Images
IV. Magnificent Forehand
Great athletes in all sports manipulate the laws of time with their vision in those precious extra milliseconds. It's like a slow-motion replay that has been sped up. You can see it develop and end before you can reflect on its nuances.
When Federer hits his forehand, he lingers in the air as his hair flops to varying heights, depending upon the force he is poised to uncoil. Somehow he can wait and then still pull it to the netherlands of cross-court tennis. His wrist strikes like a cobra, and the ball rises and flattens with an absurd blend of purpose and power.
Or he can adjust in midair and torch the ball just late enough for a disguised in-and-out forehand, the kind that would cause Jim Courier to wince with jealousy. He brushes the ball just a touch, so as not to sacrifice too much speed for spin.
It's mid-set and Federer betrays no glimpse to rifling an in-and-out forehand. And there is Nadal hustling from his deuce corner, unable to make it to mid-baseline before Federer's shot skids onto the court and bangs into the end boards behind a diving ballboy.
V. Imperial Control
Federer rarely needs to react or recover from his opponent's play. He can improvise when needed, but is usually the one to dictate terms.
It's 4-3 in the first set tiebreaker and Federer serves (ad side) safely inside the T.
Twice Nadal predictably rips it at Federer's backhand, but Fed's second return cross-court is deeper.
Suddenly, Nadal is scrambling six feet behind the baseline. If he were to fall over, his head would still be out. He sends a moonball to Federer.
Federer is on top of the baseline and pivots for an in-and-out forehand with only moderate depth.
Nadal sends it back, but now Federer pulls the next forehand into the deuce court. Nadal is off-balance but manages a deep return.
Federer snaps his wrist on another forehand to the same spot, but this one with extra pace because Nadal is reeling.
Somehow Nadal flicks his double-hander and sends a cross-court slice a few feet above the net.
But Federer has already moved to the service T and he catches it on top of his strings and volleys it near the baseline corner for an outright winner. Nadal can only pull up and watch.
Federer then serves out wide, follows up with a scorching forehand to the deuce court, and comes in on Nadal's flattened reply with a backhand half-volley that hops near the chair umpire on the opposite side. Nadal tries sliding into the shot like he's on clay, but can only touch the ball with the edge of his racket frame.
Three points later, Federer closes out the tiebreaker, 7-5.
VI. Immortal Moments
Winning is the ultimate goal in tennis, but there are occasionally moments that transcend the results. This is extra meaningful in discussing Federer, because there are times he creates new ideas that overshadow his victorious wins.
Federer fans can list off myriads of shots and poignant moments, all part of the Federer beauty in sharing his remarkable career.
He is aging but still hits shots we've never seen before. It might be another spectacular tweener, a heart-stopping drop-shot or a line-drive forehand.
He is not Federer circa 2006, but he still features his talent in new ways because he is changing. In some ways he is better, not physically but creatively.
Those who miss a Federer match will miss beautiful moments they have never seen before.
We must keep watching.
CLICK HERE for a look at Federer's Grand Slam victories.
CLICK HERE for a preview of Madrid: Which rock song best represents Federer?