NHL Playoffs 2012: Rookies Who Will Lead Their Teams to Conference Finals
April 27, 2012

Bruce Bennett/Getty Images
The Stanley Cup playoffs are considered a setting were grizzled veterans excel, but every season there are rookies who cut their teeth on hockey's biggest stage and set themselves up for future success. There have already been several first-year players who have made a major impact in this year's postseason and they will need to continue to do so moving forward.
Teams normally don't enter the playoffs expecting their rookies to be big-time factors, but when they are it really puts them ahead of the game. Rookie contributions allow the veteran players to play looser and better, and that is what ultimately leads to postseason greatness.
Here are three rookies who will continue their stellar play and help lead their teams to the conference final round.
Braden Holtby, G, WAS
Entering the playoffs, things looked bleak for the Washington Capitals as both Tomas Vokoun and Michal Neuvirth were injured. That meant the Caps would have to turn to rookie Braden Holtby between the pipes. Holtby had performed well in limited regular-season action this year and last, but it was a small sample size. Holtby proved that his success was no fluke as he endured constant badgering from the defending Stanley Cup champion Boston Bruins and helped Washington advance.
As he stood tall in an overtime win in Game 7, Holtby outplayed last season's Conn Smythe winner Tim Thomas. Holtby will have his hands full again in the second round as he will have to contend with the Eastern Conference's top seed, the New York Rangers. Not only do the Rangers have solid scoring depth, but the possible Vezina Trophy winner in Henrik Lundqvist will be staring him down across the ice. Holtby showed a lot of moxie in the first round, though, and I believe he can keep it going.
Sean Couturier, F, PHI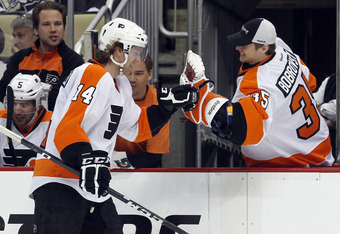 Justin K. Aller/Getty Images
Because of the amount of forward depth the Philadelphia Flyers have, it was easy to forget about Sean Couturier this season. The big 6'3" center made his presence known in the first round against the Pittsburgh Penguins, however, as he excelled on both ends of the ice. He got plenty of notoriety for his hat trick in Game 2, but his true impact was as a defensive forward, and he was fantastic in that area throughout the series.
Not only did Couturier win a stunning 57 percent of his faceoffs, but he proved to be a capable penalty killer and helped neutralize the Penguins' potent offensive attack for the most part. His task shouldn't be as tall against the New Jersey Devils in the second round, but he may have to contend with Ilya Kovalchuk and Zach Parise. Even if Couturier doesn't register a single point in the series, if he does his job in the faceoff circle and on the defensive end, the Flyers should move on.
Slava Voynov, D, LA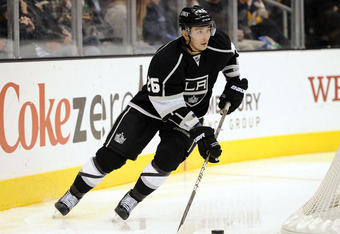 Harry How/Getty Images
Perhaps Slava Voynov didn't have as much of a tangible impact in the first round as the likes of Holtby and Couturier, but it was hard not to be impressed with the rookie's game. The Los Angeles Kings defender is best known for his ability to activate offensively from the back end, and while he didn't record a single point in the Kings' series win over the top-seeded Vancouver Canucks, he was rock solid. Voynov was a plus-2 in five games and registered over 18 minutes of ice time per contest, so he was truly a big contributor.
Seeing as it was Voynov's first playoff series, it isn't surprising that he decided to play it safe. Oftentimes defensemen are at their best when you don't even notice they're there, and that was somewhat the case with Voynov. Now that he has his legs under him, though, expect Voynov to integrate his offensive flair into L.A.'s series against the St. Louis Blues. I believe the Kings match up quite well with the Blues, and if Voynov continues his steady play, then Los Angeles has a real shot.