2012 Stanley Cup Playoffs: Chris Kreider the Real Deal for the Rangers
April 26, 2012

Richard Wolowicz/Getty Images
Okay, raise your hand if you saw this coming.
A former first-round draft choice signs a contract right out of college, plays his first-ever NHL game in the Stanley Cup playoffs, and two games later fires home the game-winning goal while setting up two other scores to keep his team alive in the postseason.
That's exactly what former Boston College forward Chris Kreider has done so far in his major league debut, as his top-seeded New York Rangers head into Game 7 tonight against the upstart eighth seed, the Ottawa Senators.
Three weeks ago today, the 6'3", 220-pound speedster from Boxford, Mass. was collecting the final goal of his collegiate career in BC's 6-1 win over Minnesota in the NCAA Frozen Four in Tampa. Two nights later he was celebrating his second National Championship in three years with the Eagles after a title game victory over Ferris State.
Fast forward to just three days ago, and Kreider, 20, was scoring from the left circle to put the Rangers up, 3-1, en route to a 3-2 win over the Senators at Scotiabank Place to force a seventh and deciding contest tonight at venerable Madison Square Garden.
Kreider took his spot in the Ranger lineup in Game 4 after Carl Hagelin was suspended three games for an elbow to the head of Daniel Alfredsson. Kreider played just over 11 minutes in his debut, and anxiously fanned on a shot from the slot in a 1-0 Ranger win.
In Game 5 he was relegated to just three-and-a-half minutes of ice time, and the thought was he would be benched for Game 6 when Hagelin came back—but then fellow BC alum Brian Boyle was sidelined after a hit to the head by Chris Neil, opening up a spot.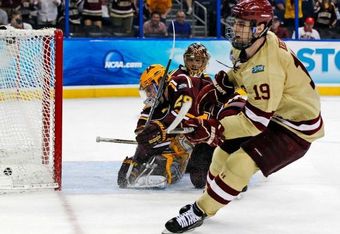 When opportunity called again, Kreider didn't just answer the bell. He ripped it off its moorings and wristed it past goaltender Craig Anderson and into the Ottawa net to give the Rangers a lead they wouldn't relinquish on Monday night, and one more chance to put an end to a pesky Senators squad that so far won't say die.
"I have no hesitation to put him in all situations tonight," said New York Rangers coach John Tortorella to the New York Post. "There's no chance he's intimidated."
 "That's good to hear," said the humble Kreider, who played almost 11 minutes in Game 6 and has carried himself as just a member of the team, not a budding superstar.
"I think he's an outstanding athlete," said BC head coach Jerry York after Kreider scored both  goals in the Eagles' 2-0 win over Air Force last month at the NCAA Northeast Regional. "He rises to the competitive level."
You could say the same so far of his NHL career, all four games and counting, with the biggest one yet to take place tonight.