NHL Playoffs 2012: Players to Watch in Game 4 of the Blues vs. Sharks Series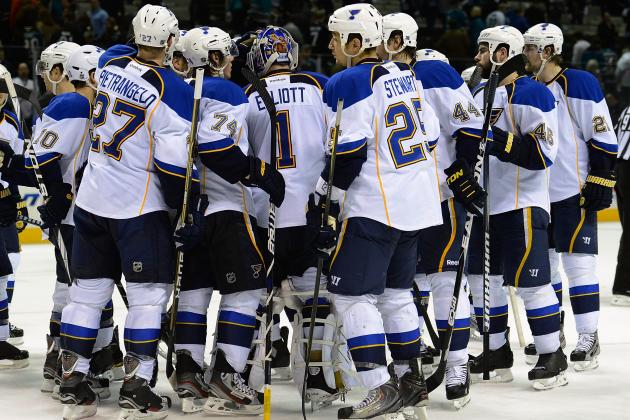 Thearon W. Henderson/Getty Images

It's not technically do-or-die for the San Jose Sharks just yet, but a loss on Thursday to St. Louis and a 3-1 deficit in the series may be too much to overcome.
If the Sharks end up down three games to one in the best-of-seven series, taking three straight from the Blues, including two in St. Louis where the Blues were the second-best home team this season, could be next to impossible.
On the other hand, a win and a 2-2 series might give the Sharks the chance to catch St. Louis on its heels in an even series.
It's not do-or-die quite yet, but it might as well be.
What players and matchups should you keep your eyes on in Game 4 to either come up big or set a tone for the remainder of the series?
Begin Slideshow

»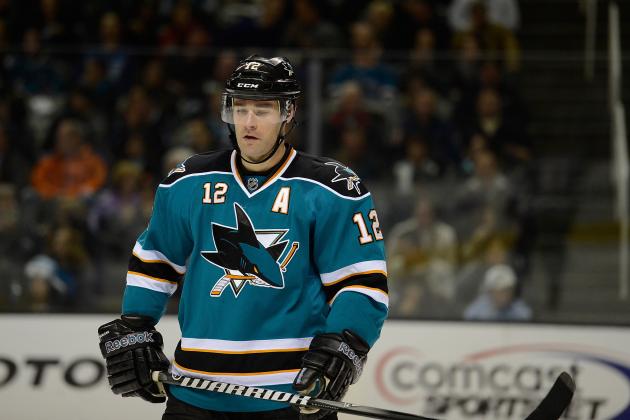 Thearon W. Henderson/Getty Images

San Jose coach Todd McLellan shuffled around the Sharks' top two lines in practice on Wednesday. Patrick Marleau was moved to a centering position between Ryan Clowe and Martin Havlat, who has been one of the better players for San Jose through the first three games.
Marleau hasn't registered a point this postseason playing left wing, and coach McLellan thinks that moving him to the center of the ice with great setup man Marty Havlat might jump-start him.
Look for the matchup that Marleau's line will try to get against the opposition. A bad change by the Blues could leave a serious mismatch allowing Marleau to get some space.
Expect to see Marleau on all over the ice in Game 4.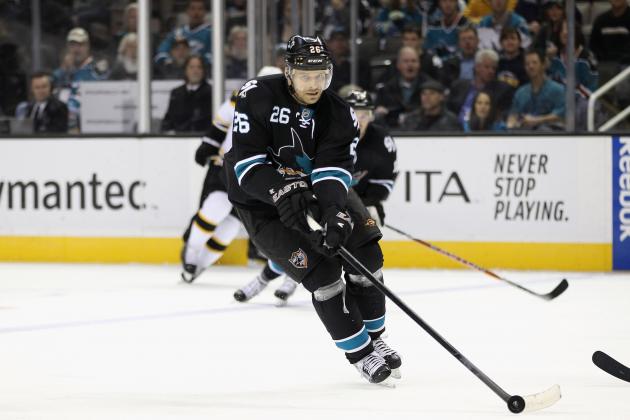 Ezra Shaw/Getty Images

Handzus may not appear in the scoresheet tonight. He will be playing a very limited five-on-five role in his first game of the series for the Sharks and isn't really expected to contribute much on offense.
But make no mistake: Sharks coach Todd McLellan wanted Handzus in the lineup for a purpose, and that is to kill penalties.
After giving up three power-play goals to the Blues in Game 3, the Sharks will be hopeless if they are unable to solidify the penalty kill.
Expect Handzus to see a good amount of ice time on the PK and try to provide a veteran's stability against his original NHL team, the Blues.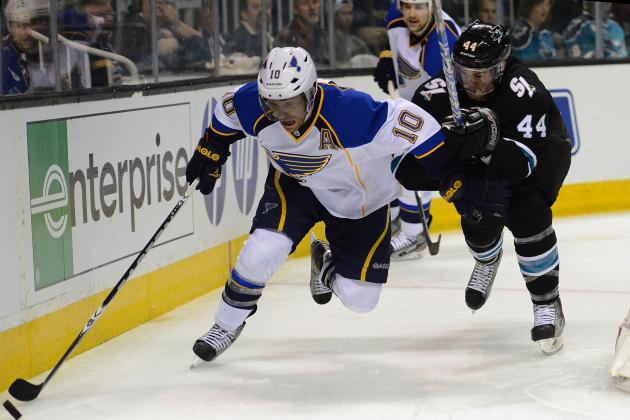 Thearon W. Henderson/Getty Images

A substantial time after the end of Game 3, the NHL changed the scoring on the Blues' first goal by Patrik Berglund and credited Andy McDonald with another assist, giving him a four-point game.
When McDonald is in the lineup the Blues' offense becomes more dynamic and more creative. He is a catalyst for offensive production when he is healthy, which has been an issue all season.
Now fully healthy, don't expect McDonald to slow down or become fatigued at any point as he only played in 25 games this season.
Expect McDonald to see good matchups as well playing on the Blues' second line and going up against the newly shuffled top lines of San Jose.
McDonald could have another multi-point game if he can catch players who aren't used to playing together, making mental mistakes and getting out of position.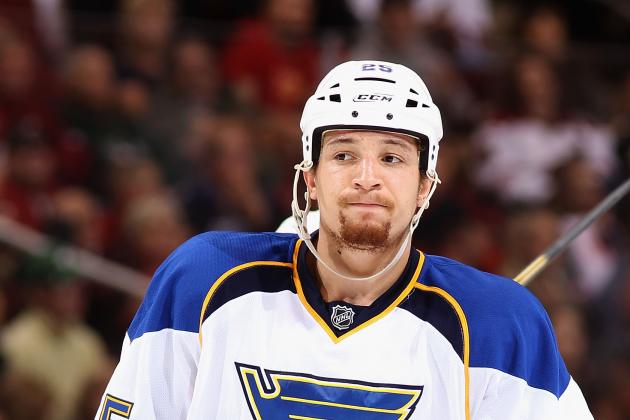 Christian Petersen/Getty Images

It seems like people have been saying "watch for Chris Stewart" all season, waiting for him to break out of the funk that he's been in all season long.
Well, that's because they have. It's been a disappointing season for Stewart, but the fact is he still possesses the raw talent, size and skills to take over a game and even a series.
After being a surprise healthy scratch in Game 2, Blues coach Ken Hitchcock hoped that the message would have been heard loud and clear by Stewart. It's tough to say if it was or wasn't, however, because Stewart only played eight minutes in Game 3, which was the lowest on the entire team.
Did Hitchcock see what he needed to see in Game 3 to reward Stewart with more playing time? We'll have to see in Game 4, but if given significant playing time, Stewart could go all out to prove his worth to the team and put up a nice stat line.
Watch for Stewart to skate with 100 percent intensity each shift he gets to try and make the most out of his time on the ice.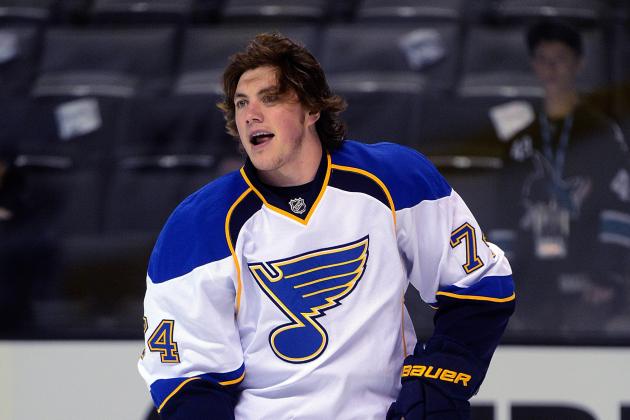 Thearon W. Henderson/Getty Images

T.J. Oshie is one of those special players that coaches love and have the unique ability to change a game in an instant. He can beat a defense all by himself, as was evidenced by his beautiful assist to David Backes in Game 2.
Oshie has two assists through three games, but something about his play in the final 10 minutes of Game 3 tells me that he is poised for a big game.
I'll admit, it's nothing more than a hunch, but Oshie looked hungry to score his first career playoff goal after watching fellow young gun Patrik Berglund score three goals in the first three games.
Oshie is a player who is used in all facets of the game because of his incredibly diverse skill set and unprecedented hockey sense, so expect him to rack up the ice time.
A multi-point game might just be what Oshie is due for, if not at least a goal.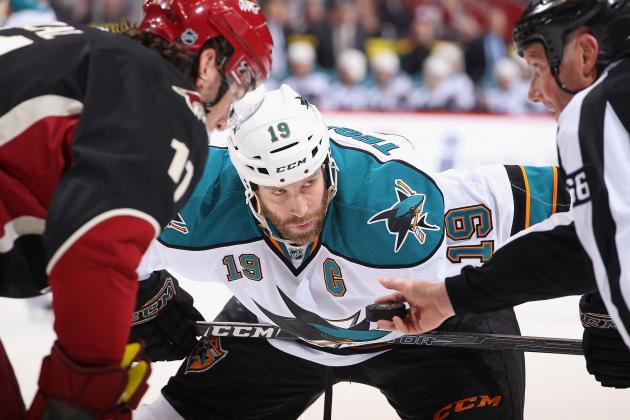 Christian Petersen/Getty Images

Blues coach Ken Hitchcock has said throughout the whole series that the Blues' primary defensive concern is shutting down Joe Thornton. Hitchcock has the utmost respect for Thornton and his elite playmaking abilities, and has constantly worked to match up his top line, usually Backes-Oshie-Perron, against Thornton.
On the road, where the Sharks get the last line change after a whistle, Hitchcock has trouble matching his top line against Thornton's line. As a result, Thornton produced three assists, three shots and a plus-two rating in Game 3.
You can bet that Hitchcock will want to do anything possible to shut down Thornton and keep him from catching fire and taking control of the game. The Blues' ability to get their best line on the ice against Thornton as often as possible could be the key to Game 4.
The matchup between Thornton and whomever Hitchcock attempts to play against him will be the most important matchup of the game. Whichever team wins the line-changing game will have the best chance to win the individual battle between Thornton and the Blues' top line, and subsequently have the best chance to win the hockey game.