Raffi Torres Suspension: NHL Needs to Make an Example out of Coyotes Winger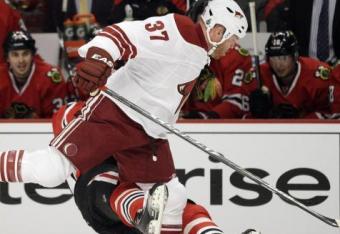 Raffi Torres crushed Marian Hossa on Tuesday; Photo Credit: USA Today

It could be a while before Raffi Torres returns to the ice.
Check that. It should be a while before Raffi Torres returns to the ice.
We're talking about Torres today because of the hit he put on Chicago Blackhawks forward Marian Hossa on Tuesday night. The Phoenix Coyotes winger put his shoulder right into Hossa's head in the first period, and Hossa would eventually have to be taken off the ice on a stretcher.
According to ESPNChicago.com, Torres has been suspended indefinitely, pending a hearing on Friday. Presumably, the league will decide on a more definitive punishment for Torres at that hearing.
The league can start by banning Torres from the ice for the rest of the postseason. To be safe, the league should hit Torres with a suspension that stretches into next season. If the league decides to ban him for life, I for one won't complain.
In other words, they should throw the book at him. If they have an actual book lying around, they may as well throw that at him too.
There is a train of thought out there that Torres' destruction of Hossa was a legal hit, which is nothing out of the ordinary when it comes to controversial situations like these. And since Torres wasn't penalized for the hit, this train of thought does indeed have a leg to stand on.
But come on. The fact that Torres wasn't penalized doesn't change the fact (yes, fact) that his hit on Hossa was dirty. And yes, it was illegal. Rule 48 in the NHL rule book states that any "hit resulting in contact with an opponent's head where the head is targeted" is technically an illegal check to the head.
What kind of punishment should Raffi Torres get?
The rule is subject to interpretation, but there's not a whole lot about Torres' hit that needs to be interpreted. He blatantly targeted Hossa's head, and he launched himself off the ice to deliver an especially forceful hit. He wanted to hurt him. And indeed, Torres has quite the history when it comes to stuff like this.
The league wants that kind of stuff to be a thing of the past. Or so it says. If it truly wants to see dangerous hits to the head disappear from the sport, the league needs to send a very clear message to its players about what exactly will not be tolerated.
Hitting Torres with the banhammer will send that message. Players will know that the NHL is serious about getting dangerous hits out of the sport, and the players will know exactly what not to do.
The game is changing, make no mistake about that. Hard hits and significant injuries used to be the nature of the beast, but tolerating stuff like that is no longer acceptable in today's society.
Violence will never be completely banished from the sport, but the league can make violent players a rare breed. Hopefully, the league can make violent players an extinct breed down the line.
Players like Raffi Torres have to go.
This article is
What is the duplicate article?
Why is this article offensive?
Where is this article plagiarized from?
Why is this article poorly edited?