Novak Djokovic's Quest for the Novak Slam Begins at Monte Carlo
April 12, 2012

Clive Brunskill/Getty Images
The first part of the season is over and the second begins. This is the time of year when Rafael Nadal usually builds momentum and confidence that carries him through to Wimbledon and the US Open. 
This time, though, it also presents a historical opportunity for Novak Djokovic to do what no man has done since Rod Laver in 1969—win all four slams in a row. 
It is, admittedly, not a Calendar Slam, and that makes it a hell of a lot easier. But it is on three different surfaces, and he's up against two of the best players ever to play the game. That makes the task all the more daunting. 
Back in January, prior to the Australian Open, I speculated about his chances of winning the Novak Slam. My conclusion? It seemed like a real possibility, even before his Australian Open win.
That said, it won't come easy. Historic feats never do. Can Novak Djokovic prevail where legends such as Jimmy Connors, Björn Borg, John McEnroe, Ivan Lendl, Pete Sampras, Andre Agassi, Roger Federer and Rafael Nadal have all come short?
I believe he can. But there's a difference between that and actually doing it. He has a mountain to climb first, as a trophy-hungry Rafa will be gunning for a record-setting seventh French Open title.
Can you imagine a more daunting opposition than having to go through what many—myself included—regard as the best clay-courter ever to play the game in order to win your fourth consecutive major? It's hard. 
Let's not forget that Rafael Nadal has only lost one best-of-five clay-court match in his entire career. And that loss, fair or not, has in many people's minds since been explained away by Rafa's knee troubles.
So Novak needs to go through a (nearly) undefeated Rafael Nadal in the best-of-five format—unless of course one of them falls before the final.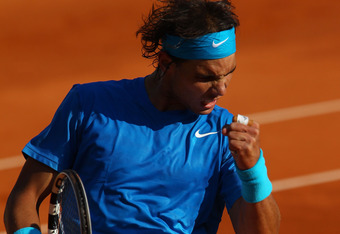 Alex Livesey/Getty Images
Roger Federer will be more than happy to spoil Novak's party, just as he did last year. So will Andy Murray, who played his best clay season last year. And Juan Martin del Potro is no slouch on clay, nor is David Ferrer nor even John Isner. 
There are plenty of capable opponents. 
What should give Novak hope, though, is this: though he trails Rafa 2-9 on clay, he's won the last four sets on clay and seven matches in a row (and counting). 
That makes the situation utterly different from Federer trying to win a Roger Slam in 2006 and 2007. Roger never had the upper hand against Rafa on clay and never enjoyed anything close to a seven-match winning streak. 
Novak, at this point, seems to be Rafa's kryptonite. It is as if he's neutralized or over-matched every facet of Rafa's game. 
Rafa's favorite shot, the cross-court forehand, is rendered almost useless against Novak's double-handed backhand. Rafa's famous stamina is matched by Novak, and so is his consistency. Not to mention the mental toughness. 
And Rafa's serve, while never the best, has been exposed time and time again by the best returner on tour. It's simple, really—Novak's hold game is as good or better than Rafa's. And his return game is a level or two above. 
That should be enough to win most matches. Add to that that he has the mental edge and can rely on the knowledge that his A- or even B+ game may be enough (as it was in Australia), and you can see why he'll feel confident going into the match.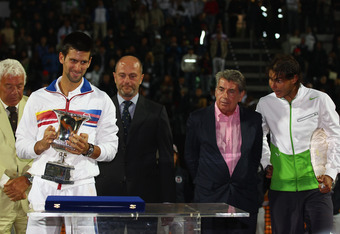 Clive Brunskill/Getty Images
All these intangibles can, of course, change before the French Open. Rafa needs to adjust his game to beat Novak 2.0 and, in good Rafa fashion, that is exactly what he's trying to do. He's added grams to his racket-frame, and in Australia he played with more abandon, making more unforced errors than his usual self. 
That's necessary in order to hit more winners (which he did) and to take control of the match. Rafa just rallying will win him most matches against anyone not named Novak Djokovic. But it won't be enough against the Djoker. 
In order to turn the rivalry around, Nadal will need to revert from his favored strategies—hitting cross-court and inside-out with the forehand (this one can work, though) and cross-court with the backhand. At the moment, Novak is simply reading him too well and thus anticipating the shots before they come, allowing him to stay on the baseline and dictate the rallies. 
Rafa needs more surprises, more variety and more abandon in his game against Novak. He needs more winners up the line from both sides to keep Novak guessing. And he needs to throw in some junk, so Novak doesn't always get the pace to work with—as Murray and Federer have done successfully. 
Will it be enough to stop the Novak train from reaching its destination in Paris in early June? 
We don't really know yet. It hasn't been so far, but Rafa isn't usually the same player from August to March as he is from April to July. Now it is his best time of the year. 
And he's entering Monte Carlo as the defending champion for the seventh year in a row. No other venue should give him a better chance to turn the rivalry with Novak around and provide him with some much-needed confidence and momentum against his main rival. 
And no other venue—safe Roland Garros—can rob Rafa of any more confidence than he's already lost. 
The battle begins right here in Monte Carlo, but the pinnacle and the real price will be in Paris in early June.
Can Novak make history? We're about to find out.