Novak Djokovic: Can This Man Win 4 Slams in a Row and Complete a Novak Slam?
January 6, 2012
Chris Trotman/Getty Images
Can Novak Djokovic do what both Rafael Nadal and Roger Federer failed to do? Can he become the first man since Rod Laver to win four consecutive slams in a row?
Admittedly, we're not talking about a Calendar Slam, but a Novak slam—just as we were discussing Rafa's chances of completing a Rafa slam at this point last year. 
Two slams aren't quite three, so some of you may dismiss this as too early hyperbole. Yet, if Djokovic wins three consecutive slams, everybody will be asking the same question and then this article would just be one out of a thousand. 
So with that caveat in mind, let's go through the likelihood of him doing what both Rafa and Roger failed to do, when they were the undisputed kings of tennis. 
The first and necessary step is obviously the Australian Open coming up on the 16th of January. Prior to the season, there were concerns that Djokovic' late season injuries and slump would continue well into 2012 as the rest wasn't long enough. 
We still haven't seen enough of him to come up with a definite answer, but what we have seen in the Abu Dhabi exhibition points towards one clear conclusion: Novak 2.0 is back and remains the player to beat.
What further speaks in his favour is that his two main rivals reportedly both have nagging injuries. Federer pulled out of Doha today and Rafa has made no secret about him dealing with a bad shoulder and a heavier racket and thus needing February off to adjust, heal and train.
Make no mistake though, both of them will do their best to stop the Novak party Down Under. But is their best enough? Rafa couldn't beat Novak throughout 2011 and Roger lost all the important points in a tight three-setter in last year's championship.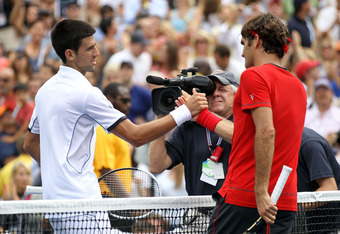 Matthew Stockman/Getty Images
There are other contenders that Djokovic will have to deal with to lift his third consecutive slam. Most prominent are Andy Murray, Jo-Wilfried Tsonga and Juan Martin del Potro.
All of them have the ability to beat Djokovic if they play their best and Tsonga even leads their head-to-head, 5-4. But Djokovic would be favoured against any of them and to me, he's the clear-cut favourite Down Under.
Now, let's assume he actually wins it. Then there's one final hurdle to climb in order to do what no one, not Connors, not Borg, not McEnroe, not Lendl, not Sampras, not Agassi, not Federer or Nadal, has been able to do since Rod Laver in 1969: win four slams in a row.  
That final hurdle is admittedly a steep mountain to climb as it would involve winning the French Open, Nadal's second home. 
Nadal is the best clay-courter ever to play the game and he's only lost one best-of-five clay-court match in his entire career. A challenge doesn't come much tougher than that. 
But let's not forget Madrid and Rome 2011. Here, Djokovic did what few had thought possible and took down Nadal in straights two times in a row on clay (here, here and here are some of my thoughts on last year's clay season). 
We didn't get to see the two square off in the Roland Garros final, as an inspired Federer took down Djokovic in the semifinal only to lose for the fifth time to Rafa at the French Open. 
What we do know is that Rafa has had a hard time winning games and sets against Djokovic in 2011, even on clay.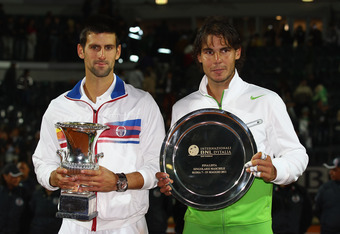 Clive Brunskill/Getty Images
The problem for Rafa, aside from the worsened confidence mounting up from the loses, has been that Djokovic does the same better. 
He's every bit as good in defense as Rafa is, his return of serve is a level or two above that of Rafa's and his own serve and hold game is at least as good as Rafa's. 
Add to that, that Novak has now become a mental problem for Rafa and that he seems unsure about which strategy to employ to win. Rafa had nowhere to go against the Djoker in 2011 and he needs to make adjustments for that to change in 2012 (see my lengthier analysis of their matchup and why Djokovic is winning here). 
Now, no one is counting Nadal out just yet. He's switching to a slightly heavier racquet to add more winners and a bigger serve to his game. That should help him some against Djokovic. 
What will also be pivotal for Djokovic' chances at the French is whether or not he can keep Nadal under his thumb until then.
If he can, his chances increase by quite a margin. If Rafa gets a win or two, his confidence roars back and he becomes a tougher customer in clutch situations. 
Of course, as evidenced last year, Nadal is not the only hurdle at the French Open. Roger Federer, Andy Murray, Juan Martin del Potro, Robin Söderling (if healthy) and David Ferrer will be other tough opponents trying their best to prevent a potential Novak slam and win the tournament. 
But is anyone favoured above the lean, mean winning-machine that Djokovic 2.0 is and has become? 
Not really. 
While by no means a sure thing, the 'impossible' four slams in a row seem more and more like a real possibility. 
First stop is Melbourne, though.