Novak Djokovic: What's in Store for the World's No. 1 in 2012
December 17, 2011
Clive Brunskill/Getty Images
2011 was a never-ending fairytale for the world's No. 1, Novak Djokovic. After being stuck at No. 3 behind Roger Federer and Rafael Nadal since 2007, the Serb took matters in his own hands and leapfrogged the two legends of the game. 
For the first nine months of the year, Djokovic was as good as unbeatable. Even when his opponent was serving for the match, as against Andy Murray in Rome or when he was facing match points as Roger Federer in the US Open, he would find a way to win. 
Against Rafael Nadal, a man known as much for his indomitable spirit as his tennis, Djokovic found a way to break both his tennis and his spirit, as he won all six finals against the now former world No. 1.
While the first nine months were played on a high that few, if any, have rivalled, the last three months have seen Djokovic became one of the crowd again.
As he lifted his third slam trophy in New York on September 12th, Djokovic had a 64-2 record against the field, a 20-2 record against top-10 and a 10-1 record against Federer and Nadal. Three months later, he was still 10-1 against Fedal, but 70-6 against the field and 21-4 against top-10.
Still incredible overall, but a 6-4 record from mid-September onwards doesn't quite have the same ring as a 64-2 record to start the season. 
What happened? 
It's simple: Djokovic's body and mind gave out. His body said "overload," he told reporters at the World Tour finals. He lacked the freshness and the sharpness, and he became a coveted scalp rather than a fearsome, unbeatable mountain to climb.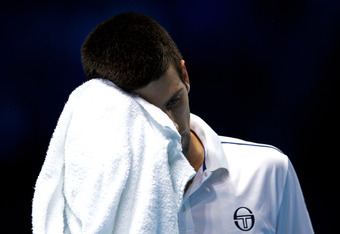 Clive Brunskill/Getty Images
His opponents must have drawn a sigh of relief. For Nadal, the mantra after his successive defeats to Djokovic this year has as much been "his level will have to come down at some point" as "I will raise mine to beat him."
Now, it appears that Djokovic finally has come down from the sky.
But has he really? 
That is the biggest question in tennis going into 2012. And right now, no one but Djokovic and his team really knows the answer. The rest of us can only come up with our most educated guesses.
In that respect, the worrying aspect is that six weeks weren't enough for Djokovic to heal completely between the Davis Cup and the Basel tournament. And neither Paris nor London saw the Djokovic 2.0 we all got used to. 
Now, he has another five to six weeks between London and Doha. Will that be enough? 
He seems to think so, saying at the Word Tour Finals: "I think I have more than enough time to get my old strength back and prepare well. So I'm sure that if I have as good preparation as I had last year, I'm confident I can do well in Australia."
But shoulder and back injuries can be troublesome for the serve, and while Djokovic owes a lot of his success to his incredible return game, his improvement in the hold game department as he returned to his 2008 service motion should not be overlooked. 
As of now, the jury is still out as to which Djokovic will return. We really don't know before we see him in Doha and Australia.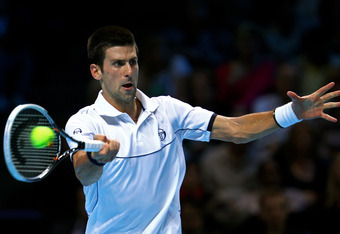 Julian Finney/Getty Images
What we can say with some degree of certainty is that the confidence and winning mentality that he has developed this year is there to stay. And that is a very important aspect of his success, especially in those matches where push comes to shove. 
My personal expectation is that Djokovic will remain the player to beat come 2012 and that he is slightly more likely to win two or more slams than zero or one. Obviously, that prediction heavily relies on his body holding up and that the rest of the field don't raise their level to the same degree Djokovic has done this year. 
What heavily counts in Djokovic's favour is that he has a stranglehold on what remains his most likely slam final opponent, Rafael Nadal. The way Djokovic has been able to overcome, suppress and ultimately subdue Nadal this year, starting off with a 7-16, 0-9 on clay and 0-5 in finals, head-to-head record against Nadal is possibly what has impressed me the most about his season. 
Nadal, commonly known as one of the fiercest competitors in the sport, blinked first again and again against Djokovic, as nothing he could bring to the table was good enough. Djokovic hugged the baseline, took the ball early, thereby robbing Nadal of time, and redirected Nadal's balls with ease, sending them to whatever corner he pleased. 
As of now, we have little reason to believe that pattern will change. It may, of course, but it will either require Nadal to improve further or Djokovic to dip. 
Djokovic's fiercest rivals, in terms of who stands the best chance of beating him, may instead turn out to be Andy Murray, Roger Federer (both of whom did it this year and generally played Djokovic closer than Nadal did), Jo-Wilfried Tsonga (who owns a 5-4 record against Djokovic) and Juan Martin del Potro. 
All this is, of course, speculation, but one thing is certain: 2012 will shape up to be another thrilling tennis year.