X-Factors in the Stanley Cup Playoffs: Who Will Turn the Tide?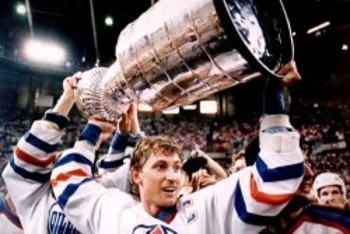 http://blog.carhahockey.ca
It's time for the NHL playoffs. Every team has a story, and every series has one player that will ultimately be the deciding factor.
With the first games of the tournament to take place on Wednesday, we'll know how some teams stand. Let's see who will be the ultimate determining factor in each first-round playoff series and decide which team gets to grow their beards a few inches longer.
New York/Ottawa: Henrik Lundqvist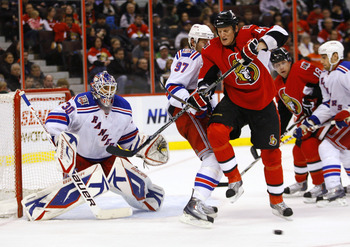 Phillip MacCallum/Getty Images
While the Rangers are fully expected to win the series, Lundqvist may be a huge factor in determining the length of this Eastern Conference quarterfinal series.
Hank is one of the league's best goalies, but his ability to remain composed if the Senators hang a couple of early goals on him will be key. If he stays strong, the series will be over quickly. But if he begins to show signs of weakness, then the series may last a bit longer.
That will open the window for the Sens to pull a huge upset.
Boston/Washington: Alexander Semin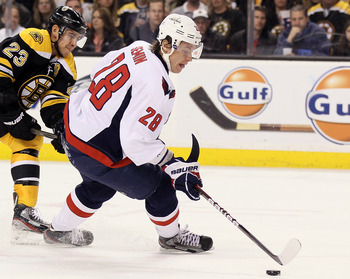 Elsa/Getty Images
Washington's inconsistent forward will have to be on the top of his game if the Capitals want to knock off the defending champs.
Semin showed flashes of brilliance last year in the playoffs, coming up with big goals in the first, fourth and fifth games against the Rangers in the first round. He also scored the insurance goal last Thursday to assure the Caps of a playoff spot.
However, he has been very quiet in the recent series against Montreal and Tampa Bay.
Of course, Washington will need players like captain Alex Ovechkin and young goalie Braden Holtby to step up if they want to go on any sort of a run, but Semin has to play in great form in order for DC to defeat the B's.
Florida/New Jersey: Martin Brodeur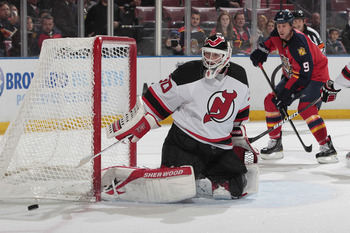 Joel Auerbach/Getty Images
While Brodeur is one of the best of all time, he is getting older.
Arguably the best goalie ever, Brodeur has led the Devils back to the playoffs for a matchup against a very good Florida team. While he isn't necessarily playing like a man that is turning 40 in less than a month, his goals against average and save percentage have gone both up and down a bit, respectively, in the past couple of years.
He'll be going up against a Panthers squad that won its first Southeast Division championship this season, and even though many are picking New Jersey to win, Brodeur must play his best in order for the Devils to move on.
Pittsburgh/Philadelphia: Sidney Crosby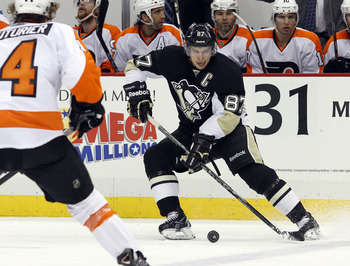 Justin K. Aller/Getty Images
Sid the Kid is just returning back to full strength from a season and a half of concussion-related symptoms. Pittsburgh needs him.
Crosby has shown some pretty solid numbers in recent games, considering the trials and tribulations he has been dealing with for the past 15 months. He has recorded four goals and 12 points in his last five games, and he owns a 1.7 points-per-game average in the 39 regular season games he has against the Flyers.
His return to playoff hockey will be crucial in the Battle for Pennsylvania. If he continues to ride his hot streak, he will further solidify his status as one of the best on the planet.
Vancouver/Los Angeles: Roberto Luongo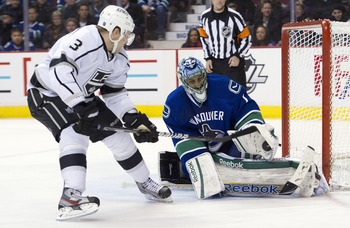 Rich Lam/Getty Images
It's hard to forget Luongo's collapse in last year's Stanley Cup Finals. Can he come back?
In the final two games of last year's finals, he allowed seven goals. He played 22 more games than backup Cory Schneider this season, but allowed nearly half a goal per game more and saved almost two percent fewer of shots.
While that difference is not massive, it is significant.
This is not to say he is a vastly different Luongo, but he must play like the goalie we saw in Games 1, 2 and 5 in order for Vancouver to finish a stout Kings team.
St. Louis/San Jose: Joe Thornton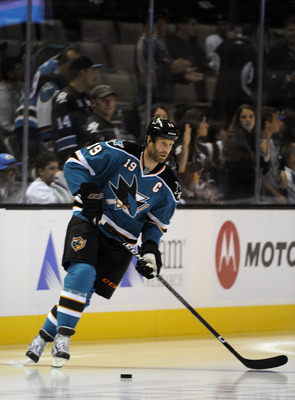 Thearon W. Henderson/Getty Images
The Sharks captain continues to see his assist numbers rise. Can that help San Jose beat the Blues?
Thornton's 59 assists in the regular season were good enough for a three-way tie for third in the league. His status as a playmaker is cemented in the Bay Area, but that may not be enough for the Sharks to top the high-flying Blues, who stunned many pundits by winning the Central Division.
St. Louis defensemen Alex Pietrangelo and Kevin Shattenkirk, among others, will have their hands full against the likes of Thornton and Logan Couture. But can Thornton's playoff experience put an early end to end the Blues' run at the Cup? We'll see.
Phoenix/Chicago: Ray Whitney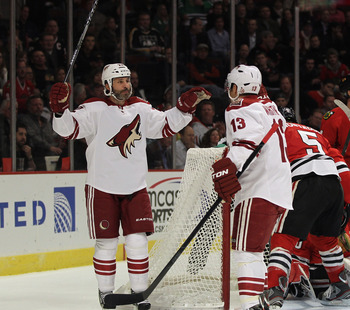 Jonathan Daniel/Getty Images
Whitney won a Stanley Cup six years ago in Carolina. Can that help Phoenix get to the promised land?
The veteran winger was the leading point-getter for the Coyotes this year, who won their first ever Pacific Division crown. In a city that may soon be without hockey, it is imperative for the sake of the franchise that Phoenix tops the 2010 Champions.
A win may pique fan interest and keep the team in Arizona for at least a couple seasons more. With a loss, there may not be any more hockey in the desert.
If Whitney can continue his playmaking ability as well as use that 2006 experience to benefit both himself and the team, a win over favored Chicago may be just what the doctor ordered for an ailing franchise.
Nashville/Detroit: Pekka Rinne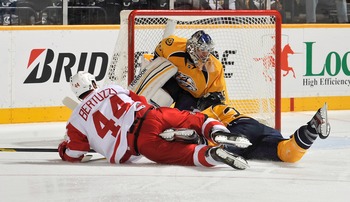 Frederick Breedon/Getty Images
Rinne has been incredible this year in leading the Predators to fourth in the West. Will his hot streak continue?
A Nashville team that has also been talked about in regards to possible relocation is in a good spot right now—a series against Central Division rival Detroit is coming up.
A wicked glove save on the Red Wings' Henrik Zetterberg from March 30 is a clear "Save of the Year" candidate, and for good reason.
The Predators won their first-round series against Anaheim last year and could repeat the feat against one of their rivals again this time around.
If Rinne continues his stellar play, the Predators have the potential to be Stanley Cup champions for the first time in franchise history.
Keep Reading