NHL Playoffs 2012: 6 Most Important Players in the Sharks vs. Blues Series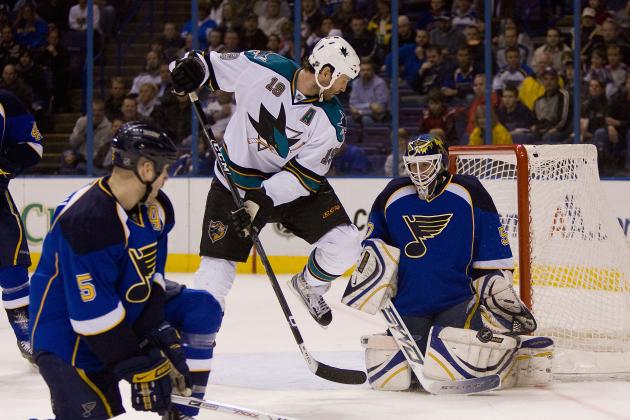 Dilip Vishwanat/Getty Images

The Stanley Cup playoffs are beautiful. There's no better way to put it.
Coming into this season, the San Jose Sharks and St. Louis Blues looked like they could very well end up playing in the first round of the playoffs. Both teams looked like top-eight teams, and both were coming off eventful summers.
Of course, in 99 percent of those preseason projections, San Jose would be the No. 2 seed and St. Louis the No. 7 seed.
Alas, that is not how things played out. The Blues started off the season by going 6-7-0, before firing head coach Davis Payne and hiring Ken Hitchcock. Since then, they have been the best team in the NHL, going 43-16-11.
On the other side of the equation, San Jose has gone through stretches of dominance, and was sitting on their usual perch atop the Pacific Division heading into February. Then, a nine-game road trip and 17-game schedule in March proved to be more than San Jose could handle—the Sharks went 9-13-4 over the next two months.
However, a four-game winning streak to end the season secured a spot in the playoffs for San Jose. So, despite finishing with 14 fewer points (96) than they averaged over the previous five seasons (110), the Sharks are just 16 wins away from the Stanley Cup.
And despite the Blues finishing with 28 more points (109) than they averaged over the previous six years (81), St. Louis is just four losses away from watching the playoffs at home once again.
That's why the Stanley Cup playoffs are beautiful—everything from the past is thrown out. With each series an entire new season unfolds, ultimately ending with one team's season ending and one team getting that much closer to winning the greatest trophy in sport.
To be fair, there is one thing that does carry over from the regular season: the players on each team's roster. It doesn't matter that Joe Thornton had 59 assists this season or that Brian Elliott had a .940 save percentage, but it does matter that Joe Thornton wears teal and that Brian Elliott wears blue.
Whichever team moves on will be just that—the better team. That being said, there are several key players that, depending on how they play, will shift the edge in this series toward or away from their team.
Begin Slideshow

»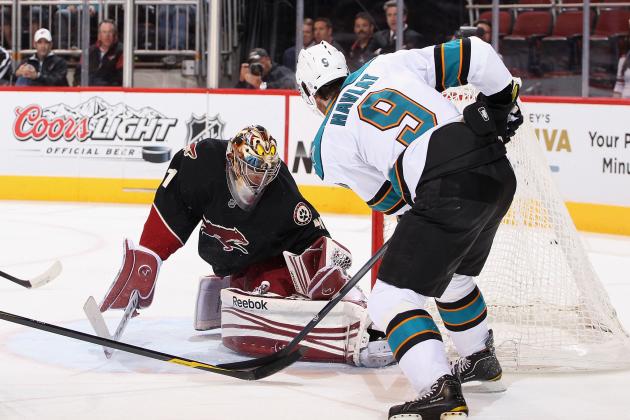 Christian Petersen/Getty Images

The Sharks traded away Dany Heatley last summer with one goal in mind: Winning a Stanley Cup.
Heatley had given the Sharks a deadly scoring winger during his two seasons in San Jose, putting up 65 goals and 146 points in two seasons to go along with a plus-22 rating. But in 32 playoff games, Heatley managed just five goals, 22 points and a minus-nine rating.
After getting dominated in the Western Conference Finals for a second straight season, the Sharks knew they had a problem. Despite great regular season success, they were getting beat in the postseason year after year.
So GM Doug Wilson sent Dany Heatley to Minnesota, acquiring Martin Havlat in return. Wilson knew he was swapping one forward with 349 goals and 742 points in 751 games for another with 216 goals and 539 points in 660 games. Wilson knew that his offense would suffer in the regular season.
But Wilson thought that the only time that mattered for his franchise was the postseason, where Havlat's 12 goals in his last 26 games dwarf Healtey's production in San Jose. Havlat's speed also seemed much more attractive than Heatley's size, as the Sharks needed to find a way to keep up with Vancouver.
As it turned out, the regular season actually did present a problem for San Jose this season. The Sharks struggled to win consistently, and suffered greatly after Martin Havlat was injured on December 15. The team went 18-18-7 without Havlat, and especially struggled against St. Louis.
The Sharks went 0-4-0 against the Blues this season, but three of those losses came without Havlat.
San Jose went 25-11-3 with the Czech forward in the lineup. His ability to skate, stretch the ice, provide the second line and second PP unit with a set-up man, score big goals and dominate on the backcheck make San Jose a different team no matter who they play. However, the areas in which Havlat helps are the exact areas in which St. Louis dominated San Jose.
Havlat may be the most important player in this entire series, because he is the biggest reason San Jose has to believe that their struggles against St. Louis will end.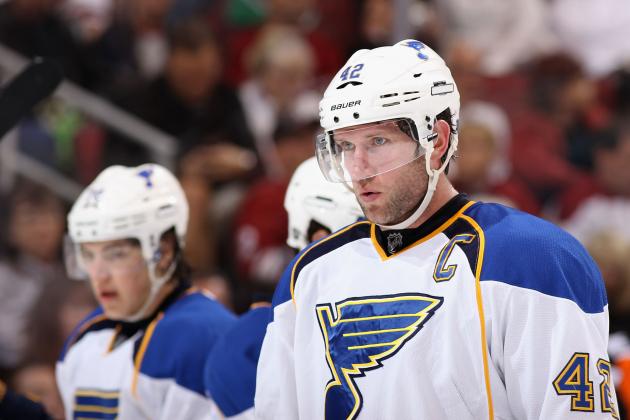 Christian Petersen/Getty Images

The Blues have better forward depth than San Jose. They have a deeper blue line. They have more speed, more physicality and are better in net.
However, a team is only as good as their best player, and in the playoffs, your best players need to be your best players. Cliche, yes, but it proves to be true time after time.
For all the edges St. Louis has, Joe Thornton is still the best player in this series. Thornton is the most skilled, most dangerous, most playoff-tested player for either side. He's got the talent around him (Joe Pavelski, Patrick Marleau) to dominate a series, and he's done it before.
For the Blues to stop Thornton from taking over this series, David Backes is going to have to step up.
The Blues captain is a big bodied, strong on-the-puck centerman and will almost certainly be matched up against Thornton all series long. While Backes and his linemates T.J. Oshie and David Perron can certainly create pressure offensively and play top-tier defense, none of them have ever won a playoff game. They've scored two goals combined.
The Sharks' top line does everything the Blues' line does, only better. They dominate offensively, deny opponents the puck and, most importantly, have thrived at the highest level.
The Blues' top line will not dominate San Jose's top line, and it doesn't need to. What it needs to do is contain them, which will be hard enough. Backes, Oshie and Perron all struggle to win faceoffs.
By contrast, the Sharks' top line is the best faceoff line in the NHL: Pavelski was the third-best draw man in the NHL, while Joe Thornton was 11th. Marleau was 33rd.
Unless David Backes—the only 46 percent or better faceoff man on the line—steps up in the circle, San Jose's top line will spend every shift in the offensive zone, and that will harm the Blues even when they don't score. The Blues' best offensive players will be kept out of the offensive zone for most of the series, and will be so worn out from defending that they won't be as effective on the power play.
It may seem over the top because the Blues have played like such a team all season, but if one individual—David Backes—doesn't rise to the challenge, the Blues won't win this series.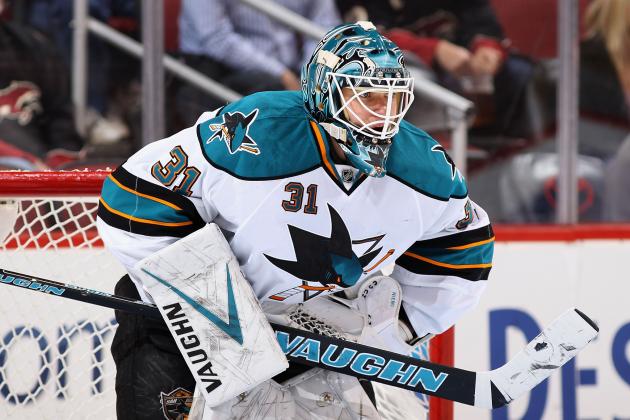 Christian Petersen/Getty Images

The St. Louis Blues dominated the NHL this season with defense. They allowed a league-low 2.01 goals per game (that isn't a typo), and their numbers against San Jose (0.75 GAA) were even more impressive.
But the Blues' edge over San Jose ends with defense. The Sharks have the NHL's second-best power play and possibly the second-best top six as well. They were also second in shots on goal, and scored 2.68 goals per game.
That made San Jose the NHL's 13th-highest scoring team, leaving it eight spots above St. Louis. The Blues finished seven spots ahead of San Jose in GAA, as the Sharks allowed the eighth-fewest goals in the league.
Although the Blues defense and Sharks offense appear to be equally superior to that of the other team's, the Blues defense has won out when the teams meet. In other words, San Jose needs to narrow the gap defensively for its offensive edge to win out.
Which is where Antti Niemi comes in.
Luckily for San Jose, hockey is a sport where one player can be an equalizer during a short series. If Niemi stops St. Louis from jumping ahead early, the Blues will not be able to stick to their defensive system that is impossible for San Jose to break. The Blues will become frustrated and San Jose's offense will have an easier time breaking through.
A goalie can also flat-out steal a game, and if Niemi can stand on his head a couple times, San Jose will gain the edge in the series. The Sharks are a better offensive team, and it's much more difficult for David Perron to "steal a game" than it is for Niemi.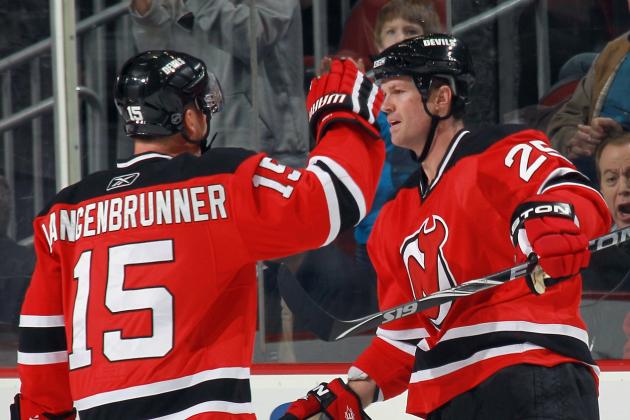 Bruce Bennett/Getty Images

During the regular season, the Blues got a huge number of goals from their third and fourth lines. In fact, the Blues' 57 goals from their current third and fourth lines dwarfs San Jose's 36.
In the postseason, however, these numbers tend to mean very little. If a third-line winger scores 10 goals in the regular season, that's less than a goal every eight games. That means that during a six-game series, this winger may very well not score a goal.
Even though he could score two goals in six games, he could also go 15 or so without one. During the playoffs, some depth forwards tend to score a little more frequently than they did during the regular season, while others don't score at all.
This could present a problem for a team that relies so heavily on depth scoring. Luckily for the Blues, Jason Arnott and Jamie Langenbrunner grace their third line.
Arnott and Langenbrunner have a combined three Stanley Cup rings, and won the Cup together in New Jersey. While Ken Hitchcock and the Blues defense has gotten all the credit, it's no coincidence that this young team broke out after adding these two players in the offseason—they are winners.
Langenbrunner has missed the playoffs once in his 15-year career, while Arnott has only four times in 18 seasons (and only once in the last 15 years). They both play great defensive hockey, make smart decisions, greatly enhance their team's locker room and score big goals.
Even if depth players tend to fade at random in the postseason, Arnott and Langenbrunner are good and experienced enough to have a big series regardless of luck.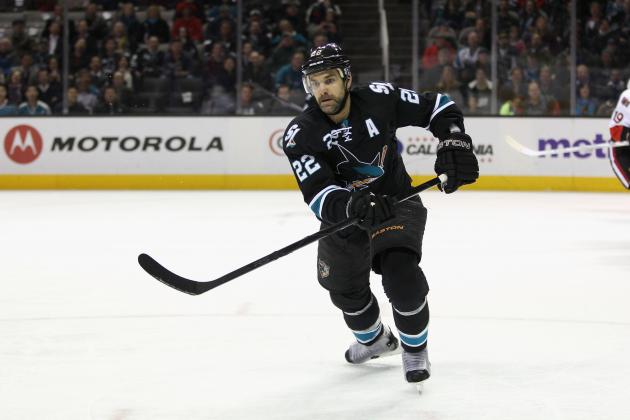 Ezra Shaw/Getty Images

Dan Boyle is playing his best hockey of the season at the right time of year, which is something Sharks fans have gotten used to. Boyle has two goals, two assists and a plus-six rating during San Jose's current four-game winning streak,
To be fair, Boyle has really been playing well since his broken foot healed in early December. But every April and May, the defenseman takes his game to another level. Boyle has an astounding eight goals and 34 points in 39 playoff games with San Jose.
If the Sharks are going to get by St. Louis, they will need Boyle more than ever.
San Jose's biggest problems against St. Louis this season have been struggling to move the puck through the neutral zone and committing defensive miscues that the Blues capitalize on. Boyle, coincidentally, is the Sharks' best puck-mover and most notorious committer of costly mistakes.
It really couldn't be much clearer: Dan Boyle will need to play his A-plus game if the Sharks are going to turn the tables on the Blues. That means doing what he usually does well in the playoffs—pushing the pace, jumping up into the play, scoring big goals—and not do what he usually does poorly in the playoffs.
If Boyle commits an ugly defensive-zone turnover or puts the puck in his own net, San Jose may not be able to overcome it like it has in series' past.