Roger Federer: Why Do Tennis Fans Misunderstand the Superstar's Intensity?
April 9, 2012
Cameron Spencer/Getty Images
Roger Federer once obliterated the ATP world tour so thoroughly, it would be easy for tennis fans to assume it was simply a matter of great talent.
Even now, fans and critics occasionally claim that Federer would win more if he played with greater intensity.
Their criticism follows his legacy and anticipates his struggles; scavengers looking to pick through his hard-fought livelihood.
Shouldn't Federer have won more five-set matches?
Why doesn't Federer fight harder, like his rival Rafael Nadal?
If only Federer had the drive and intensity to match his talent… 
Hot or Cool Intensity?
Federer's intensity is less transparent than that of Nadal or world No. 1 Novak Djokovic. He doesn't bounce on his feet during the coin toss or follow it up by running zig-zags as a precursor to his warm-ups.
He is less likely to yell, pump his fist, look at his box, grunt as he hits forehands or shout exotic Swiss phrases for self-motivation. This would not be Federer any more than it would be a proper measure of his intensity.
Should he go back to his early professional tennis days of occasional anger and racket throwing?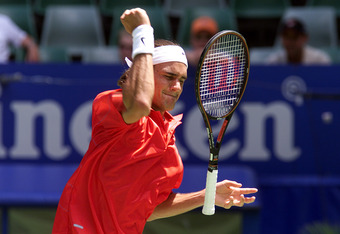 Adam Pretty/Getty Images
A champion's intensity is his commitment to winning, his practices, preparations and effort to win. Was icy-cool Bjorn Borg really less intense than fiery John McEnroe?
Expression and emotion through a player's celebration is interesting, but it is not the barometer of the work and sweat that went into each point to win his match.
Would Rod Laver and Pete Sampras have won more Grand Slam titles had they shown their exuberance by ripping off their shirts and wallowing on Wimbledon's grass? 
Mozart on Display
Anyone who appreciates the early Italian-style overtures (light and ebullient) composed by Wolfgang Amadeus Mozart, can be excused for disregarding the intensity that was put into his work.
A casual listener is swept away by Mozart's beautiful music, not by its intensity. It's not the same type of intensity found in Led Zeppelin's "Heartbreaker," where the intensity screams out to be noticed.
Yet, the intensity in Mozart's music is there if the listener chooses to feel it. Mozart's intensity and dedication was eventually a major part of his premature death at age 35.
With Federer's tennis, we are watching only a fraction of the work and visible intensity that has taken his entire life to produce.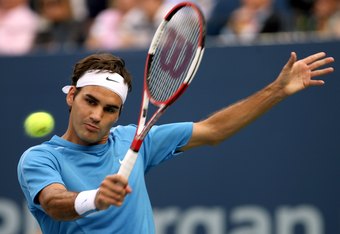 Clive Brunskill/Getty Images
It's easy to forget that his latest performance is a live and dynamic work tempered by age and mileage, and created in full view of millions of fans and critics.
Federer puts more intensity into one minute of tennis than most individuals ever put into a lifetime of athletics.
Pavarotti on Stage
Opera dilettantes appreciated feeling the external intensity Luciano Pavarotti delivered with his powerful vocals. This type of intensity was supposed to be heard and felt.
The casual listener may not ever be aware of the inner peace and concentration Pavarotti required as he mastered his craft. There is an unnoticed perfectionism that silently pushed and demanded his outward display for the world to see.
Nadal and Djokovic are also dedicated performers whose behind-the-scenes preparation erupts onto the tennis court and drives them to their maniacal tennis intensity.
Like Federer, they channel their type of intensity into each minute of their exceptional tennis. If they let up, they would no longer be champions. 
Nota Bene
Supporters best compliment their favorite artists or performers by learning of their workmanship and levels of commitment.
As tennis fans, the more we understand great champions like Federer, Nadal and Djokovic, the more we emphasize with their successes and failures.
It's a tribute of support to notice their efforts, mental strength and intensity. There are unique and various brands to intensity in all of our favorite athletes and rivals. It's a matter of respect that may say as much about the fan as the athlete.
But we do not live inside athletes' lives, and we don't always understand the masters—even a popular tennis genius like Roger Federer.