Roger Federer's Top 10 Commercials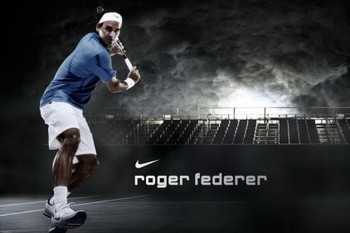 Photo courtesy of: http://mi9.com/wallpaper/roger-federer-nike
Roger Federer has been the most marketable tennis superstar in history.
From Nike to Rolex, Federer's charisma and smoothness have been depicted similarly to how fans view his on-court performances.
He is also one of the few athletes recognized as a brand to a global audience.
Observe these commercials beyond the product, and you will be treated to one of the most likeable and magnetic personalities of our time.
The slides will be ranked as a top-10 list, but all are exceptional, and how they are listed is largely a matter of personal preference.
10. Roger the Psychologist
Can you think of a more fitting player than Roger Federer to play a psychologist if this were his chosen profession?
Consider the following alternatives as your less-than-ideal psychologist:
Novak Djokovic would laugh with you, tell some jokes or impersonate your difficulties.
Rafael Nadal would tell you to be more consistent and attack life the same way you always do, but with more intensity.
Andre Agassi might open up with you and trade stories, but be sure to tip him well to receive a good accounting in his next book.
John McEnroe: "You have a problem? Are you SERIOUS?! Get over it!"
9. French Cartoon Tribute Featuring...Pete Sampras?
Props go out to this original, retro-like cartoon. Its black and white simplicity is complete with old movie-reel sound effects.
The young child in your family will also come running over to the computer as you view it, asking you to replay it several times.
On the other hand, the fake French-English accent is corny, and the Grand Slam equation is a little too nonsensical.
Worst of all, the caricature of Pete Sampras at the end is an awful resemblance, unless his bloated appearance was intentional.
8. Classic Roger and Rolex: No Hyperbole Necessary
Few words are necessary with a symbolic comparison of a timeless athlete and luxury watch.
It is not meant to entertain the viewer but to capture the essence of Federer's classic elegance.
Simple, effective and without pretentious glitz or showmanship, this 2011 version features some of Federer's championship clips.
All of the Rolex commercials are a type of each other, so to break the mold would be heresy.
7. How to Hit a Tweener—Don't Try This at Home
Federer's instructional narrative is solid but highlighted by his mocking plea, "Please don't try this at home. I am a professional."
Best of all, the viewer is once again treated to his amazing tweener shot versus Novak Djokovic in the 2009 U.S. Open Finals, because no written description can frame its awesome replay.
Of critical note, it is a different look for Federer who is wearing a ball cap, a light blue tee shirt and white athletic pants. Would it be preferable to get him out of the studio, put on some shorts and headband and then deliver the monologue?
6. Where Is This Trophy Collection Going to Land?
Why would Federer be hauling the trophies in a cart rather than having them individually wrapped, boxed and shipped. Can't he get a FedEx deal?
Prop placement is essential for commercials, so the trophies must be visible. It's why you can find so many older films with a lady carrying a grocery bag with a stalk of celery poking out of the top. It's not that people eat celery that often, but it must convince the audience that there is something in the bag.
Federer's Nike shoes also get the obligatory camera attention.
Brash commercial, even as we still wonder where these trophies are headed, or why they are being moved in the first place.
5. Hey Tiger, Try to Keep Up, OK Buddy?
Great commercial for those who are suckers for storyboards and retro clips of a young Roger Federer.
Tiger Woods is not the greatest narrator. He seems uncomfortably happy, but maybe that's a revisionist view.
The most interesting anachronism in viewing this now is Tiger's gleeful challenge in telling Federer to keep up. At the time, Tiger was up two Majors on Federer. Now it is Tiger who trails by two.
Tennis players have a much shorter window than golfers to dominate and collect their trophies. So, with time on his side, will Tiger ultimately end up with more Majors than Federer?
It's a close call, maybe even odds, but it may require Tiger getting another five or six Majors. As of right now, this seems unlikely.
4. It Takes Talent, Mr. Everyman
Roger Federer's strongest acting is through his expressions and body language. He can pull off a brilliant commercial with little dialogue. Even Buster Keaton would be impressed.
The comic relief comes from the '70s-looking dude who looks like an extra in some prison scene. In this case, his goofy coaching falls flat in the face of real talent.
Besides its hilarity, the commercial's underlying theme mocks every guy who thinks he has world-class talent that can measure up in some way to a legend.
Sorry, but nobody in history has played tennis like Roger Federer.
3. McEnroe Challenges Federer
The subtitle of this commercial should read, Mac's arrogance vs. Fed's self-assurance. Fortunately, we get to see the two kings of charisma (albeit of diverse natures) square off.
Fittingly, McEnroe gets to do most of the talking and will not back down to the mighty Federer.
Federer's smug smile is the perfect reply. In his mind he is saying, "You know I would have worked you all over the court, straight sets every time. I'm not going to waste my time on even giving you the satisfaction of a debate."
2. Security Can Be a Truffle Difficult
Federer actually lived near a Lindt factory and admitted to "eating tons of chocolate...Lindt is definitely the best of it."
(All aspiring tennis professionals now have permission to include chocolate in their fitness programs.)
It's vintage Federer teaming up with fine Swiss chocolate. Nestle or Hershey's simply does not have this kind of class.
Besides its playful humor, it is a role reversal to the more common "guys checking out a hot girl" commercial.
Good-natured acting from Federer. "Is this really necessary?" he asks at the climax of its interrogation. "People are watching this."
1. Epic Shootout
Even a Pixar short film would be hard-pressed to feature this much detail, action and humor.
Federer's slick appearance is surprisingly attired in a dark tee shirt and jeans.
His coolness faces off in a classic man vs. man shootout that ends triumphantly with man over machine.
Excellent creativity from Nike with its epic tribute to Federer in a comic battle that showcases his genuine coolness.
He is truly the Maestro.
Keep Reading