10 NHL Coaches We All Want to Play for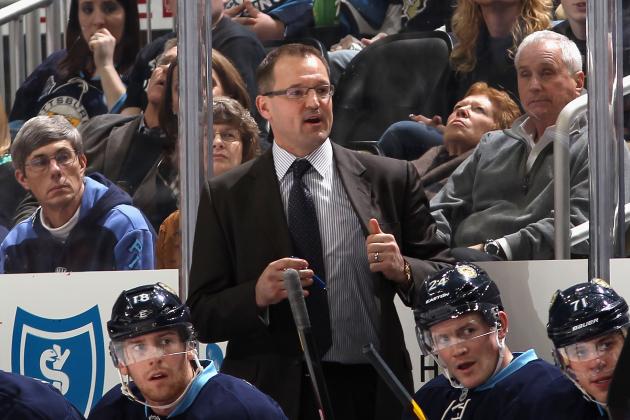 Christian Petersen/Getty Images

Across the National Hockey League, teams are lead by coaches with a variety of styles and personalities as wide as the clubs they direct on the ice.
Take two of the biggest hockey movies of the last 20 years for example. In Miracle, the United States are lead by Herb Brooks, a tough-as-nails disciplinarian who demanded nothing but perfection from his players. In contrast, The Mighty Ducks featured Gordon Bombay, an ex-minor leaguer turned lawyer who seemingly befriended his players, and in doing so, he transformed a last place youth hockey team into champions.
No two coaches are the same, but many are referred to as "players' coaches," who are regarded for their ability to relate to their players, while being receptive of feedback from their troops. Others, like famed Stanley Cup winning bench boss Mike Keenan, are about as cuddly as drill sergeants, and are known for riding their players tirelessly in an attempt to bring the best out of them.
In recent years, with the influx of young talent entering the league each season, it's no surprise that many teams have put a premium on coaches whose strength is communication.
With that in mind, here's a look at 10 NHL coaches who we'd all love to play for.
Begin Slideshow

»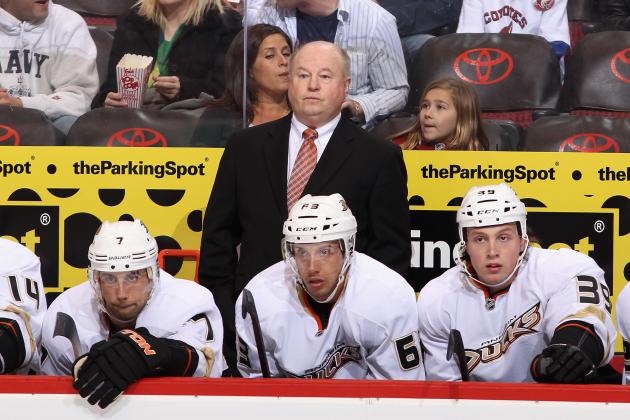 Christian Petersen/Getty Images

When the Washington Capitals relieved Glen Hanlon of his head coaching duties in November 2007, they brought up Bruce Boudreau from their minor league affiliate in Hershey. The affable bench boss known affectionately as "Gabby" led the Caps to four consecutive Southeast Division titles.
Though Washington parted ways with Boudreau early this season, he wasn't out of work long. The Anaheim Ducks picked him up, with the hope that a change of personality behind the bench would help energize a team that was far too talented to be sitting in last place.
While Boudreau's group fell short of the postseason, his impact on the team was obvious, as the Ducks played their way back into the Playoff hunt. More importantly, his troops genuinely appeared to have fun playing for their new coach.
Boudreau may not have won a Cup in Washington, but he rejuvenated a once-forgotten franchise by allowing his offensive stars to use their skill, and in doing so, he created one of the most dominant offensive juggernauts of the post-lockout era.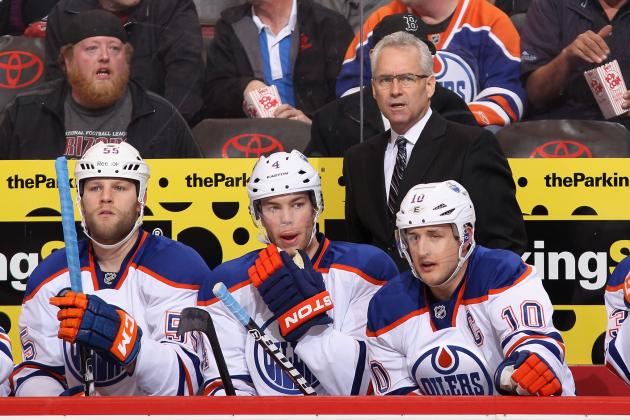 Christian Petersen/Getty Images

Prior to the 2010-2011 season, the Edmonton Oilers elected to remove Head Coach Pat Quinn after just one season and replaced him with Tom Renney.
Though the move raised eyebrows around the league at the time, Renney's reputation for being a great communicator and a players' coach appeared to be an ideal fit for a franchise that was clearly in the midst of a rebuild.
Renney's first two seasons haven't been easy, as the Oilers could find themselves with the top pick in the draft for the third year in a row. However, Renney's ability to teach and develop Edmonton's young guns will pay off in the long run. It remains to be seen, though, whether Renney will be around by the time the team does turn the corner.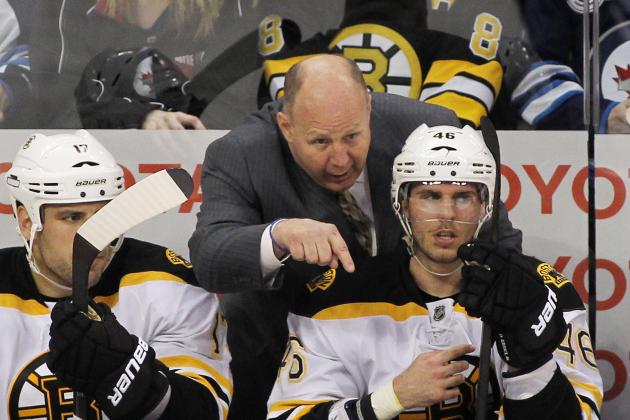 Marianne Helm/Getty Images

Prior to taking the position of Head Coach behind the Boston Bruins' bench, Claude Julien had not enjoyed an inordinate amount of success in the National Hockey League. Fired twice in two seasons by the Montreal Canadiens and the New Jersey Devils respectively, Julien inherited a Bruins team that was far from being considered a Stanley Cup contender.
However, in just four seasons, Julien transformed an underachieving hockey club into arguably the hardest working team in the league, and led the Bruins to the franchise's first Stanley Cup in nearly four decades. Julien brings the best out of his players, but also, more importantly, he stands up for them in the public spectrum on a consistent basis.
In January, after Alain Vigneault of the Canucks criticized Milan Lucic and Brad Marchand, Julien defended his troops, illustrating how much he truly cares about his players.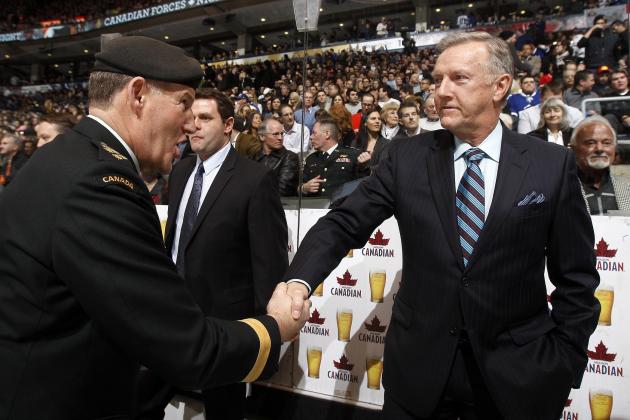 Abelimages/Getty Images

Now in search of his fifth head coaching job in the National Hockey League, Ron Wilson is one of the most well-traveled bench bosses in the game, but that doesn't mean that he hasn't earned the respect of his players in each of his four stops.
A decade ago, Wilson led a blue collar Washington Capitals team to the 1998 Stanley Cup Finals, and more recently he guided San Jose to four consecutive Western Conference Semifinals appearances. One of Wilson's greatest strengths is his use of technology, as he incorporated tablet computers on the Sharks' bench and in the locker room, in order minimize players' mistakes on a shift-to-shift basis.
Though his time in Toronto was disappointing, Wilson has consistently produced results at the international level, as he coached Team USA to a silver medal at the 2010 Winter Olympics and a surprising victory at the inaugural World Cup of Hockey in 1996.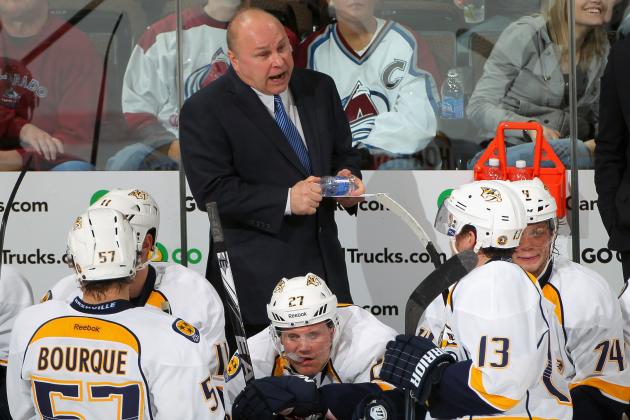 Doug Pensinger/Getty Images

In his 12 seasons behind the bench for the Nashville Predators, Barry Trotz has made a name for himself as one of the smartest coaches in the game by producing Playoff-caliber teams on a consistent basis.
Though Trotz has rarely had the luxury of having high-priced offensive stars, he's built the Predators into a defensive juggernaut that finally appears to be on the verge of a deep postseason run. As the second-longest-tenured coach in the league, Trotz has earned respect for his ability to win, despite having only four players reach the 70-point barrier in 12 years.
While Trotz's brand of hockey may not be the most exciting to watch, his Predators aren't easy to play against, which is a testament to the work ethic he's instilled in his players.
Jonathan Daniel/Getty Images

After the Chicago Blackhawks relieved Denis Savard of his head coaching duties in 2008, the team turned to veteran bench boss Joel Quenneville. The move quickly paid off in the form of a berth in the 2009 Western Conference Finals. Just a year later Quenneville guided the young Blackhawks to the franchise's first Stanley Cup in 49 years.
Prior to his time in Chicago, Quenneville enjoyed a successful stint in St. Louis, where he led the Blues to seven Playoff appearances in eight years, and from there he coached the Colorado Avalanche to two Western Conference Semifinal berths in three years.
The man affectionately known as "Coach Q" has earned the respect of his players in each of his three stops, and though he's regarded as a demanding coach, his players genuinely appear to enjoy playing under him.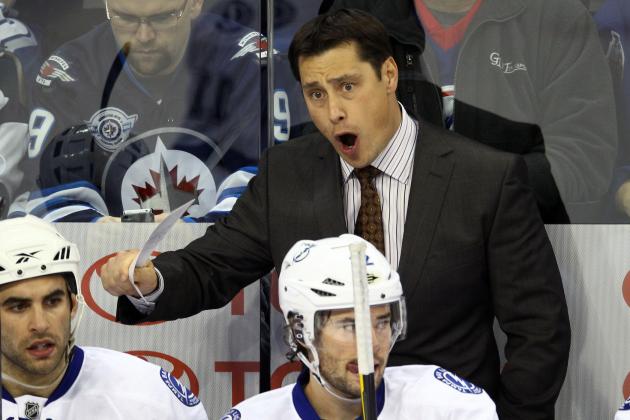 Tom Szczerbowski/Getty Images

In only his first season with the Tampa Bay Lightning, Guy Boucher took a team that failed to make the Playoffs in 2009-2010 to within a game of the 2011 Stanley Cup Finals. Boucher's rise through the coaching ranks has been even more startling, as the 40-year-old went from coaching Midget AAA hockey to the National Hockey League in less than eight seasons.
After being named coach of Montreal's AHL affiliate in Hamilton in 2009, Boucher quickly demonstrated his level of intelligence as a teacher and motivator, and he was offered the position in Tampa Bay just a year later.
Boucher's intensity and commitment to success are evident on a nightly basis, and that level of determination was a trademark of his team that marched all the way to the Eastern Conference Finals last season.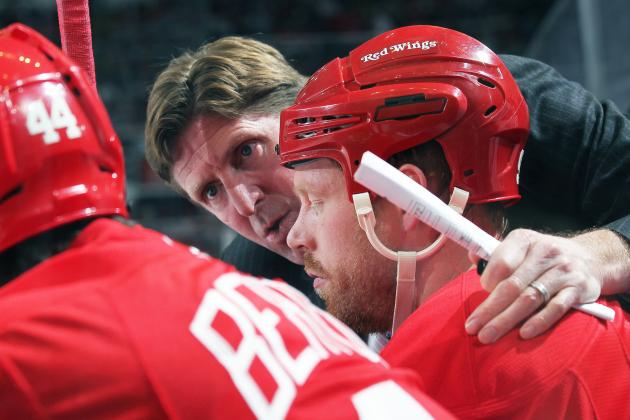 Claus Andersen/Getty Images

Players in the NHL obviously want to win above all else, which is why most would jump at the opportunity to play for Mike Babcock of the Detroit Red Wings. Since joining the Wings in 2005-2006, Babcock has guided Detroit to two Stanley Cup Finals appearances, five Central Division championships, and a Cup in 2008.
Prior to his time in Motown, Babcock led an overachieving Anaheim Mighty Ducks team to the Finals in 2003, which is a true testament to his effectiveness as a motivator and teacher. Though only in his ninth season behind a head coach in the NHL, Babcock has won everything from a Stanley Cup to an Olympic Gold. More importantly, however, he's earned the respect of players across the league.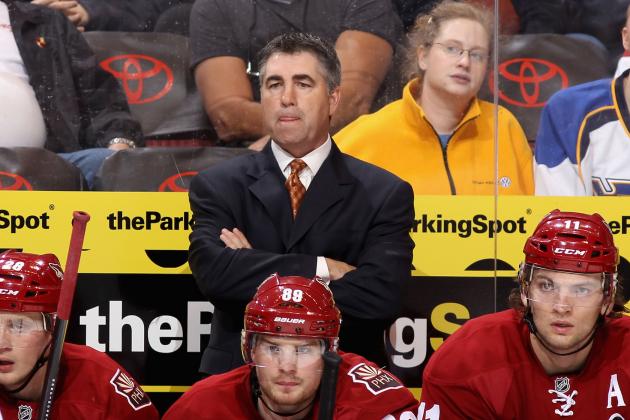 Christian Petersen/Getty Images

In just three seasons, Dave Tippett has reversed the fortunes of the Phoenix Coyotes franchise. After inheriting a team that had missed the Playoffs for six consecutive years, Tippett has led the Coyotes to three straight postseason berths, culminating in a Pacific Division crown this season.
As the 2010 Jack Adams Award winner, Tippett has garnered respect around the league for his ability to win, despite having one of the cheapest rosters in the NHL. Prior to signing on with Phoenix, Tippett led Dallas to five Playoff appearances in six years, including a spot in the Western Conference Finals in 2008.
Though he's rarely had the luxury of coaching star players, Tippett has consistently built his teams into cohesive units that play with heart and passion, despite regularly facing off against clubs with more skill. What's even more impressive about what Tippett has done during his thee years in Phoenix is that he's been this successful even with all the turmoil that has surrounded the franchise since Wayne Gretzky left town in 2009.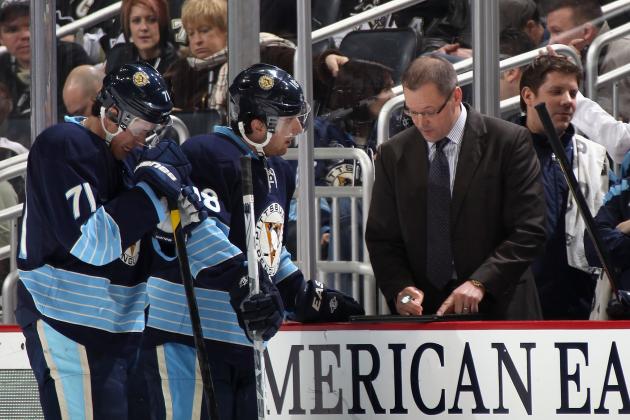 Christian Petersen/Getty Images

Since taking over for Michel Therrien behind the bench of the Pittsburgh Penguins in February 2009, Dan Bylsma has cemented his status as one of the best coaches in the league's recent history. When Bylsma was named as Therrien's successor, the Penguins sat on the verge of missing the postseason completely, but just four months later, Bylsma had guided the Pens to the franchise's first Stanley Cup since 1992.
Though blessed with a sublimely talented roster, Bylsma has proven that he can win even without the services of his superstars, as he guided the Penguins to the fourth seed in the Eastern Conference for the 2011 Stanley Cup Playoffs, despite playing without Evgeni Malkin or Sidney Crosby. A month later, Bylsma captured the Jack Adams Award for his efforts, and his Penguins now appear poised to take another run at the Cup this spring.
In a players poll conducted by CBC for the 2011 NHL All-Star Game, Bylsma was labeled as the coach players most wanted to play for, which illustrates how far the 41-year-old has come during his three full seasons as an NHL coach.