12 of the NHL's Most Impressive Comeback Performances of 2011-12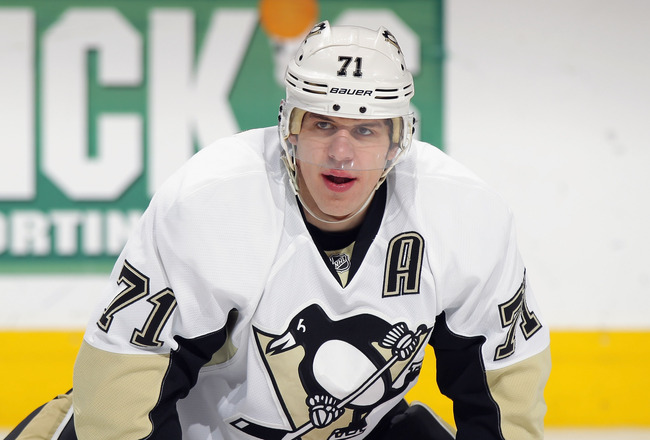 Doug Pensinger/Getty Images
Not everyone can be perfect in the world of professional sports. Even some of the best players have a down year every now and again. But what is most important is how these athletes respond.
Sometimes hyped prospects and rookies have a limited impact during their first year but come roaring back in their sophomore year. Sometimes star players slump or underperform due to nagging injuries.
During the 2011-12 NHL season, there have players who came back better than ever from an injury, down year, rookie year, etc., but let's take a look at some of the most impressive bounce-back performances so far this season.
This is an opinion piece, so if I left someone out, please do not be offended, and leave a comment in the section below to let me know who I "snubbed."
Tomas Fleischmann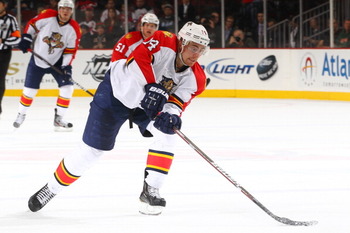 Al Bello/Getty Images
When Dave Talon signed Tomas Fleischmann to a four-year contract with a cap hit of $4,500,000 per year, many thought it was another move to help Florida reach the cap floor.
Last summer, Talon loaded up on free-agent castaways and former players.
It was a gamble, but Fleischmann and the Panthers have made Talon look like a genius.
In 2010-11, Fleischmann appeared in 45 games for the Avalanche and Capitals and scored 31 points. He would then miss the final 36 games of the regular season, because he was diagnosed with potentially career-ending pulmonary emboli.
Through training and a close medical watch, Fleischmann has bounced back with flying colors and has 59 points so far.
He has been nominated by the Florida Panthers chapter of the Professional Hockey Writers Association for consideration to win the NHL's Bill Masterson Memorial Trophy.
Given the severity of his injury and the way he has responded, Fleischmann should garner serious consideration for the award.
Mike Smith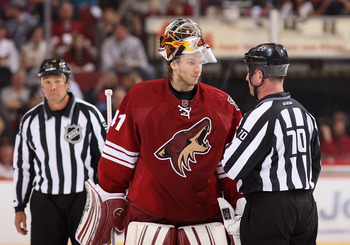 Christian Petersen/Getty Images
If the Phoenix Coyotes can hold on to their playoff spot, Mike Smith definitely deserves some serious recognition.
Smith was signed as a free agent this season after appearing in limited games for the Tampa Bay Lightning in 2010-11. During the 2010-11 campaign, Smith posted a record of 13-6-1 with a 2.90 GAA and a save percentage of .899.
This year, take a look at Smith's impressive stat line: 35-18-10; 2.29 GAA; .927 save percentage; 7 shutouts.
This is quite a turnaround for Smith, because he has never played this well during his entire career.
Now that Smith is on his game, the Coyotes could become serious contenders if they can add a few more weapons in the offseason.
Erik Karlsson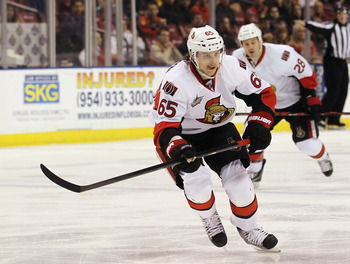 Bruce Bennett/Getty Images
Erik Karlsson is slowly becoming one of the NHL's best offensive defensemen.
Last year, he had 45 points, and this year, he has 77 and counting. However, that is not the sole reason Karlsson is on this list.
Last year, the Ottawa Senators' elite puck mover had a staggeringly high negative rating of minus-30. The most important job that a defenseman has is playing defense and being responsible with the puck in his own zone.
It is quite impressive that Karlsson has stepped up his offensive game and has become a plus-18. While Karlsson is not quite an elite, shutdown defenseman, he is a solid defenseman who oozes offense.
In the playoffs, the Sens will likely lean on Karlsson to help create offense when transitioning from defense to offense.
Max Pacioretty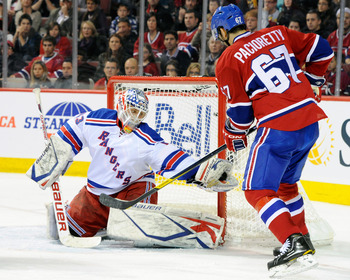 Richard Wolowicz/Getty Images
Max Pacioretty was thrilled to be promoted to the Montreal Canadiens last year after bouncing back between the NHL club and the Hamilton Bulldogs of the AHL.
He was not thrilled to miss the last 15 games of the regular season and seven playoff games as a result of a fractured vertebra in his neck after being destroyed by Zdeno Chara.
However, Pacioretty fought back and has had an impressive season on an often-avoided Montreal franchise.
Currently, Max has posted a 30-30-60 line and is on pace for 31-31-62. He is a beacon of hope for a struggling Montreal team who will look to retool and refocus for next year as they replace some key management personnel.
Daniel Alfredsson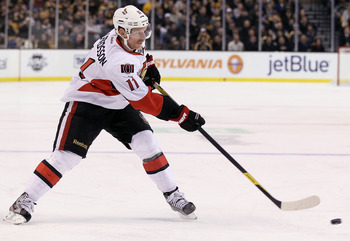 Elsa/Getty Images
The Ottawa Senators fanbase was very critical of its captain last spring, and the Senators contemplated dealing the talented Swede because of his down year.
How did Daniel Alfredsson respond this year?
Not only was Alfredsson named an All-Star starter, but he has captained the team into the playoffs once again.
The fact that he is on pace with 28 goals and 32 assists for 60 points is also good considering that he has 31 points in 54 games last season.
Alfredsson has also been a mentor to fellow countryman and All-Star Erik Karlsson (Ottawa Sun). The two have bonded, and as a result, they have been key leaders for the Senators
Michael Del Zotto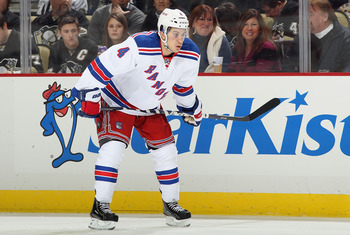 Christian Petersen/Getty Images
Michael Del Zotto is a rising offensive defenseman in the NHL.
In a league where most defenders come into their prime in their mid-20s, Del Zotto had a great freshman year as a 19-year-old.
However, a terrible start to his sophomore season ultimately did him in, and he was bounced to the minors before returning to the big club.
Take a look at the resurgence of Del Zotto as a player.
2010-11: 47 games players: 9 goals, 11 assists, 17 points and a minus-5 overall.
2011-12: 74 games played: 10 goals, 31 assists, 41 points and a plus-21 overall.
Del Zotto is starting to emerge into a solid power-play puck mover, and Brad Richards has helped by mentoring him.
Not only have the two bonded on the ice, but both live in the same apartment complex, so Richards is mentoring Del Zotto and teaching him how to be a real pro.
Overall, Del Zotto has had a great bounce-back year and really stabilized what was predicted to be a rocky Rangers defense group, without Marc Staal for most of the regular season.
Jordan Eberle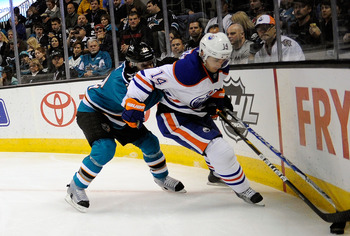 Thearon W. Henderson/Getty Images
The Edmonton Oilers have had their fair share of lottery picks over the past few years, but Jordan Eberle really improved leaps and bounds from last season.
In 69 games last year, Eberle scored 18 goals and assisted on 25 others for 43 points.
This year, Eberle has scored 33, assisted on 42 others and has 75 points and counting.
Eberle has led the charge for the Oilers this year and is a key building block for the future. It is impressive that Eberle has grown and adapted so quickly.
If Eberle continues to show this type of improvement, next year may be the year the Oilers make a return to the Stanley Cup playoffs.
Jason Spezza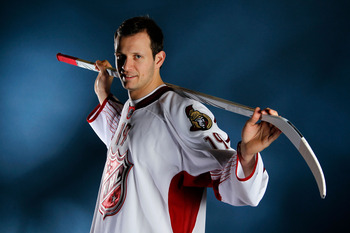 Gregory Shamus/Getty Images
Last season, Jason Spezza battled many different injuries. He only appeared in 62 games, scored 57 points and was a minus-7 player.
He was not an effective player due to his various nagging injuries. But this offseason, Spezza got healthy and started to play better—and so did the Ottawa Senators.
This year, in addition to being named an All-Star, Spezza has recorded 82 points to date, is a plus-11 player and has 10 power-play goals.
Spezza has been a huge reason why the Senators are in the playoffs this year, and his two-way play has been a huge plus.
Spezza has had big years before, but the previous few years have been below his standards as a top center in the NHL.
Evgeni Malkin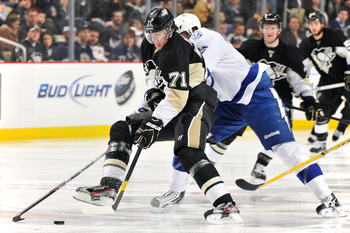 Jamie Sabau/Getty Images
Evgeni Malkin is going to win the Hart Trophy, and he has really played like an MVP this season.
It is one thing that Malkin has 48 goals and 56 assists for a total of 104 points this year, but it's another story when you consider that Malkin is coming back from an injury-ridden 2010-11 season.
Malkin also missed a few games earlier this year.
Overcoming knee surgery and returning to a level of dominance is not easy. Players like Pavel Bure learned that lesson the hard way.
With Malkin healthy and on his game, the Penguins are going to be a legitimate Stanley Cup contender.
Tyler Seguin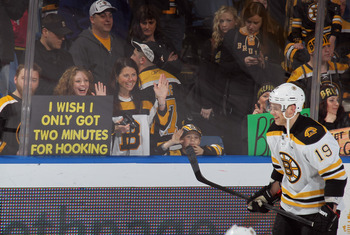 Bruce Bennett/Getty Images
Tyler Seguin has drastically improved upon his rookie season.
In 74 games last season, Seguin scored 11 goals and assisted on 11 others for 22 points.
This year, in 78 games, Seguin has scored 27 goals and assisted on 38 others for 65 points. He is also a plus-32 with four power-play goals and seven game-winning goals.
Seguin has had a great comeback season and has continually built upon what made him successful in the OHL.
Brian Elliot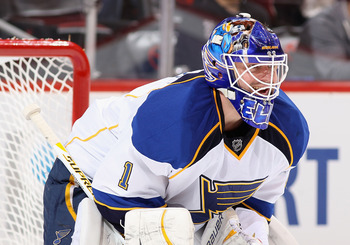 Christian Petersen/Getty Images
Brian Elliot has had a great year as the No. 2 goaltender for the St. Louis Blues.
The situation St. Louis has with its goaltending is interesting. With both Jaroslav Halak and Elliot playing great hockey, depending on the outcome of this playoff year, one could be dealt for another offensive piece.
Odds are that it is Elliot, as he is a goalie who has been on the move a lot. Last year with Ottawa and Colorado, Elliot posted a record of 15-27-9 with a 3.31 GAA and a .893 save percentage.
This year, Elliot has posted a 24-9-3 record with a remarkable 1.48 GAA, a .943 save percentage and nine shutouts.
This has been quite a resurgent year for Elliot, and considering that he earned a contract extension earlier this year, he could become very valuable for St. Louis if it decides to trade him.
Elliot is very talented, but consistency is an issue that he needs to tackle going forward.
Ryan O'Reilly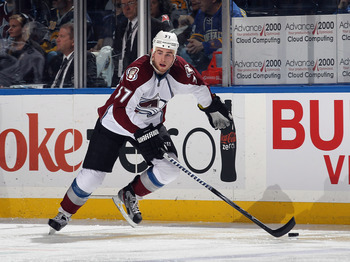 Bruce Bennett/Getty Images
Ryan O'Reilly has emerged as one of the better checking two-way centers in the game.
He can play physically along the boards and kill penalties, and this year, O'Reilly added some offense to his game.
In back-to-back years, O'Reilly scored 26 points, but this year, O'Reilly has scored 18 goals and has assisted on 37 others for 55 total points.
With O'Reilly's work ethic and determination, he can continue to improve in all aspects of his game.
Tom Urtz Jr is an NHL featured columnist.
For more NHL news, updates and alerts about players:
Keep Reading