Falling Up: Livan Hernandez Released by Astros, Signed by Braves
March 30, 2012

Rob Carr/Getty Images
Livan Hernandez certainly had an interesting Friday afternoon. 
Earlier this morning, news circulated that the Houston Astros had released the 37-year-old pitcher. The move was a surprise, as most saw Hernandez as a solid innings-eating veteran who could help anchor a young pitching staff in Houston.
But Hernandez was awful for the Astros this spring. In five Grapefruit League starts, he allowed 14 runs (10 earned) and 23 hits in 16 innings. That's almost like throwing batting practice. 
Of course, no one was more surprised by the move than the guy who was actually released.
"Yeah, it was surprising," Hernandez told MLB.com's Brian McTaggart. "It's a business and it's baseball. I was very surprised when this happened. It's tough to pitch like that, too.
"It's the decision they made and I'm very happy for the chance. There's a lot of good people in the organization, a lot of good young players and great people. Everyone in the organization is very professional."
That professionalism was demonstrated by the Astros releasing Hernandez now, giving him a chance to find work with another team before the regular season begins.
At the time, many baseball writers (including this one) wondered if this might be it for Hernandez's career. After all, if he couldn't hold down a spot with the worst team in baseball, who else would be interested in signing him?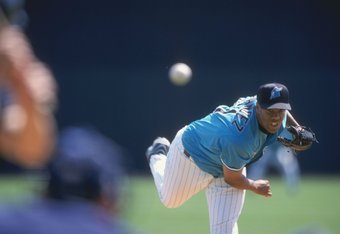 Matthew Stockman/Getty Images
As it turns out, Hernandez was picked up almost immediately by the Atlanta Braves. Most conveniently, the Astros happen to be playing the Braves on Friday, so Hernandez can just ride in with his now-former teammates.
(Though as CSNWashington.com's Mark Zuckerman pointed out on Twitter, it's only a 20-minute drive between the Astros' camp in Kissimmee and the Braves' complex in Lake Buena Vista.) 
For the Astros, this is a commitment to youth. The Houston Chronicle's Zachary Levine reports that that Lucas Harrell, Jordan Lyles and Kyle Weiland will compete for the last two spots in the starting rotation. 
For the Braves, this is kind of an indictment of youth. As David O'Brien of the Atlanta Journal Constitution tweeted, it's not so much about how much Hernandez can help. It speaks more to how disappointing top pitching prospects Julio Teheran (9.00 ERA) and Russell Delgado (7.41 ERA) have been this spring.
Hernandez obviously won't have the upside that Teheran and Delgado promise. But he'll give the Braves 200 innings at the back end of the rotation—something every major league team wants and needs—and walk very few batters when he's out there. 
Talking Chop's Martin Gandy observes that Hernandez will now have pitched for every team in the NL East except for the Philadelphia Phillies.
Hey, there's always next year! 
With the move, Hernandez goes from the worst team in baseball last season to a club expected to contend for a postseason spot. He upgrades by 33 wins in the process. That's not a bad way to end the week.