NHL All-Name Teams: Picking the 20 Most Ridiculous Hockey Names of 2011-12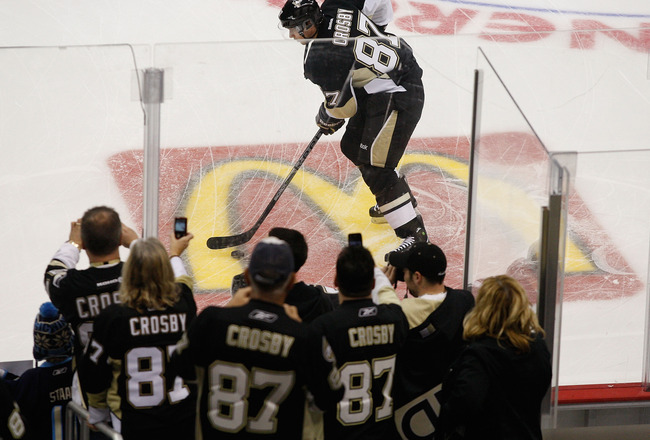 Jared Wickerham/Getty Images
Some hockey names just seem to fit. They roll off the tongue, sound great in highlight reels and can even seem to exude the spirit of the sport in their name.
"Sidney Crosby" rhymes and goes well phonetically, "Claude Giroux" sounds like a fancy french dessert, whereas "Zdeno Chara" contains the hard-sounding letters appropriate of the NHL's biggest player.
Then there are names that do not do a hockey player justice.
Some are hard to say, some hard to spell and others seem inconvenient for some other reason.
20. Robert Klinkhammer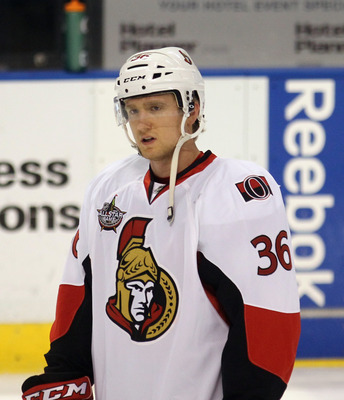 Bruce Bennett/Getty Images
What sound does a hammer make?
It's not "klink," is it?
19. Jacob Micflikier
"Mick-flick-er" is a name you can say over and over again and it will never stop sounding like something made up for a cartoon character.
Micflikier is on the Washington Capitals' AHL team.
18. Dustin Byfuglien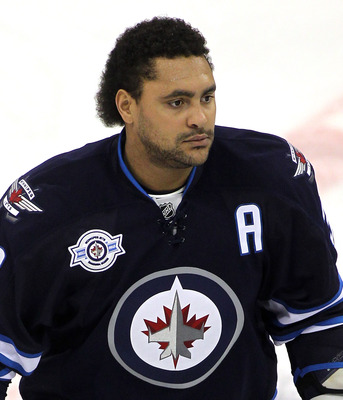 Marianne Helm/Getty Images
Before Byfuglien gained popularity by being an essential member of the 2010 Stanley Cup champion Chicago Blackhawks, his name was likely mispronounced as "Biff-fugly-in" by some.
The proper way to pronounce the last name of "Big Buff" isn't exactly normal, either.
17. Jeff Drouin-Deslauriers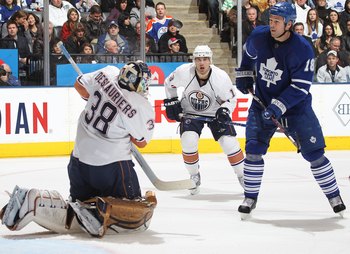 Claus Andersen/Getty Images
Now a member of the Anaheim Ducks organization, there's no way his full last name was fitting on the back of his jersey.
16. Jonathan Quick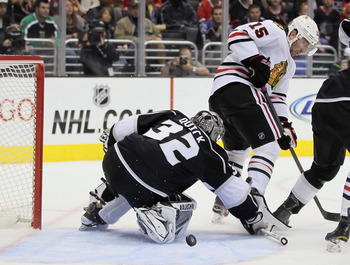 Jeff Gross/Getty Images
A goalie named Quick is a bad joke that's not even a joke.
15. Bracken Kearns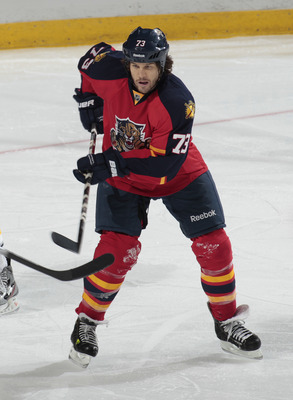 Joel Auerbach/Getty Images
What was Bracken named after?
The plant of the same name?
14. Linus Omark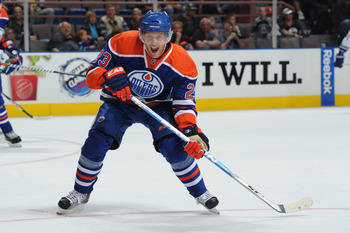 Dale MacMillan/Getty Images
13. Cedric Lalonde-McNicoll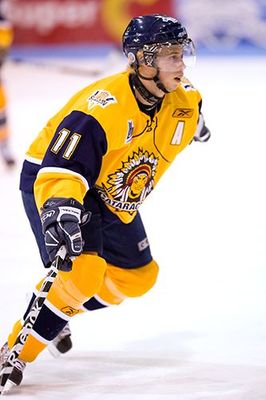 Image Source: http://www.lhebdodustmaurice.com/media/photos/unis/2010/03/03/photo_590848_resize.jpg
Lalonde-McNicoll isn't that bad, but the poor guy's first name is Cedric.
That creates an unfortunate combination.
McNicoll is under contract with the Carolina Hurricanes.
12. Justin Abdelkader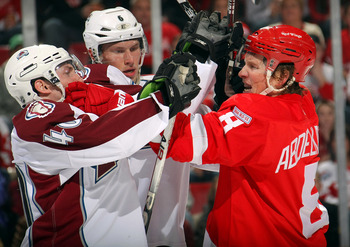 Dave Sandford/Getty Images
Abdelkader's name is particularly humorous for anyone who watched Nickelodeon cartoon Hey Arnold!
Younger fans might remember a superhero named "The Abdicator" from an episode titled "Eugene Goes Bad."
Once this connection is made, it's hard to hear Abdelkader's name and not think of it being said in a voice resembling that of Arnold Schwarzenegger's.
11. Jonathan Cheechoo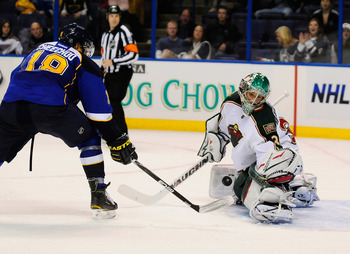 Jeff Curry/Getty Images
"Chee Choo" isn't exactly the sound that a train makes, but it's close enough.
10. Ryan Thang
At least his first name doesn't begin with a "G."
9. Ryan Garbutt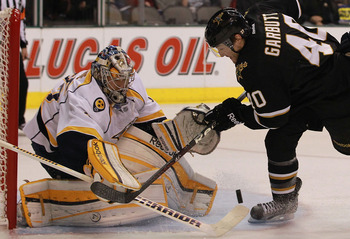 Ronald Martinez/Getty Images
Anyone want to guess how many "butt" jokes he endured while growing up?
At a certain age, they stop being funny, but still...his last name has a butt in it.
8. Nicklas Grossmann
Tom Szczerbowski/Getty Images
Gross, man.
Anyone? Or is this worse than the butt joke?
7. Vladislav Namestnikov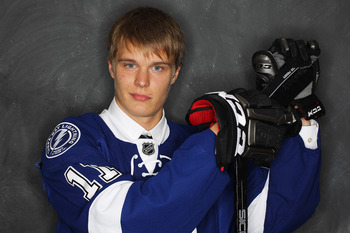 Nick Laham/Getty Images
The recently drafted center belongs to the Tampa Bay Lightning.
His last name begins with "name." That's like using "password" as a password.
6. Paul Szczechura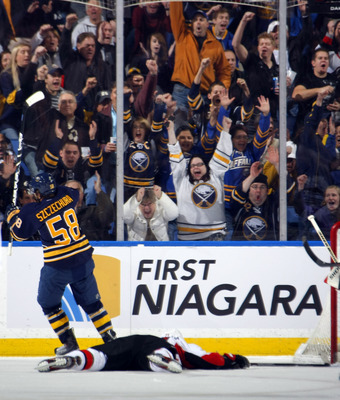 Dave Sandford/Getty Images
This Buffalo Sabres' AHL forward has a name pronounced "Shuh-her-rah" but is spelled like a typo.
5. Michael Sgarbossa
The YouTube user's credibility may take a bit of a hit due to this video.
Sgarbossa actually isn't a bad name, but it sounds more like a monster from a bad movie than a hockey player.
4. Harry Zolnierczyk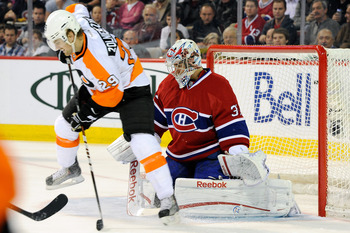 Richard Wolowicz/Getty Images
"Harry Z" has a name pronounced "Zoul-nur-chuck," which is a disastrous name to try spelling from memory.
3. Pierre-Luc Letourneau-Leblond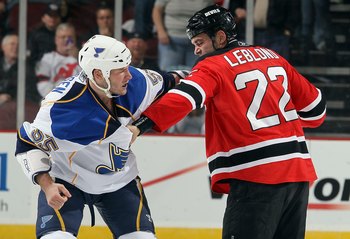 Jim McIsaac/Getty Images
"PL3" is a much easier way to address the man with four parts to his name.
He is currently with the AHL's Abbotsford Flames.
2. Jordin Tootoo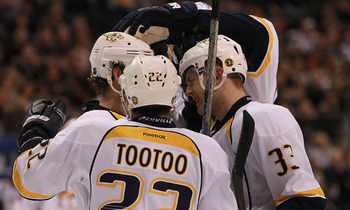 Ronald Martinez/Getty Images
What's worse?
His last name being Tootoo, or his number being two-two?
1. Wacey Rabbit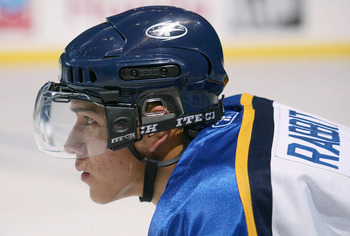 Chris Relke/Getty Images
If your last name is "Rabbit," please do not ever name your son "Wacey."
Just think of an announcer trying to take themselves seriously while yelling, "RABBIT SCORES!"
The 5'9", 170-pound Rabbit plays for the Florida Panthers' AHL affiliate San Antonio Rampage.
B/R Featured Columnist Jason Sapunka covers the NHL and Philadelphia Flyers.
Keep Reading