NHL All-St. Patrick's Day Team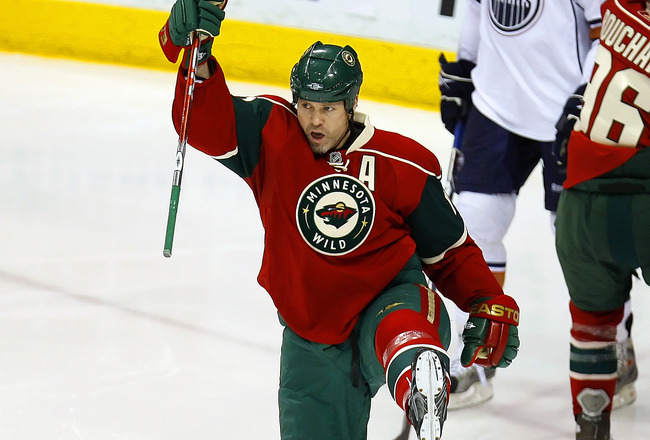 There have not been many NHL players born in Ireland
Scott A. Schneider/Getty Images
It is St. Patrick's Day, a holiday celebrated by most of the country despite their frequent lack of Irish heritage (or the fact that there never were snakes in Ireland and that myth is a euphemism for Patrick's brutal treatment of pagans).
As they say, we are all Irish today. So I had this bright idea: Assemble an NHL All-Star starting roster of Patricks (or Patriks, Patric, Patrice...) for fun.
There is just one problem: Not one variation of the name Patrick is among the first or last names of any non-forward in the league.
This forced a change in direction. I looked for players with either the name Patrick or of Irish descent. Some of the latter may not be obvious—i.e. is Mike Smith or Ryan Miller Irish? Their Wikipedia pages did not say, and I am not about to spend that kind of time looking at every "maybe" throughout the league.
Since that leaves few options for goalie, I altered direction again to have this team fit under the salary cap—they would have the ninth-highest payroll in the league, but about $1.5 million in cap space. So open for yourself a Guinness and read the players St. Patrick has dressed to do battle today!
First Line: Elias-Kane-Sharp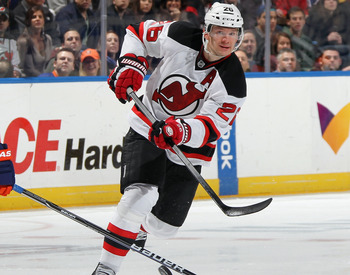 Bruce Bennett/Getty Images
Patrik Elias, Patrick Kane and Patrick Sharp: Each player on this line has won a Stanley Cup, scores almost a point per game, and plays solid defence.
Sharp has blossomed into one of the best two-way forwards in the league and is a natural linemate with his Chicago teammate. Elias has been an elite offensive forward who is an asset in his own end and a leader for a long time.
Second Line: Marleau-Bergeron-Callahan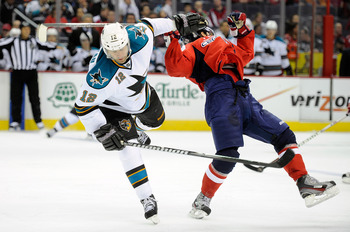 Greg Fiume/Getty Images
Patrick Marleau, Patrice Bergeron and Ryan Callahan: All three players on this line have at least 48 points so far this season. The two players who do not have a Stanley Cup ring have seen the second round as their team's captain.
Patrick Marleau has shaken the soft defensive reputation of his 20's and become a penalty-killer for San Jose in his 30's. Bergeron is among the favourites to win the Selke Trophy as best defensive forward. Callahan is the kind of scrappy, two-way player every team needs.
Third Line: Malone-Ryan-Sullivan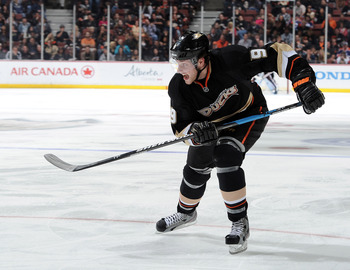 Harry How/Getty Images
Ryan Malone, Bobby Ryan and Steve Sullivan: Ryan has to be captain of this team. Not because he is its best player (far from it since he is on the third line) or its hardest worker (as one might expect of a predominantly Irish team, there are plenty of hard workers on this one), but because he was born on St. Patrick's Day.
Malone has a Stanley Cup ring and is great defensively. Sullivan is a wily veteran who offers the team cap relief. All three have at least 13 goals and 38 points, making this a third line that can score.
Fourth Line: McGinn-O'Reilly-Hornqvist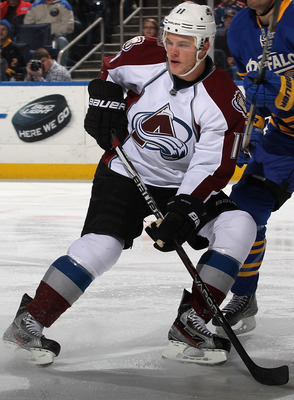 Bruce Bennett/Getty Images
Jamie McGinn, Ryan O'Reilly and Patric Hornqvist: None of these players has distinguished themselves, but all three young players are capable of handling the grind of the fourth line and the playoffs.
Hornqvist plays for Barry Trotz and thus is developing defensively. O'Reilly is a Selke Trophy candidate. McGinn was the San Jose Sharks' most physical forward, and the offences of the two teams have gone in the opposite direction since the trade.
He is now a natural linemate with new Colorado Avs teammate O'Reilly, and both might even hit 20 goals. Hornqvist is already there, making this among the most dangerous fourth lines in the league.
First Pair: Boyle-O'Brien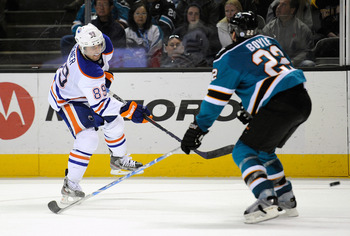 Thearon W. Henderson/Getty Images
Dan Boyle and Shane O'Brien make a good pair because they compliment each other.
Boyle is perceived as a bad defensive player but is actually middle-of-the-pack on the Sharks' blue line in hits and blocked shots and its best player in takeaways. His speed makes him an asset on both ends.
O'Brien is similarly perceived as a stay-at-home defenceman only but in fact has averaged more than a point per five games so far this year—far more than Boyle's real defence-mate Douglas Murray, who was nonetheless good enough to play on the Swedish Olympic team.
Second Pair: O'Donnell-McDonagh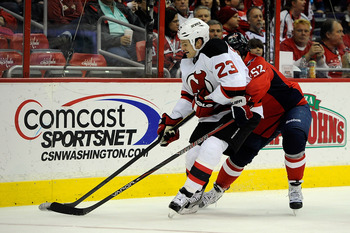 Patrick McDermott/Getty Images
Sean O'Donnell and Ryan McDonagh: There are better defencemen of Irish heritage than Sean O'Donnell not on this team. But perhaps no one better epitomizes the Irish stereotype of a tough guy, and he has the Stanley Cup playoff experience that is invaluable.
McDonagh does not get as much recognition but is having a tremendous season. He has six goals, 20 assists and a plus-21 rating thus far. His play (along with that of Dan Girardi) on the blue line is one of the reasons the Blue Shirts are vying for the President's Trophy.
Third Pair: McBain-O'Donnell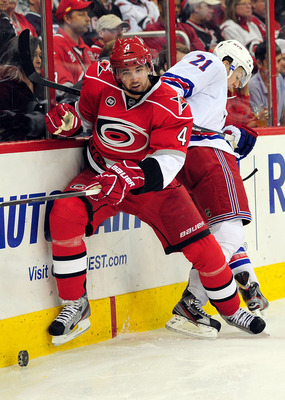 Grant Halverson/Getty Images
Jamie McBain and Ryan O'Byrne: O'Byrne is a young player without much skill, but he is a solid defender.
McBain has enough skill to make this pair work in both ends. Seven goals, 18 assists and only a minus-five rating on one of the worst teams in the NHL makes him a shoe-in for this team.
Goalies: McElhinney and Murphy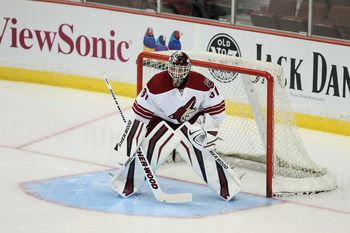 Jeff Gross/Getty Images
Curtis McElhinney and Mike Murphy are both career backup goalies. In fact, they are both career emergency goalies—that guy you want to call up when one of your two NHL goalies is hurt.
However, not having the nationality of other players substantiated, this team would have to rely on its unbelievable forward depth and solid blue line to win. We all know how well that worked for the Philadelphia Flyers, but then such a weakness would befit a nationality that has had adversity as its identity for centuries.
Keep Reading