Don Cherry's 9 Greatest (and Most Ridiculous) Rants from 'Coach's Corner'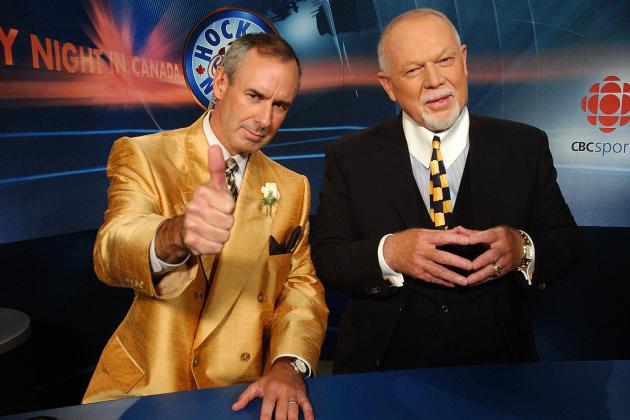 Dave Sandford/Getty Images

Ever since the 1980's, Don Cherry has been the cornerstone of CBC's "Coach's Corner."
Through the years, he has become a Canadian icon, so much so that in 2004, Cherry was named the seventh greatest Canadian in CBC's "The Greatest Canadian" television series, ahead of such names as Wayne Gretzky, Alexander Graham Bell and Sir John A. Macdonald.
That being said, Cherry has made a few enemies, using his position on "Coach's Corner" to broadcast his sometimes-unpopular opinion. He has targeted specific people such as Brian Burke, and he has targeted entire cultures of people like French-Canadians and Russians.
Whether he is loved or hated, one thing is for sure: Don Cherry is known throughout the hockey world, and everyone has an opinion on him.
Here are nine of his most memorable "Coach's Corner" moments.
Begin Slideshow

»
In his most recent tirade, Cherry went after Brian Burke for the fact that there are no players from Ontario on the Toronto Maple Leafs.
While Cherry is entitled to his opinion, if he were to look at the Leafs' prospect system, he probably would have said something different. Currently, there are eight Ontarians playing for the Toronto Marlies, and six more playing in junior or college.
Another recent tirade, one for which Cherry apologized.
He knew he was wrong and he actually admitted it...although the threat of a lawsuit could have had something to do with it.
Cherry really has something against Russian hockey. In some ways, I am inclined to agree with him, but Cherry definitely goes over the line.
Starts at the 4:17 mark.
I am completely with Cherry on this one.
Mario Lemieux coming out and saying that changes needed to be made about players taking runs at other players, knowing he had a player like Matt Cooke on his team, definitely was a little hypocritical of him.
Any Maple Leafs fan will definitely agree with this one.
I once again agree with Cherry.
Zdeno Chara definitely meant to put Max Pacioretty into the stanchion. However, he likely did not want to hurt him the way he did.
Starts at 2:00.
This one is interesting as it happened a year before Eric Lindros was traded. Who knows what would have happened if the Nordiques traded him at this time rather than waiting for a year.
I don't think there's anyone on this planet that doesn't agree with Cherry here.
While he has cleaned up his game this season, Matt Cooke's previous antics will never be forgotten.
I finally disagree with Cherry.
NHL players should be allowed to celebrate in any way they want. That being said, the "hot stick" celebration by Alex Ovechkin was a little stupid in my opinion.