Stanley Cup Playoffs 2012: Which Eastern Conference Team Will Take the 8 Seed?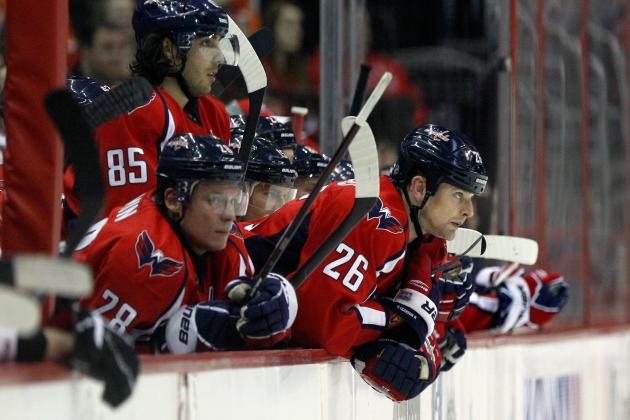 Rob Carr/Getty Images

With about a month left in the NHL regular season, the Stanley Cup Playoff picture is starting to shape up. Some teams, such as the New York Rangers and Boston Bruins, have pretty much secured their spot and are trying to finish strong.
However, towards the bottom of the Eastern Conference, there are five teams that are all looking to lock up the last spot and save themselves from going golfing in the second week of April.
In this article, I will look at those five teams and try to determine who has the best chance of getting the eighth seed. These teams are currently in eighth through 12th in the conference, but despite their standing, are not that far out of the picture.
In order to make the best decision, I will look at each team's current record, and their strengths and weaknesses. Even the best teams have weaknesses, but these are exposed when a team is fighting for its playoff life.
Next week, I will look at the Western Conference teams outside the playoff picture.
Please note that all statistics in this article are as of the end of games on Thursday, March 8.
Begin Slideshow

»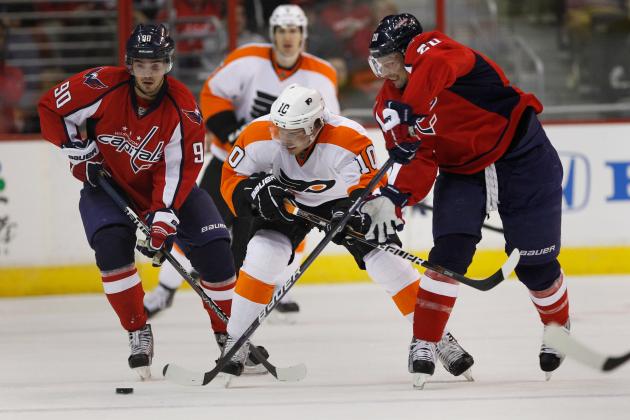 Rob Carr/Getty Images

Current Record: 33-28-6, 72 points (eighth in Eastern Conference)
Strengths
The Capitals have an offense in the top half of the league, as they are currently 15th with 2.64 goals per game. They've also demonstrated their ability to finish games when they are in control, as they are 19-0 when leading after two periods.
Washington also has a lot of young, promising players that will provide it with a bright future. Among them is defenseman John Carlson, who has passed the 30-point mark for the second-straight season. Goaltender Michal Neuvirth is having a down season, but he had 27 wins in 2011 and would have been the starter again had Washington not signed Tomas Vokoun.
Weaknesses
Although the Capitals have offensive stars, some of them have underperformed as of late. Captain Alexander Ovechkin is on pace for just 62 points, the lowest total of his career, and has been benched for poor performance.
Alexander Semin, who is looking more like a disappointment each game, is on pace for 51 points, also a career-low.
The Caps have also faltered in the playoffs, even as a top seed. Last year, they were swept by the fifth-seeded Tampa Bay Lightning in the Eastern Conference Semifinals. In 2010, they dropped a 3-1 series lead to the eighth-seeded Montreal Canadiens.
This means that if they make the playoffs, there will be even more pressure to succeed, and the Caps may not be up to the challenge.
Special teams are also a problem. Washington ranks 19th in the NHL with a 16.4 percent power play and 22nd with an 81.1 percent penalty kill. This must be fixed if they hope to make a deep run.
Record Against Playoff Teams (since the All-Star break): 2-7-1. This includes back-to-back shutouts losses against the New Jersey Devils and Philadelphia Flyers.
Playoff Odds: The Caps have the talent to make the playoffs, but they will miss out if star players do not step up. Also, there has been some on and off-ice drama that they must set aside to stay focused on their goal.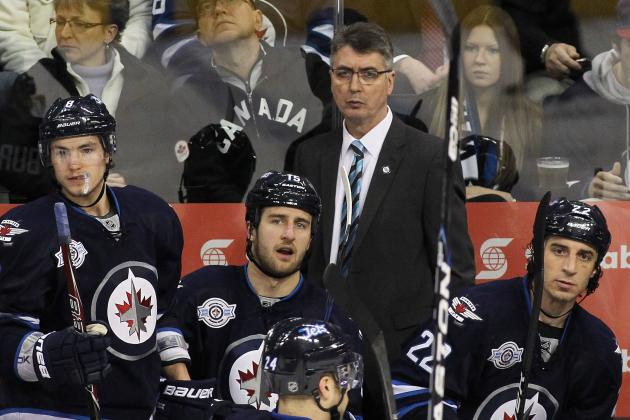 Marianne Helm/Getty Images

Current Record: 32-28-2 (72 points, ninth in Eastern Conference)
Strengths
The Jets have a solid power play, ranking ninth in the NHL with a 19.3 percent success rate.
They are also a physical team, as they are eighth in the league with 1,639 team hits. Ron Hainsey leads the Jets with 212 hits this season. Furthermore, only four players are under six feet, and the roster includes big players like Dustin Byfuglien, who stands at 6'5" and weighs 265 pounds.
Winnipeg has one of the best home records in the Eastern Conference at 21-10-4, which is good for fourth.
Weaknesses
Winnipeg does not have a lot of playoff success, which stems from the organization's days as the Atlanta Thrashers. There are still a lot of players on the Jets who played in Atlanta, which means they have a narrow idea of what it takes to do well in the Stanley Cup Playoffs.
This could hurt come April.
Although the Jets have scoring depth with seven players posting at least 30 points, their offense and defense are still in the middle of pack. They are 19th in the NHL with 2.56 goals scored per game and 18th with 2.74 goals against.
There is talent, such as Andrew Ladd, Evander Kane and Blake Wheeler, but none of these players are really an X-factor who can put Winnipeg over the top.
Record Against Playoff Teams (since All-Star break): 4-3-1. They have defeated the Boston Bruins and recently crushed the Florida Panthers, 7-0. This is one of the best marks for non-playoff teams against playoff teams.
Playoff Odds: The Jets have the production to get into the playoffs; however, the lack of star power could hurt them.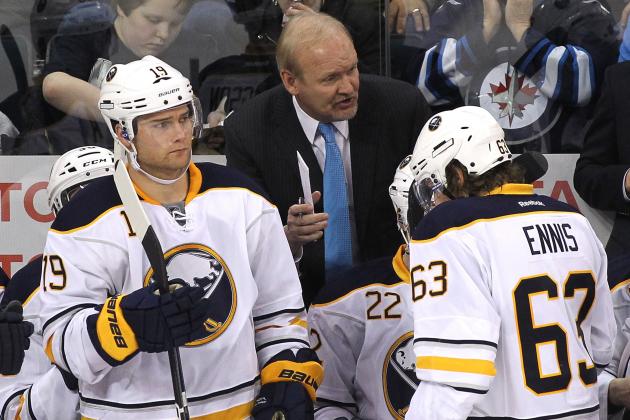 Marianne Helm/Getty Images

Current Record: 31-29-8 (70 points, 10th in Eastern Conference)
Strengths
The Sabres have a strong goaltending contingent, with former Vezina Trophy winner Ryan Miller manning the pipes. Miller has won at least 30 games every season and is currently 23-18-5 with a .915 save percentage and 2.58 GAA. He is also sixth in the NHL with five shutouts.
Jhonas Enroth is backing up Miller. Although he has an 8-10-3 record this season, he has improved his save percentage to .917 after posting a .907 mark in 2011. His GAA has also gone down, sitting at 2.68 as opposed to 2.73 last season.
Buffalo also has strong leadership and a good core group of forwards. Captain Jason Pominville has had at least 60 points every year but 2011, while alternate captain Thomas Vanek is consistently among the Sabres' top five scorers.
Derek Roy, also an alternate captain, has four 60-point seasons in his career.
Lindy Ruff is the longest-tenured coach in the NHL and has led Buffalo to three Eastern Conference Finals (1998, 2006 and 2007), and to one Stanley Cup Final (1999). The Sabres have made the playoffs in eight of his 13 seasons as coach.
Weaknesses
Despite the fact that the Sabres are top-heavy on offense, this is a down year for many of their stars. Their offense is 26th in the league with 2.39 goals scored per game, while the power play is 23rd with a 16.1 percent success rate.
Things aren't much better on defense, as they are 20th in the NHL with 2.75 goals against per game. Their penalty kill has an 81.7 percent success rate, ranked 19th.
Record Against Playoff Teams (since All-Star Break): 6-5-1. The Sabres have won four out of their first five games in March, which includes wins over teams like the Vancouver Canucks and Boston Bruins.
Playoff Odds: There was some indication that things might be getting a little stale in Buffalo and that the team might be too comfortable with their core. The Sabres are starting to heat up, and if they keep it going, they can ride that momentum into the eighth seed and the postseason.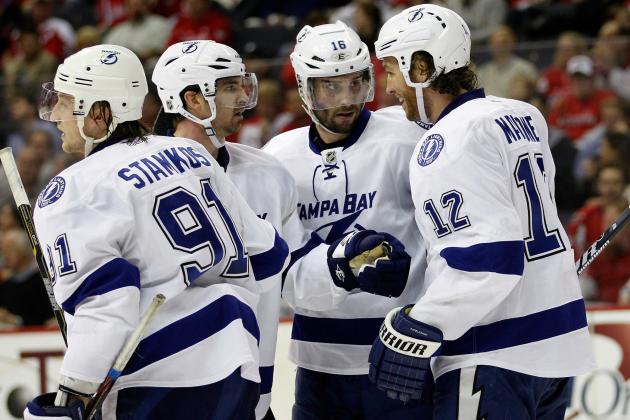 Rob Carr/Getty Images

Current Record: 31-29-7 (69 points, 11th in Eastern Conference)
Strengths
Tampa Bay's offense is ninth in the NHL with 2.80 goals scored per game. It is led by Steven Stamkos, who is leading the league with 48 goals and 82 points. Martin St. Louis and Vincent Lecavalier are aging and having down seasons, but they still rank in the top five on the Lightning with 62 and 46 points, respectively.
The Bolts are good at making comebacks, posting eight wins when trailing after two periods. This is first in the NHL.
Their head coach, Guy Boucher, is one of the best coaches in the NHL and already accomplished one turnaround with the team last year. He guided them to a 46-25-11 finish and a fifth seed in the Eastern Conference. In 2010, the Lightning had a record of 34-36-12, 12th in the East.
Weaknesses
Goaltending is a sore spot, especially now that Mathieu Garon is injured. Garon had a record of 23-16-4 with a .901 save percentage and a 2.85 GAA before getting hurt. Fellow goaltender Dwayne Roloson is slumping after a comeback season in 2011. He is just 8-13-2 with an .878 save percentage and a 3.82 GAA.
Dustin Tokarski was recalled from the Norfolk Admirals of the AHL. Although he has two 20-win seasons in the minors, he has only played two NHL games in the 2009-10 season.
The defense has struggled since Tampa was an Eastern Conference contender last year. The unit is last in the NHL with 3.38 goals against per game and lack offensive defensemen. Marc-Andre Bergeron is the only blueliner to have at least 20 points this year. Defensemen such as Brendan Mikkelson (25 games played) and Mattias Ohlund (has not played this year) have been unable to help the defense, making it harder to form a cohesive unit.
Record Against Playoff Teams (since All-Star break): 4-5-3. Tampa has won two out of four games to start March, including a 4-3 overtime win against the top-seeded New York Rangers.
Playoff Odds: Offense alone won't be enough to put Tampa in the playoffs. Unless Garon can heal ahead of schedule, the Lightning will likely miss the playoffs and be forced to improve the team over the summer.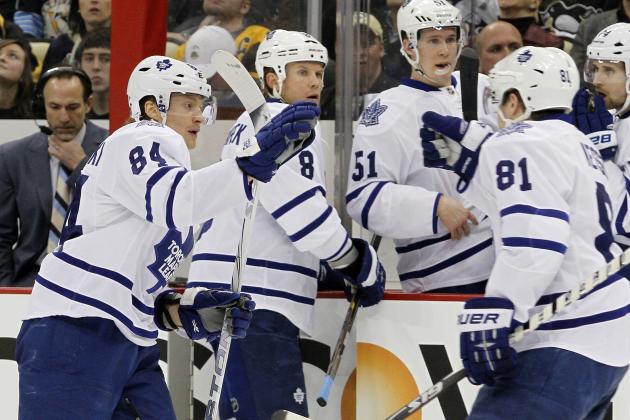 Justin K. Aller/Getty Images

Current Record: 30-30-7 (67 points, 12th in Eastern Conference)
Strengths
Toronto's offense is seventh in the NHL with 2.94 goals scored per game. It is led by Phil Kessel, who is third in the league with 34 goals and fifth with 71 points.
Joffrey Lupul has contributed as well, as he is having a career year with 67 points in 66 games. He is sixth in the league in scoring. Mikhail Grabovski, meanwhile, has passed the 40-point mark for the third time and is on pace for 58 points.
Randy Carlyle took over the team a week ago after Ron Wilson was fired. Carlyle is a Stanley Cup winner (2007 with the Anaheim Ducks), and while he was in Anaheim, the Ducks went to the playoffs every year but once. In addition to their 2007 Stanley Cup season, they went to the Western Conference Finals in 2006.
The Leafs also have a strong power play, as they are ninth in the NHL with a 19.6 percent success rate.
Weaknesses
The Leafs defense is 28th in the NHL with 3.08 goals surrendered per game. Although some defensemen, such as Dion Phaneuf, have what it takes to put up points, Grabovski leads the team with a plus/minus rating of plus-seven.
This roster also lacks playoff experience. Toronto has not been to the postseason since 2004, and this is a young roster. Several of the players have spent their career to date with the organization, and as a result, they have not been able to play in the high-intensity contests the postseason brings.
Record Against Playoff Teams (since All-Star break): 2-8-2. The Leafs started February with back-to-back shutout wins against the Ottawa Senators and Pittsburgh Penguins, but have struggled with playoff teams ever since.
Playoff Odds: Toronto's inability to compete against strong teams will hold them back as the regular season winds down. There were also some questions with goaltending earlier in the season, and James Reimer and Jonas Gustavsson may not have what it takes to steal games.