New York Rangers Hungry for a Win After Back-to-Back Losses
March 9, 2012

There is no doubt that the New York Rangers have spoiled their fans this season with their excellent play.  
That is why everyone must remember that they have only lost two games in a row. And while we are not accustomed to this type of back-to-back loss, it doesn't mean we have to throw in the proverbial towel.
That being said, there is no denying that the team we've watched play over the last few weeks is not the same team we were used to seeing earlier in the season.
At first it seemed that the looming trade deadline was affecting their play, because no one on the team wanted to break up the great chemistry they have worked so hard to create.
But when that came and went without a hitch, the play didn't revert back to what we were all used to, so there seems to be more going on here.
Without question, they look tired.  The only problem is that with the demanding remainder of the regular season schedule, they don't have the luxury or time needed to rest, so something has got to give.
Also, the defense seems to be waning a bit and not playing as crisply as before, but this again all reverts back to being exhausted.
The Rangers players seem more quick to pass the puck than to carry out their plays.
During this crucial point in the season, they must remember not to panic and trust in head coach John Tortorella, because he will not allow them to continue this wishy-washy streak any longer.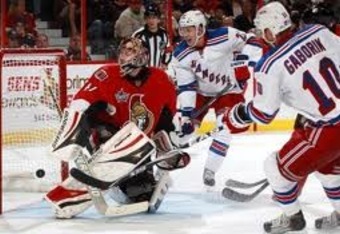 I think we can expect a different and more hungry Rangers team to come out tonight against the Chicago Blackhawks.   
The Rangers have also realized that they cannot solely rely on their goaltending to carry them through the game, and now more than ever are going to have to make things happen on the offensive end.
At least Brad Richards started the game with more life during Thursday night's matchup against the Ottawa Senators. His beauty of a pass to captain Ryan Callahan resulted in the Rangers early lead and showed a lot of promise.  
The Senators quickly answered back with a goal of their own and the Rangers lost their momentum and continued down a bad spiral, losing 4-1.
They need to keep that momentum going and charge the net as often as possible, because with a tiring defense, the offense needs to be that much better.
With starter Henrik Lundqvist back in net and two tough losses behind them, I think we can expect a more spiced up Rangers team to emerge from the locker room for Friday's game in Chicago.
Marian Gaborik was quoted in a Blueshirtsunited.com posting after the game stating,
"Every team is starting to play better this time of year so we have to start playing better, and start playing like we have played most of the year. We have to support each other better out there. Support is very important." 
It's clear they know what they need to do going forward. They need to get back to playing with an edge, and this is the perfect opportunity for them to do so (and to regain some of their lost confidence at the same time).