Octopus in Detroit, Florida Rat Trick and the Five Oddest Traditions in the NHL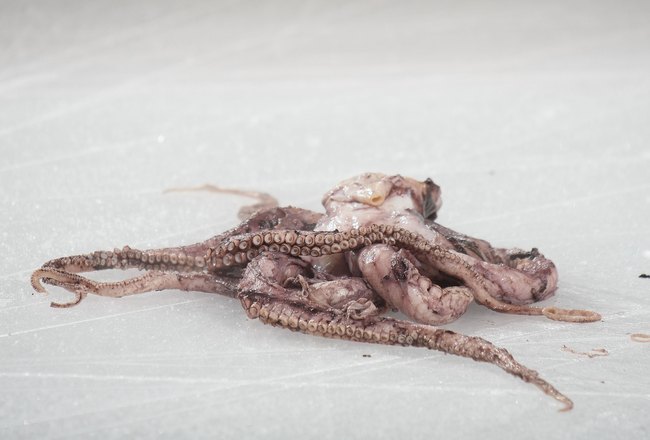 Bruce Bennett/Getty Images
There are quite a few weird traditions going on in the NHL today. Thankfully, some have stopped.
Whether it's driven by fans or players themselves, the traditions that take place are sometimes a little screwy.
Sometimes, there's a story that actually explains the tradition, but there are some that make you stare and ask, "Who on earth thought of that?"
Here are five such traditions that somewhat fit the description of "odd."
Octopus in Detroit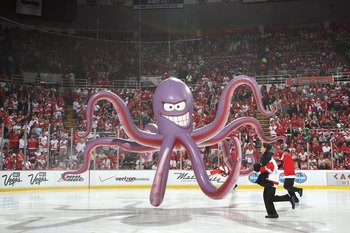 Bruce Bennett/Getty Images
Started: 1952
This was started back when a team only required eight wins to win the Stanley Cup. On April 15, 1952, Pete and Jerry Cusimano hurled an octopus on the ice. The Detroit Red Wings then went on to win eight straight games, capturing the Stanley Cup.
The tradition continues.
Octopi are a regular attendees in Joe Louis Arena.
Florida Rat Trick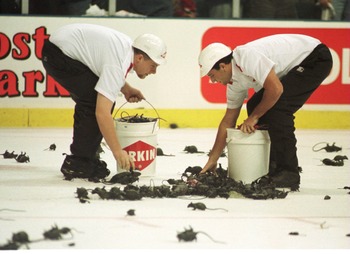 Glenn Cratty/Getty Images
Started: 1995
On October 8, 1995, the Florida Panthers were set to play their season opener.
The team was preparing in their dressing room when a rat entered. Scott Mellanby reacted by grabbing a stick and shooting the rodent across the room, killing it. That night, Mellanby went on to score two goals. Panthers goalie John Vanbiesbrouck coined the term "rat trick."
It started with one plastic rat thrown on the ice the next night, then a few more as games went on.
Before long, hundreds of rats were being tossed after every goal. It got so out of control that the NHL made a rule for the next season that a home team could get a penalty if there fan's delayed the game like that.
It took a break in the near decade of the Panthers being a horrible team, but with their success this year, the rat could be making a triumphant return soon.
Winnipeg/Phoenix Whiteout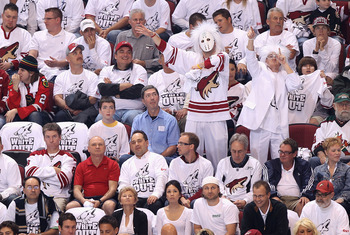 Christian Petersen/Getty Images
Started: 1987
While not odd while in Winnipeg, the fact that this tradition continued in Phoenix is.
It was started in Winnipeg as response to Calgary's "C of Red" tradition. In a series against Calgary, fans were asked to wear white to every home playoff game, and the Jets would go on to defeat the Flames. (h/t to Hal Sigurdson of the Winnipeg Free Press)
It has continued for all the Jets home playoff games since then.
When the Jets moved to Phoenix, the tradition continued for some reason. You would think that the new owners would be able to think of something else.
Toronto Waffle Thrower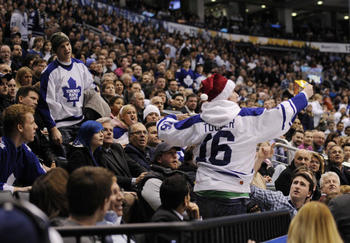 Photo from thestar.com
Started: 2010
Ok, maybe this isn't a tradition yet, but it has happened twice so far so it could be start of one. Although, the second thrower got charged, so it could discourage future breakfast throwers.
"Don't Touch That Trophy"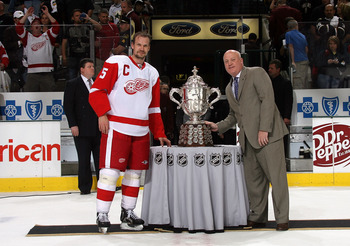 Ronald Martinez/Getty Images
Started: Unknown
Although more of a superstition, the fact that some players touch the Clarence C. Campbell or Prince of Wales Trophy and others don't has some traditional qualities.
Every year, commentators ask the "Will he or won't he?" question. It's pretty much the first thing said as the trophy is brought on to the ice. The thing is, holding the trophy or not holding the trophy has nothing to to do with winning the Stanley Cup
Keep Reading