NHL Stanley Cup Playoffs 2012: Why the St. Louis Blues Can't Win the Stanley Cup
March 7, 2012

Bruce Bennett/Getty Images
The St. Louis Blues are quite the impressive team this year.
After starting the season 6-7-0, the team's coach, Davis Payne, was fired, and Ken Hitchcock was brought in.
Since that point, the Blues have gone 35-11-7. They have charged up the conference standings, today finding themselves in second place in the conference, only a point behind the Canucks. They are also sitting first in the Central division (tied with the Red Wings but winning the tiebreaker), unarguably the best division in the west.
Unfortunately, none of that matters, because once the postseason begins, the Blues are toast.
St. Louis' success this year has been based entirely around the goalie tandem of Jaroslav Halak and Brian Elliott. Now admittedly, that duo has been insanely good.
| | | | | | |
| --- | --- | --- | --- | --- | --- |
|   | Starts | Record | SV% | GAA | SO |
| Brian Elliott | 29 | 20-8-2 | .937 | 1.63 | 6 |
| Jaroslav Halak | 37 | 21-10-5 | .925 | 1.91 | 6 |
*The bold means top five in the league.
Brian Bahr/Getty Images
Clearly, the Blues are cheating somehow. Unfortunately, until evidence of that surfaces, we just have to accept that both of the Blues goalies are playing Vezina-caliber hockey this season.
Right now, Elliott leads the league in goals-against average, is second in save-percentage and tied for third in the league in shutouts.
Halak is third in the league in goals-against average, tied with Elliott in shutouts and is an embarrassing ninth in save percentage.
Together, they've kept the Blues on top in terms of goals against and have kept up the slack for a pretty unspectacular rest-of-the-roster.
A Whole Other Game
That brings us to the playoffs.
The problem with the playoffs is that a team can't start two goalies. There needs to be one clear starter, not just from one game to the next, but from one series to the next.
In the playoffs, a hot goalie can keep a team going for a long time, and a cold goalie can completely sink a team. But either way, the goalie is a constant. There are rare occasions when one team brings in a backup after losing the first few games and goes on to win, but that is a situational change, not a trend.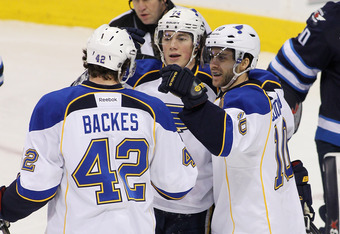 Marianne Helm/Getty Images
So how do you build to winning a Stanley Cup without a clear starter? If the past is any indication, you do it with great offense.
In 2010, the Blackhawks' goalies, Antti Niemi and Cristobal Huet, essentially split time—Huet played in 48 games, Niemi in 39—and they both finished with 26 wins. Then the playoffs started, Niemi got the starts, and they won the Cup.
You know what the difference is here? The Blues don't have Patrick Kane and Jonathan Toews.
Likewise, when the Red Wings won the Cup in 2008, Chris Osgood and Dominik Hasek split starts, both finishing with 27 wins. When the playoffs rolled around, Osgood got all but two wins.
But again, the Red Wings had Henrik Zetterberg, Pavel Datsyuk and Nicklas Lidstrom. The Blues do not.
What I'm saying here is that, despite what old adages might make you believe, goaltending alone does not win Stanley Cups. A team needs solid, reliable scoring to churn out a championship, and that is something the Blues do not have.
No Power Up Front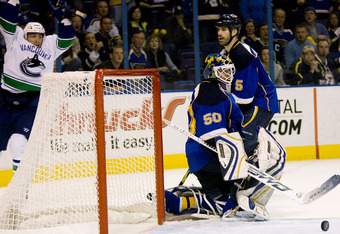 Dilip Vishwanat/Getty Images
The vast majority of St. Louis' players are relatively inexperienced in the playoffs. Most have no more than four playoff games under their belts.
Two notable exceptions, Jason Arnott and Jamie Langenbrunner, are both experienced veterans. Unfortunately, both of those players are about three years past the point of being a game-changer.
When it comes down to it, the Blues will need to see above-average production from a lot of players (forwards T.J. Oshie, David Backes, Patrik Berglund and Andy McDonald and defensemen Alex Pietrangelo and Kevin Shattenkirk, to name a few of the most important).
Maybe it's possible that that group comes together and puts on a Cup run, but I don't see it. And say what you want, but a team can't do it on goaltending alone.
The Bruins Example
Last year, in the Stanley Cup finals, Tim Thomas won his team the Stanley Cup, right? Well, that might be how it appears, but look closer.
The series went to seven games. The Bruins lost Games 1, 2 and 5, and in those games, Thomas played superbly: he stopped 33-of-34 in a 1-0 loss in Game 1, 30-of-33 in a 3-2 loss in Game 2 and in Game 5, he stopped 37-of-38.
That means, in his losses, he had an astounding .952 save percentage. But of course, that stat means nothing, because they lost.
In his winning games, Thomas had equally impressive numbers. In Game 3, he stopped 40-of-41, in Game 4 it was all 38 shots, in Game 6 he stopped 36-of-38 and in Game 7, he stopped all 37 shots. That means, in his four winning Finals games, he had the even-more-insane save percentage of .981.
But it wasn't those saves that won the Bruins the Cup, because in those four games that they won, they outscored the Canucks by a margin of 21-3.
That is why the Bruins won the cup. Because, after a hot goalie kept them in games, they still had an explosive offense that could win for them. And when all is said and done, Thomas could've given up an additional 14 goals during those games without it mattering.
That's where the Blues fall short. They certainly have a goalie capable of putting up a .950 save percentage through the playoffs—heck, they have two—but sooner or later, you need more than that. You need a hot offense to cancel out the other team's hot goalie.
After all, while two high-caliber goalies might give an advantage during the regular season, it affords you no such luxuries during the postseason. You can only play one goalie, and if a team is in the playoffs, they probably have a great goalie.
If they want to win a Cup, at some point they'll have to against Jimmy Howard or Jonathan Quick or Henrik Lundqvist or Tim Thomas, and any of those goalies have stronger offenses in front of them.
The Bottom Line
The Blues will certainly be in the playoffs, and they might even advance a few rounds. Lord knows Jaroslav Halak is capable of making some insane playoff runs. But sooner or later, they'll hit a goalie just a hot as theirs, only they won't have the offense to overcome him.
There's nothing wrong with building a team around a great goalie—hell, it's probably the best way to build a contending team. But the Blues haven't gotten to the point of building yet. So far, they just have two hot goalies, a couple forwards striving for the 50-point mark and not a single skater who's hit the 20-goal mark.
Next season, who knows? Maybe the goalies stay hot, the younger skaters start to progress a little more and the team gets something going beyond great goaltending, they'll have a chance.
But until they can do better than 21st in the league in goals per game, 23rd in power-play goals and ninth on the penalty kill, they're simply not a good enough team.