Dan Winnik: Making the Move from Colorado Avalanche to San Jose Sharks
March 1, 2012

Thearon W. Henderson/Getty Images
Dan Winnik had plenty of food for thought in the moments leading up to his recent trade to the San Jose Sharks.
His name had been bandied about as a likely prospect to be changing jerseys on trade deadline day, a player coveted for his size, physicality and ability to chip in offensively.
So, when Winnik did receive the news he was on his way from the Colorado Avalanche to Western Conference rival San Jose, it was anything but a surprise for the veteran of nearly 350 NHL games.
"I was having my pregame meal when I got the call letting me know I was traded," Winnik told NHLPA.com just moments after the deal had been made. "It was strange in that I was preparing for the game that night (Colorado went on to beat Anaheim 4-1) and I was the first one there for the pregame meal. Usually, that's not the case.
"I told the guys about it and then stepped outside for a minute," Winnik continued. "At that point, I was the only one. When I came back in, I found out that T.J. (teammate Galiardi) was also going to San Jose. After that, your phone rings off the hook, things get really hectic and then you start having to make plans."
Winnik, who was sent to the Sharks along with Galiardi and a seventh-round pick in the 2013 entry draft in exchange for Jamie McGinn and prospects Mike Connolly and Michael Sgarbossa, didn't have much time to get things in order before flying out to California.
"It is pretty crazy after," said the 265th overall selection of the Phoenix Coyotes, who scored his first NHL goal in his debut on October 4, 2007 in a 3-2 win against the St. Louis Blues. "I had to quickly pack, get a plane ticket and get out there."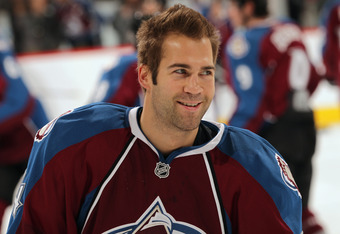 Doug Pensinger/Getty Images
In Winnik, San Jose gets a 6'2", 210-pounder that can kill penalties, forecheck and provide some offensive pop to a San Jose squad in search of their first Stanley Cup championship.
This season, Winnik has 18 points (five goals, 13 assists) and 42 penalty minutes in 63 games with Colorado. He had played in every game this campaign and was second on the team in shots with 155.
The Sharks are pleased with their new additions.
"We feel that T.J. and Daniel bring some additional size, speed, and penalty killing ability to our existing group of forwards," said Sharks executive vice president and general manager Doug Wilson.
San Jose is a team Winnik knows well.
"Obviously, I have a lot of respect for them having played against them so much," said the Toronto native. "They have a lot of weapons…size, strength, speed and skill. They were a tough team to play against."
As for where he fits in, Winnik, who was traded by the Coyotes to the Avalanche for a fourth-round selection in the 2012 NHL entry draft in June of 2010, isn't looking to skate in and do anything differently.
One of his primary goals is to provide San Jose with his trademark strong short-handed play.
"When a team is interested in you, there are specific reasons as to what they like about you," said the centreman who spent three seasons at the University of New Hampshire, recording 95 points, including 36 goals, in 118 career games with the Wildcats. "I just want to contribute to the success of the team by doing the things that I'm known for."
Thearon W. Henderson/Getty Images
Winnik will also get to play alongside a familiar face, a former minor hockey teammate from his days in southwestern Ontario.
"I used to play Pee Wee hockey with Brent Burns, so it will be nice to see him again," noted the 26-year-old. "We would hang out in the summers, too. He'd come up to my parents' cottage. It seems like a good group of guys that they have, so I'm looking forward to getting there and meeting everyone."
Winnik is also eager to add to his NHL playoff experience. Heading into 2011-12, he had appeared in just seven games.  
"That's what you play for, what we all do, to get that chance to win a Stanley Cup," said Winnik. "But it's never easy to get there. Hopefully, we get that opportunity. I'm really excited about it."
The warm California climate certainly doesn't present a problem for Winnik.
"I've heard it can be pretty nice," laughed Winnik. "I guess that isn't a bad thing to have to deal with."

Related Content
Video: Meet the World's Toughest Directors, Player's Playbook

CBC Hockey Night in Canada/NHLPA Player Poll Results