NHL Trade Deadline 2012: Ranking Monday's Dumbest Moves
February 28, 2012

Dave Sandford/Getty Images
Monday's NHL trade deadline came and went with only 14 deals being completed, several of which weren't of much consequence, despite there being several winners and losers. While most like to talk about who did the best, this article will focus on the opposite.
Contending teams like the St. Louis Blues and Calgary Flames who didn't make any trades are obvious losers, but it's more interesting to talk about the teams who made deals, but still lost out. It's clear that there were a select few teams that were so desperate to add players that they didn't take value into consideration.
Here are the three biggest bone-headed trades that took place on deadline day.
Predators Trade First-Round Pick for Paul Gaustad
With defensemen Shea Weber and Ryan Suter due for new contracts, the Nashville Predators were clearly eager to show a commitment to winning. In order to do that they picked up defenseman Hal Gill from the Montreal Canadiens a week before the deadline. That deal was bad enough as they gave up two prospects and a second-round pick for a glorified pylon, but things got much worse on Monday.
There was plenty of talk regarding heavy interest in Buffalo Sabres center Paul Gaustad. The asking price was apparently a first-round pick, however, so when the clock struck 3 p.m. EST it seemed as if teams had refrained from meeting the ridiculous price. In a deal announced minutes after the deadline, however, Nashville sent its 2012 first rounder to Buffalo for Gaustad and a fourth-round selection.
Gaustad is a nice player in that he's 6'4" and 229 lbs, can win faceoffs and can kill penalties, but he's a third-line center at best. He rarely uses his size to his advantage and isn't much of an offensive producer with seven goals on the season, so a first-round pick was far too much to give up, especially for a rental player. Nashville wants to prove it's a Stanley Cup contender, but it got stupid in doing so as the Sabres fleeced the Predators out of a first-round pick.
Canucks Trade Cody Hodgson for Zack Kassian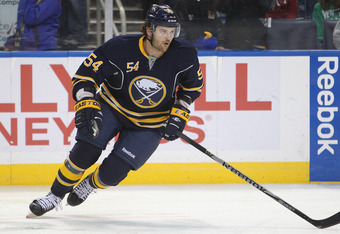 Tom Szczerbowski/Getty Images
After getting pushed around by the Boston Bruins in a seven-game series loss in the Stanley Cup Finals last year, the Vancouver Canucks clearly felt as though they needed more grit. They clearly addressed that on Monday as they dealt promising, young center Cody Hodgson and depth defenseman Alexander Sulzer to the Sabres for tough guy Zack Kassian and depth defenseman Marc-Andre Gragnani.
Sulzer and Gragnani basically cancel out, so the nuts and bolts of this trade are Hodgson for Kassian. At the pinnacle of his potential, perhaps Kassian is a Milan Lucic-esque player, but in 27 games with the Sabres, the youngster showed no signs of that development coming any time soon. In juniors Kassian was viewed as a mad man who would hit or punch anyone in his path, but his physical game was far too inconsistent with the Sabres.
In Hodgson the Canucks deal away a pivot with immense skill, but he was buried behind Henrik Sedin and Ryan Kesler on the depth chart. The fact of the matter is, though, that Hodgson has the capability to become a No. 1 center in the NHL, and that isn't the type of player you trade away for a gritty forward with questionable hands. The Canucks gave up the best player in the deal out of desperation, making it a dumb trade on their part.
Predators Trade Second and Fifth-Round Picks for Andrei Kostitsyn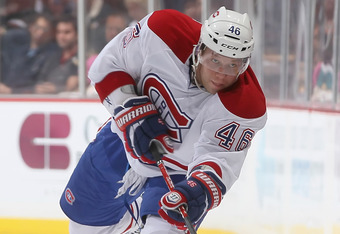 Jeff Gross/Getty Images
In case you haven't noticed, I wasn't as impressed with the Predators' deadline performance as everyone else seems to be. While this was the most passable of their three trades, the Preds didn't do themselves any favors by dealing a second-round pick and a conditional fifth-round pick for Montreal Canadiens forward Andrei Kostitsyn. This is yet another move that reeks of desperation.
Kostitsyn is an offensively gifted player, but he has a mere 12 goals this season and hasn't had more than 45 points in a season since 2008. On top of that, he will be an unrestricted free agent at the end of the season, so he looks like a pure rental. Between their three deadline trades, the Predators essentially gave up all of their high picks for the next two seasons. If they got top-notch players in return that would be one thing, but they didn't.
Another thing to consider is that Andrei will be reunited with his brother Sergei Kostitsyn in Nashville. While that could be construed as a positive, they were viewed as troublemakers in Montreal, leading to Sergei's departure. The Predators wanted to prove that they were serious about winning a Cup, and while that's a great mentality to have, they won't be winning a Cup with this move.