NHL Predictions 2012: 8 Teams Destined to Either Choke or Succeed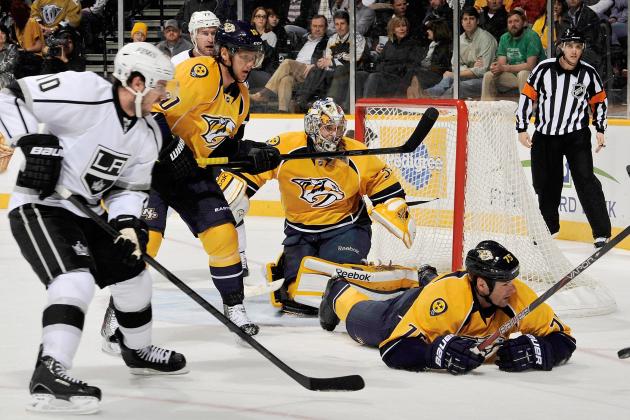 Frederick Breedon/Getty Images

The NHL's trade deadline has come and gone. Teams are what they are now. To coin a phrase: This is where the rubber meets the road.
No more excuses; just do or die. If you lost your best player to injury, but didn't make any moves to reduce the loss, too bad. If you made a trade for the guy you had your sights on, then it's time to put up or shut up.
The playoffs start in April, but for some teams, the playoffs are now. Every win is equally as important to their survival as it would be in the postseason.
Some teams will carry momentum that might push them a round or two past their expectations—maybe all the way.
Others will be so fattened from regular season success that playing in desperation mode might be a fatal shock to the system.
Allow me to present the five teams destined to choke or succeed in this year's NHL playoffs.
Begin Slideshow

»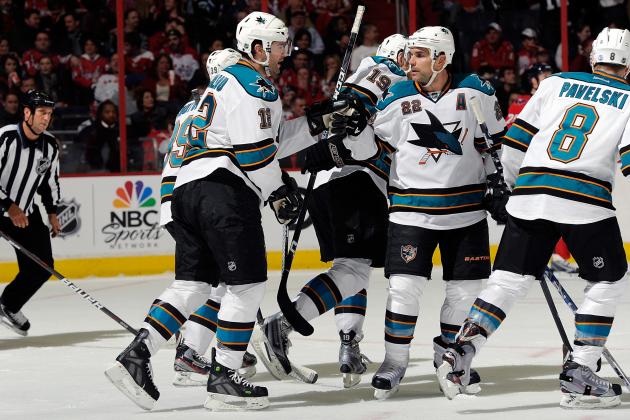 Greg Fiume/Getty Images

The Sharks will eventually win their division this year. However, the trend of falling down in the playoffs won't stop this year.
Antti Niemi has a Stanley Cup ring on his resume, but his career postseason numbers are mediocre at best.
In fact, he got significantly worse in last year's playoffs, registering a 3.22 GAA and .896 save percentage. Based on that alone, it looks rather daunting for the Sharks to get far in this year's playoffs.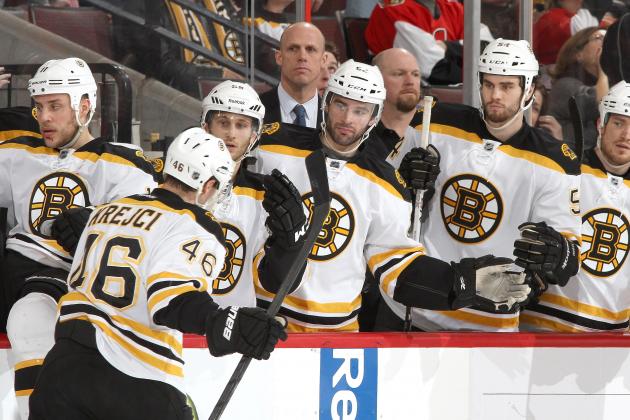 Jana Chytilova/Freestyle Photo/Getty Images

It's really hard to say a defending championship team—let alone one sitting comfortably in second place—will choke. They will more than likely run out of gas and won't repeat as champions.
Whether that is considered choking or not is totally subjective to you, the reader.
In Tim Thomas's last 17 starts, he has seven games where he has allowed two goals or less. He should turn it around, but the duration of elite play appears to be taking its toll on not only him, but his team too.
Last year, they needed seven games to eliminate every opponent except a Philadelphia team that limped into the playoffs rotating three goalies.
Look for the Bruins to make a conference finals appearance.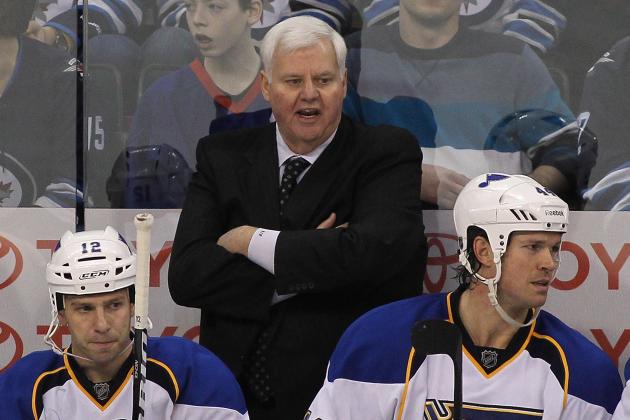 Marianne Helm/Getty Images

The St. Louis Blues are playing Ken Hitchcock's system to perfection, but they just don't score enough goals.
The Blues are currently 10th in the Western Conference in goals scored. Due to this glaring weakness, I think they won't get out of the second round.
Therefore, this is more of a choke for a team that looks to finish second in the conference.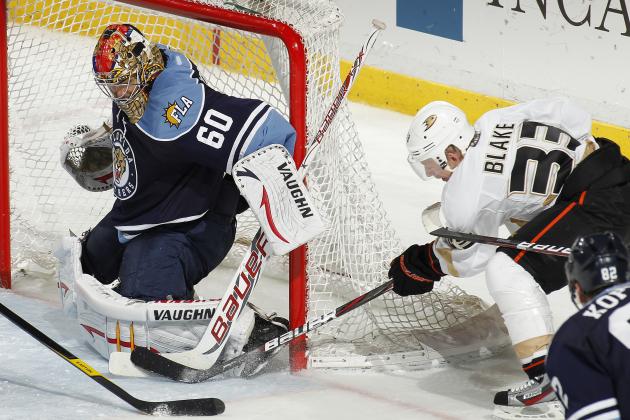 Joel Auerbach/Getty Images

This is the prediction equivalent to an empty-net goal. The Florida Panthers will choke.
At minus-17 in goal differential, they are winning a division—what a joke.
Yes, realignment needs to happen; I'm just not sure the proposed realignment will help.
Right now, it looks like a much easier road for teams to finish at sixth in the Eastern Conference in order to get this cuddly bunch for the first round.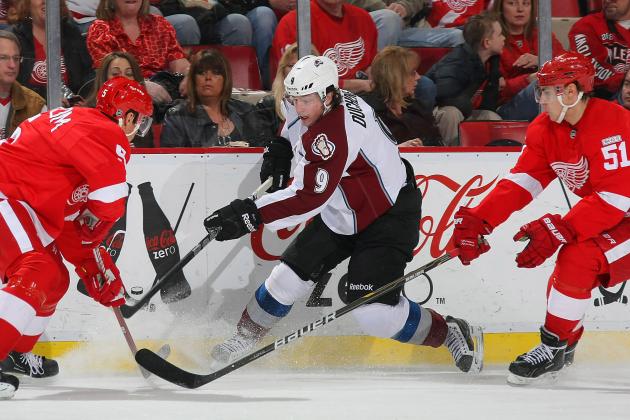 Dave Sandford/Getty Images

The Red Wings will go deep in this year's playoffs. Nicklas Lidstrom just might ride off into the sunset this year.
Detroit has that perfect harmony between scoring, defense and goaltending. In my opinion, there's only one other team that can beat them, but I'll get to them later.
For now, the winged wheel, led by Pavel Datsyuk and Lidstrom with Jimmy Howard in net, looks like a team that can kick it up a couple gears in the playoffs.
Look for the Red Wings to make it to, at the very least, a conference finals.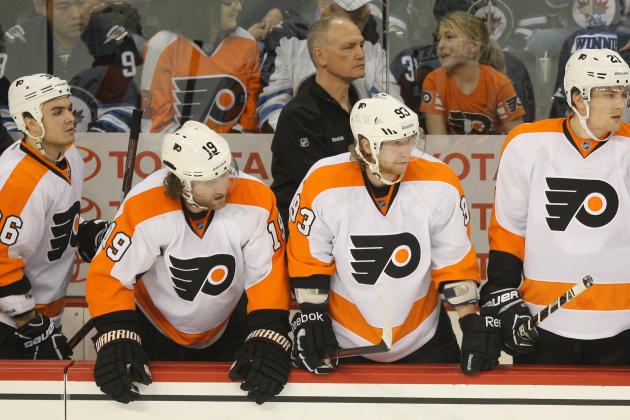 Tom Szczerbowski/Getty Images

The Philadelphia Flyers are overlooked with the surging New York Rangers running away with the division.
Plagued by season-ending injury to Chris Pronger and, yet again, goalie controversy, the Flyer management sent a message at the deadline.
That message was simple: They're not feeding into the media-driven goalie controversy and they are good enough to win it all.
Ilya Bryzgalov's numbers have been less than acceptable, but his actual game performance has been either really good or really bad. If he can put more good games together and eliminate the bad games, the Flyers will be a real beast in the East.
The team is, at times, their own worst enemy, by feeding opposing forwards with turnovers in the high slot for prime scoring chances.
With fewer rookies now in the lineup, look for these mistakes to decrease and the Flyers success to increase. A trip to the finals is in their cards.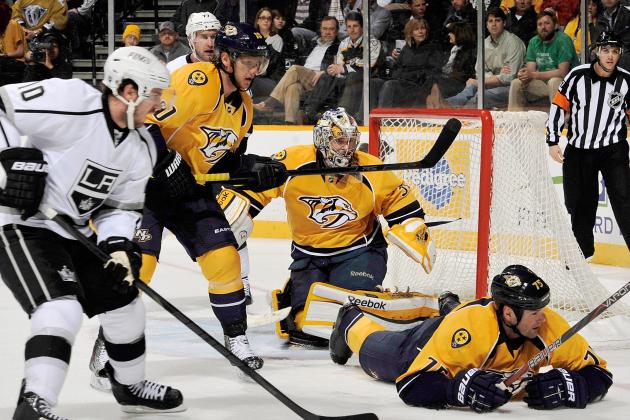 Frederick Breedon/Getty Images

The only team standing in the Nashville Predators' way is their division rivals, the Detroit Red Wings. Before the moves, I would have put Chicago and Vancouver ahead, but Nashville is a team on a mission now.
They have no conceivable weakness going forward. They will be able to score and defend just as good as anyone.
Their massive team—only five players under six feet tall—will wear down opposing teams in a seven-game series. If a team can beat them in the West, it is Detroit.
Lidstrom, Datsyuk and Henrik Zetterberg backstopped by Howard can find a way to skate through the massive Predators, but will they?
The Predators give nobody a chance to breathe out there and unlike before, they have some added scoring that will make all the difference.
Nashville will likely be last year's Boston Bruins.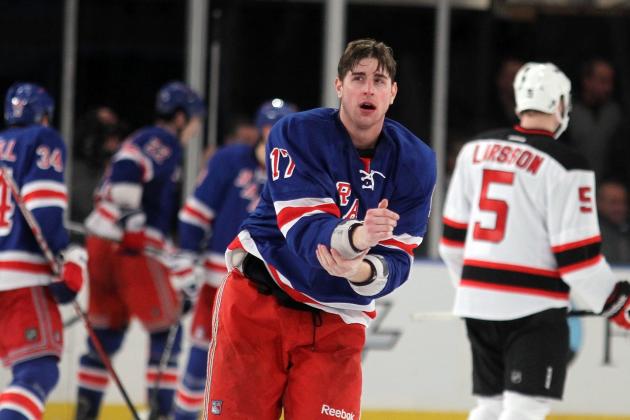 Bruce Bennett/Getty Images

The New York Rangers will flat-out choke.
Yes, they have this year's Vezina winner.
Yes, they look really good right now.
But there are two big problems with this story.
First, their secondary scoring is rather pedestrian. The Rangers are eighth in the Eastern Conference in scoring. Shut down their top line and they almost can't score. In the playoffs, you need depth scoring and the Rangers just don't have it.
Second, since the lockout, only one team seeded higher than third has won the Stanley Cup. The first two seeds are not exactly great spots traditionally in the Eastern Conference.
This ineffectiveness of the top seeds seems to be a result of said teams playing at a high level all season long. Then they find themselves playing teams who have now stepped their game up to a similar level.
Furthermore, players are more willing to sacrifice themselves by driving the net harder and blocking more shots with reckless abandon.
The Rangers undoubtedly have the heart to do these things themselves, but they have playoff-seasoned opponents awaiting them come April.
Look for the carriage to turn back into a pumpkin come May.