NHL Trade Deadline 2012: Colorado Avalanche and San Jose Sharks Trade Analysis
February 27, 2012

Rich Lam/Getty Images
The 2012 NHL trade deadline is officially in the books.  For several players, they are frantically packing up their bags and heading off to the airport to join their new teams.  For everyone else, they are breathing a sigh of relief.  Washington's Alex Semin tweeted, "Is it safe to come out yet?"
Today was actually quieter that many past deadlines, with only 14 trades getting done today and the biggest name out there, Rick Nash, staying put in Columbus...for now.
The Colorado Avalanche were involved in just one trade today that sent two popular players to the San Jose Sharks in wingers T.J. Galiardi and Daniel Winnik.  The Avs also parted with their 2012 seventh-round draft pick and received winger Jamie McGinn and prospect forwards Mike Connolly and Michael Sgarbossa.
Approaching the deadline, countless Avalanche players' names were being thrown around as possible trade bait.  Paul Stastny, David Jones, Cody McLeod, Ryan Wilson, Shane O'Brien and even goalie Jean-Sebastien Giguere.
As far as the trades that did not get made, I didn't think that Stastny would get moved today, despite the rumors.  He has picked up his play of late and I doubt there were a lot of teams out there who were really eager to take on his $6.6 million cap hit with an uncertain CBA next year.
Jones, I thought could get moved and the talks were that Boston was interested until the end, but a deal didn't end up getting done.  It'll be interesting to see now if the Avs re-sign him or let him walk in July.  He has played very good hockey of late.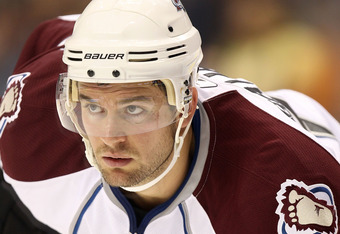 Ronald Martinez/Getty Images
Vancouver was reportedly interested in adding McLeod's grit to their lineup, but ended up making a big trade by sending star rookie and childhood friend of Matt Duchene, Cody Hodgson, to Buffalo for tough youngster Zack Kassian.  The two teams swapped defensemen as well.
With Ryan O'Byrne injuring his knee the other night, which is expected to keep him out two-three weeks, I think that killed any possible Ryan Wilson or Shane O'Brien deals.  It would have taken a big offer to move Jiggy as well.  That would more likely have been a scenario if the Avs were clear-cut sellers today, which they most certainly are not.
Now as far as the players who were moved today, both T.J. Galiardi and Daniel Winnik have done some very good things while they were with the Avs and both seemed to be good character guys and popular among fans and in the locker room. 
Galiardi's best pro season came two years ago when he posted 39 points in 70 games and made his presence felt in a hard-fought playoff series against the team who will now be signing his paychecks.  He was limited to just 15 points in 35 games last year due to wrist and shoulder injuries and spent a lot of time this offseason bulking up.
Galiardi came to training camp with 20 lbs of added muscle mass this year in an attempt to transform his game and playing style into that of a power forward.  After starting the season off slowly, Gali found himself in Coach Joe Sacco's doghouse, and had a tough time getting out of it ever since.  He was a healthy scratch on many occasions this year.
I really like Gali's game.  He plays a physical style, is fast, and can provide offense as well as penalty killing.  When he's on his game, he can be very effective on both ends of the ice.  However, it is no secret that Joe Sacco was not a fan and never seemed to be able to get the most out of Gali's talents and skills.
While Joe Sacco's future after this year is uncertain, if he were to return, it was pretty much a foregone conclusion that Galiardi would not have been back.  Best of luck to him as a Shark.  While his game here was hot and cold, his tweets were not.  He was—and is—by far the funniest Avalanche player on Twitter (@TJGaliardi) and I hope the #beatyalerts continue in Cali.
Daniel Winnik came to Colorado in the summer of 2009 for a fourth-round pick.  Winnik, who was primarily a fourth-line forward in Phoenix, really evolved his game with the Burgundy and Blue.  He established himself as a prime penalty killer while adding some grit and consistency on an Avs third or fourth line.
He even got some top-line minutes to begin this season when he, Ryan O'Reilly and Gabriel Landeskog went on a tear to begin the season.  While the latter two have remained together for most of the year, Winnik had since been shifted regularly.  He will add depth to the Sharks' lineup.
Winnik will be an unrestricted free agent after this season, so it was a good move by Greg Sherman to get a return for him now rather than lose him for nothing come July 1st.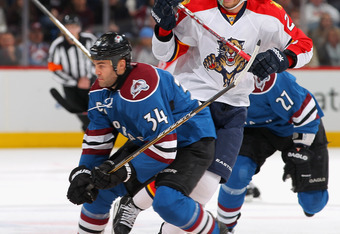 Doug Pensinger/Getty Images
In return, the Avalanche received young winger Jamie McGinn.  The 23-year-old McGinn was a former second-round pick of the San Jose Sharks, 36th overall, and has established himself as a tough, gritty winger who can score.  Sound familiar? 
The Avs forwards had a reputation as not being physical and a little to easy to play against, so they added rugged winger Steve Downie and McGinn.
McGinna has 12 goals and 12 assists in 61 games this season and prior to today's trade, he led the Sharks with 137 hits.  McGinn will be an RFA after this season and is not expected to play tonight.  He'll have a few days to get accustomed to Colorado before making his debut on Thursday.
The Avs also received prospects Mike Connolly and Michael Sgarbossa, both of whom have had success in their young careers and time will tell if they can break into the Avs' big club.