NHL Trade Deadline: Rick Nash Staying Put Sums Up Lackluster Day
February 27, 2012
Jamie Sabau/Getty Images
You know the sound that the Price is Right horn makes for contestants who lose after one of their games? Yeah, that sound pretty much sums up today's NHL trade deadline. 
Coming into the final day where teams could swap players to help their roster win the Stanley Cup, there were a number of rumors of marque players that could be traded. 
However, despite all of those rumors, none of them came true. 
For example, there were multiple rumors of Columbus Blue Jackets captain —and face of their franchise— Rick Nash being traded to a team like the New York Rangers. But, after a price tag that, according to ESPN, included a roster player, top prospect and a first-round pick, the Rangers said thanks, but no thanks, and backed out. 
From Yahoo! Sports NHL blog, "Puck Daddy" the New York Post was reporting that: 
The Blue Jackets were angling for 2009 first-rounder Chris Kreider, playing at Boston College, along with defensemen Ryan McDonagh or Michael Del Zotto in a package that should include forward Brandon Dubinsky and a first-round pick as well. 
Then, there was the rumor that the young talented Philadelphia Flyers winger James van Riemsdyk could be moved to San Jose. This move would have been huge for the Sharks, as they could use another dynamic offensive weapon to push them to the franchise's first Stanley Cup Final. 
But, as TSN's Hockey Insider, Darren Dreger, tweeted out, the Flyers were not enticed to move van Riemsdyk; even if San Jose was willing to throw in their top goaltender, Antti Niemi, in the potential deal.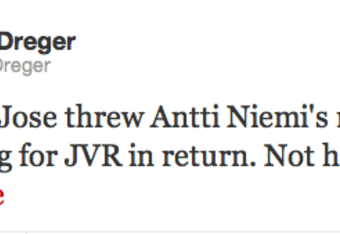 The Edmonton Oilers had two potential big deals that could have happen today with forwards Ryan Smyth and Ales Hemsky rumored to be moved.  
However, the only move that Edmonton made today was acquiring defense man Nick Schultz from Minnesota for defenseman Tom Gilbert.  
That move summed up the lack of "blockbuster" moves during the NHL trade deadline. The only "big" name to be moved today was Buffalo trading center Paul Gaustad and a fourth-round pick to the Nashville Predators for their first-round pick in the upcoming NHL entry draft.  
The trade deadline had the potential to be a big day for hockey fans across the world. Instead, what happened was a long, drawn-out day of nothing. A number of teams stood with what they currently have, thinking that it will be good enough for a deep Cup run. 
It will be interesting to see if that thought process will prove to be the right one instead of completely flipping their roster.