NHL Trade Rumors: LA Kings Desperation for Scoring May Land Them Ales Hemsky
February 24, 2012

Dale MacMillan/Getty Images
The LA Kings are succeeding despite offensive woes, and the trade deadline means the organization is about to get creative in their efforts. 
CSN Philly's Tim Panaccio reports the often injured but still immensely talented winger Ales Hemsky could be traded shortly. 
The teams at the top of the list are the LA Kings and the New York Rangers. The Rangers are hoping to get some much needed depth for what should be a long and arduous postseason. 
New York's team is sure to last the length of the Stanley Cup trials, and they will need a player like Hemsky to chip into an already star-studded lineup. 
For the Kings, the need is far more dire. 
LA is hanging by a thread to the eighth seed in the west, and have Calgary, Dallas and Colorado breathing down their necks. Even the Anaheim Ducks have emerged as a possible playoff team after a stirring surge recently.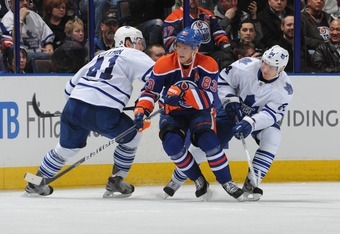 Dale MacMillan/Getty Images
All of that is to say that their current formula of winning with the minimal offense will not last long. They need a player who can find the net and get them to that elusive three-goal mark far more consistently than they place currently. 
Panaccio writes that nothing is certain, and things still hinge on the biggest name on the trade market right now, Rick Nash. Panaccio writes: 
Oilers general manager Steve Tambellini is likely going to wait to see what happens with Jeff Carter and Rick Nash in Columbus before making a move -- if any -- on Hemsky, who will be an unrestricted free agent this summer.

Kings GM Dean Lombardi needs to make a major move to get his club into the playoffs and quite possibly save his own job.
Despite a hold on the playoffs, the Kings sit at 30th in goals per game at 2.05. You can't have that kind of output and win a Stanley Cup. 
You can't even make the playoffs—I am confidant one of the teams behind them will soon make their move on the last playoff spot. 
Hemsky may have his durability issues, but he can still score and find teammates in pace. This is a player that may just need a change of scenery to see a boon in production. 
The Kings need to make a move for more goals before it's too late, because what they put on the ice right now is not going to cut it.