Toronto Maple Leafs Trade Speculation: Answers Won't Come with the Sexiest Deals
February 22, 2012

Harry How/Getty Images
Enough with the Ryan Getzlaf talk.
Ditto with the Rick Nash drivel.
Toronto needs some roster augmentation, and it's not the flashiest fishes in the sea that are going to provide it. 
Case in point: What's Getzlaf's GAA? 
With one of the league's top scoring duos in Phil Kessel and Joffrey Lupul, why are the armchair GMs of Leafs Nation talking about adding more scoring from the likes of Getzlaf and his Anaheim comrade Bobby Ryan? Rick Nash and now Jeff Carter (again)? New Jersey's Zach Parise? Philly's James van Riemsdyk?
Great additions, for sure. Any one of them would provide ample flashes of brilliance for the crowd at the Air Canada Centre. But in dealing for any of these players, what you'd see on the ice is what you're going to get for a while in Toronto because none of those players is going to come cheap—in spite of arguments that a few actually could (looking at you, Rick Nash and James van Riemsdyk).
All of these players are offensive, and Toronto does not have an issue with offense. Sure, a player or two will hit a snag for a few games, but they're eighth overall in total goals scored, and their defensive unit is among the league leaders in offensive production as well.
Phil Kessel is the third highest goal scorer under 25 since the lockout (the other two being some guys named Ovechkin and Crosby)—and he's already a Maple Leaf!
The glaring deficiencies come when the defense has to play defense. To be fair, this has to be expected. The Leafs have a very young crop of defensemen, with an average age of 25 years-old. There's plenty of upside here in Carl Gunnarsson, Cody Franson, Luke Schenn, Jake Gardiner and Keith Aulie.

Paul Bereswill/Getty Images
Gunnarsson's game is evolving into a sound, conservative style. He's 25.
Dion Phaneuf's overall game has developed at the same pace, though he will always be more offensively inclined. He's 26 (for a couple more months).
There's talk about Nashville's Ryan Suter being available, and how nice he'd look in every team's jersey. Ryan Suter is a stud, but would certainly command a price. If Toronto's fans believe that Leafs GM Brian Burke is going to cast another spell on Nashville's David Poile in order to fleece them of another solid defenseman ("Brett Lebda is an NHL-caliber player"), they need to stop underestimating the intelligence of the Nashville GM and re-evaluate their own.
While the Leafs blueline can be bloody awful, I believe that it's fully worthwhile to let them mature as a unit. I think that the cost-benefit of having a young blueline is too often overlooked.
"Luke Schenn got hemmed in his own zone and turned the puck over, he's a waste!"
No. Let these guys earn their stripes.
The drawback among Toronto's forwards is readily apparent in almost every game. While they're speedy, and can challenge the best defenses in the league with that speed, they aren't the most physically challenging squad. This is where the talk about players like Rick Nash or JvR falls short.
Almost none of the most coveted forwards, in the minds of Leafs fans, bring a physical element with them, despite most of them having excellent size.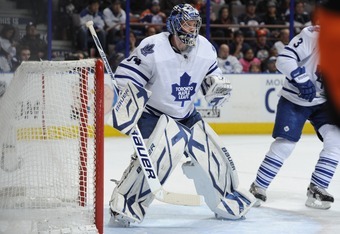 Dale MacMillan/Getty Images
Look, the Leafs aren't exactly overflowing with veteran talent. How long do you think a soft, young, offense-first team is going to last in the playoffs?
How good are the Leafs' chances of even making the playoffs with a soft, young, offense-first team, as teams all around the league begin to tighten up for the final stretch of the regular season?
Spoiler alert: Neither outcome is pretty.
So let's all drop the talk about those big names. They're all cherries to be placed on top of a contender's roster (See: Brad Richards). A Stanley Cup contender. Not a team on the fringe of making the playoffs for the first time since the 2003-2004 season.
Toronto first needs a roster that can get them to the dance, which they may well have if concussions didn't have a say in the matter. Three of the Leafs' more significant players in recent years have all had their seasons put into check by concussions: John-Michael Liles, Colby Armstrong and James Reimer.
Liles and Armstrong have typically lived up to expectations, when healthy. Yes, I realize that Armstrong's 2011-2012 season leaves much to be desired. That's because he's not healthy.
James Reimer surpassed expectations last season, and carried his efforts over into the first five games of this year. Then it happened—Reimer, as the Leafs and their fans grew to see him, has not been seen since being run into by Montreal's Brian Gionta back in October.
Jonas Gustavsson has outplayed Reimer since. In fact, when the Leafs—who have held a playoff spot for nearly the entire season thus far—fell out of the top eight for those few, brief stints, it came as a result of Reimer's play. Gustavsson has been the saving grace in net this season, and while I hate to rag on him, that's not encouraging.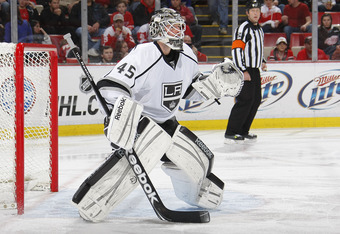 Dave Sandford/Getty Images
What is encouraging, though, is that there are quite a few very capable goalies available at the trade deadline this season. Now, Leafs Nation can run wild with the thoughts of Cory Schneider, but that won't happen because there's no love lost between Vancouver GM Mike Gillis and both Brian Burke and his assistant GM, Dave Nonis.
But, the Los Angeles Kings are in need of offense, and have expressed some interest in both Nikolai Kulemin and Clarke MacArthur.
And the Kings also seem to be willing to part with a goalie by the name of Jonathan Bernier. At 23, he's younger than both James Reimer and Jonas Gustavsson, and he's shown flashes of a nice upside down the road.
Still, Kulemin and MacArthur would be an overpayment. It would be ridiculous to think that Kulemin's best days are behind him. Clarke MacArthur, given ample ice time, has proven to be a shifty, speedy, player who is good for 20-goal seasons. Kulemin's ceiling is 30. That's a considerable load of offensive talent. Combined, they're good for at least 100 points.
I don't like the idea of giving up on Kulemin after one rough season, especially since he's a Leafs draft pick, and I don't think the Leafs have had a draft pick net 30 goals for the Blue and White since Wendel Clark—but Jonathan Bernier would be worth it.
Still, like I said, the Leafs are giving up some firepower here. There has to be more to this sort of trade. Why not Dustin Brown? He's not a center, but he is a dependable, physical winger with ample leadership ability. He can definitely play in the top-six, his point production is around the same range as MacArthur and Kulemin's, and, although he is the sitting captain of the Kings, they do have Mike Richards, who could step into that role with authority.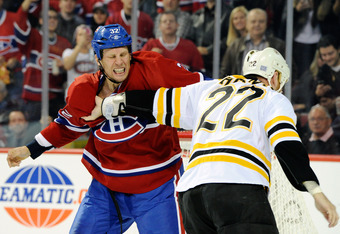 Richard Wolowicz/Getty Images
Clearly a two-for-two-trade is unlikely, I think that Brown makes this deal a bit lopsided in favor of the Leafs—so, I say start with Kulemin and MacArthur. However, any damage to the Leafs' roster, or prospect pool, by the inclusion of other pieces could be kept to a minimum here.
The Kings get two proven top-six forwards. Say what you want about the Leafs roster being short on talent, the Kulemin-Grabovski-MacArthur line was one of the top lines in the entire NHL last year, and two out of those three pieces are putting up similar numbers this year.
Their efforts have also helped keep the Leafs in a playoff spot for nearly the entire season, which is something to consider if you're of the opinion that talent is lacking in Toronto.
The Leafs get a solid goaltender and a rugged forward who can also score—both things that they are in actual need of. Plus, there's room to bring up some prospects from the AHL, which needs to happen sooner than later in order to evaluate what type of players these kids are going to be (looking right at you, Nazem Kadri, Matt Frattin, and Joe Colborne).
Another player who would do the Leafs well is Montreal's Travis Moen. He is a rugged guy with a bit of skill, a solid veteran presence and a Stanley Cup ring. Imagine him on a third line with Colby Armstrong. However, as alluded to in The Star, the Canadiens would likely be reluctant to deal with their divisional and lifelong rivals.
Still, deals between Toronto and Montreal have gone down in the recent past. Hello, Mikhail Grabovski.
This is an element that the Leafs are desperately missing: muscle. And Burke must know this, as he did have Max Talbot and Brooks Laich on his offseason radar. 
Now, who do you give up for a guy like Travis Moen? Well, he's not going to be counted on for his offense, but the Canadiens may be reluctant to deal away size. All in all, the asking price can't be bad. As I've already provided one trade speculation—and I typically hate doing that—I'm going to leave this up to you, the reader.
In the event that Moen isn't available to the Maple Leafs, another Moen-type player who immediately comes to mind is Buffalo's Paul Gaustad. Another big body. Another gritty guy who could make life a little easier for the Leafs' forwards.
None of these trades are the sexiest, but I feel that they are possible. And more than that, they address major areas of need for the Toronto Maple Leafs.