NHL Awards 2012: Breaking Down the Calder Trophy Race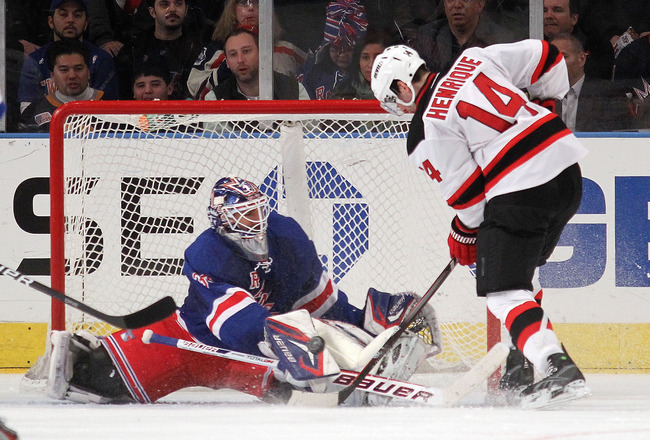 Bruce Bennett/Getty Images
With under a month remaining in the NHL season, it's becoming clearer who could be in contention for each award. But, right now, the race for the Calder Trophy—awarded to the Rookie of the Year—is as tight as ever, and no one could be considered a favorite at this point.
Some players, though, rise above many of the others. Adam Henrique, Gabriel Landeskog, Ryan Nugent-Hopkins and Matt Read lead the scoring race, and seem to be the strongest candidates up this point.
Strong arguments could also be made for Carl Hagelin, Jake Gardiner, Cody Hodgson and others but, right now, they aren't on top.
Here, we're going to break down the race and see who might have an edge.
All stats were obtained from NHL.com, and were accurate as of 3/12.
General Stats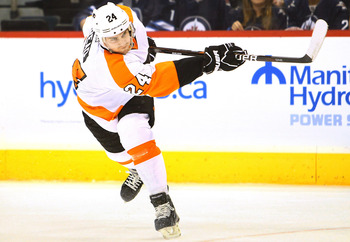 Tom Szczerbowski/Getty Images
Here's a look at the four rookies' stat lines:
| | | | | | |
| --- | --- | --- | --- | --- | --- |
| | Games Played | Goals | Assists | Points | +/- |
| Adam Henrique | 64 | 15 | 31 | 46 | +11 |
| Gabriel Landeskog | 71 | 19 | 25 | 44 | +20 |
| Ryan Nugent-Hopkins | 49 | 15 | 26 | 41 | -5 |
| Matt Read | 65 | 19 | 20 | 39 | +12 |
As can be seen, none of the players have hit the 20-goal mark, with Gabriel Landeskog and Matt Read being the closest.
Plus/minus isn't the best indicator, as it reflects a great deal on the team as a whole, but it should be noted that Henrique leads forwards on the Devils (second on the team) and Landeskog leads the Avalanche (and rookies) in the stat.
Also important to note is the fact that RNH has played significantly fewer games than anyone else. Three months into the season, he had all but six of his current total and seemed to be a runaway favorite for the trophy.
Unfortunately, his season has been derailed multiple times by injuries, and it's been a long time since he's had the chance to gain some momentum. Since returning to the lineup on February 25th, he has two goals and five assists in nine games.
Special Teams
| | | | | | | |
| --- | --- | --- | --- | --- | --- | --- |
| | Power Play Goals | PP Assists | Shorthanded Goals | SH Assists | Overtime Goals | Game-Winning Goals |
| Adam Henrique | 0 | 6 | 4 | 3 | 1 | 3 |
| Gabriel Landeskog | 4 | 5 | 0 | 2 | 1 | 4 |
| Ryan Nugent-Hopkins | 3 | 18 | 0 | 0 | 0 | 1 |
| Matt Read | 3 | 6 | 1 | 1 | 0 | 5 |
There's a lot of information here, and a few different important areas that should be broken down.
All four of the players have contributed on special teams to some extent. Landeskog and Read both have low-but-decent powerplay-point totals.
Henrique is not a huge factor with the man advantage, but is capable of contributing. RNH, on the other hand, is a powerplay monster. Though he has only three goals, he has an absurd 18 assists, fitting in quite naturally on Edmonton's league-leading power play.
Shorthanded, the players are almost the opposite. Landeskog and Read both have a respectable two points.
RNH has absolutely nothing and, in fact, has spent under two minutes killing penalties all season.
Henrique has excelled on the PK, forming great forecheck-chemistry with both Zach Parise and Ilya Kovalchuk, and the three represent the three league-leaders in shorthanded points.
Henrique and Landeskog have an overtime goal each, while the GWG stat is split similarly to the regular goal-scoring (though RNH is a little low).
Defensive Stats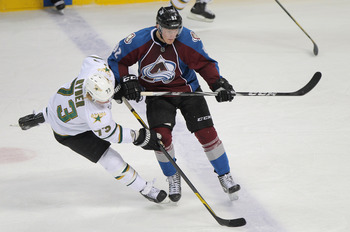 Doug Pensinger/Getty Images
| | | | | | | |
| --- | --- | --- | --- | --- | --- | --- |
| | Hits | Blocked Shots | Giveaways | Takeaways | Faceoff % | Shot % |
| Adam Henrique | 74 | 50 | 23 | 40 | 48.6 | 13.5 |
| Gabriel Landeskog | 190 | 48 | 31 | 55 | 25.0 | 8.1 |
| Ryan Nugent-Hopkins | 29 | 27 | 25 | 24 | 37.0 | 15.2 |
| Matt Read | 65 | 52 | 22 | 31 | 40.4 | 14.0 |
It's hard what to make of this for each person:
Landeskog is second among rookies in hits, and he'll break 200 by season's end. His blocked-shot totals are up to snuff as well. And while his faceoff percentage should be ignored—he's only taken 32 all year—his shot percentage shouldn't.
19 goals might be tied for first among rookies, but it's less impressive when it requires 235 shots (Compared to Read's 136). He also has more giveaways and takeaways than anyone else, though his positive margin there is impressive.
Read has the most blocked shots, as well as the fewest giveaways. His takeaway-total is low, but still well above his giveaway. He has an awful faceoff percentage, but a good shot percentage. He's also not overly physical, but capable of hitting.
Henrique has a decent number of hits and blocked shots, with totals similar to Read's. He has the second-fewest giveaways, and the second-most takeaways. He also has by far the best faceoff percentage, and that's a big factor considering he plays top-line center. His shot percentage is also good, though lower than RNH and Read.
Nugent-Hopkins might come off the worst from these statistics. Even accounting for his missed games, he has many fewer hits and blocked shots than any of the others here. He has low giveaway numbers, but he's also the only one on the list with a negative give/take margin.
In his favor though, he does have the best shooting percentage of the group.
Context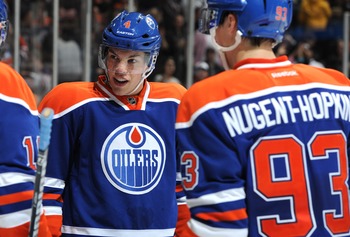 Dale MacMillan/Getty Images
One of the most important things to consider about a player's output is what kind of team he is playing on.
A player with a lot of points and a great plus/minus on a terrible team is a lot more impressive than those same numbers on a team where everyone's production is high.
Adam Henrique's Devils are currently sixth in the East. He plays on a top line with two of the game's best, Zach Parise and Ilya Kovalchuk. While it would be easy to attribute all of his success to their presence, he was crucial to developing chemistry on their line.
Gabriel Landeskog's Avalanche are in the playoff battle in the West. They currently occupy eighth, and sit with a one-point cushion on either side. He plays top-line minutes, averaging more than 18 per game. His team has been playing well of late, and if they continue to make a playoff push, he'll be a key contributor along the way.
Ryan Nugent-Hopkins' Oilers kind of suck. They are second-to-last in the West and the league, in front of only Columbus.
RNH's chemistry on the top line with Taylor Hall and Jordan Eberle was one of the few bright spots of the season (along with Sam Gagner's eight-point night), and the three youngsters have been among the best lines in the league when together.
Matt Read's Flyers are fifth in the East. They are the second-highest scoring team, and have a deep offense that contains, among others, Claude Giroux, Jaromir Jagr, Scott Hartnell and Danny Briere.
Read, like everyone else on this list, plays between 17 and 19 minutes. And though he does average the lowest minutes-per-game of these rookies, he is still the fourth-highest rookie forward in that category.
The Verdict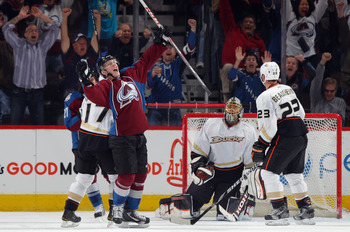 Is Gabriel Landeskog the league's best rookie?
Doug Pensinger/Getty Images
As of right now, it appears to be a fight between Henrique and Landeskog, but that could change quickly.
Henrique and Landeskog have the point-advantage over the other two, and each impresses in a lot of areas: Landeskog with his physicality and goal-scoring and Henrique with his penalty-killing and assisting. More importantly, neither player seems to have a major weakness in their game.
RNH can win this trophy if he can stay healthy and get back on his first three months' form. If he can, he should shoot right by Landeskog and Henrique in the stats.
Matt Read is a tough call. He plays a smaller role on his team than any of the other players here. That's not to diminish him at all; he's been supremely impressive this year.
The positives to him are that he is the co-leader in goals, but a more selective shooter than others. He shows a well-rounded game, and has exceeded all expectations for him.
On the other hand, Read's plus/minus isn't even first on his team among rookie forwards, and he has far less pressure on him than the other players.
So the verdict is.. it's too close to call. This really could go to any one of these players, depending on how the next 15-or-so games go.
But of course, that's a cop-out. So I say Henrique.
Disagree? If you think that someone else should win, or have other comments about the article, let me know!
Keep Reading