NHL Trade Deadline: Why Flyers GM Paul Holmgren's Trades Hurt Team in Long Run
February 18, 2012

Nick Laham/Getty Images
Philadelphia Flyers GM Paul Holmgren continues to confuse fans with his trades and his message that he sent last year during free agency.
This confusion began after he traded away Mike Richards after signing him to a long-term deal for forwards Brayden Schenn and Wayne Simmonds, and a second-round pick in the 2012 draft.
It was a move which made some hockey fans, including myself, scratch our collective heads.
Earlier in the offseason, the Flyers made the much more predictable move of trading away Jeff Carter for Jakub Voracek and last year's first- and third-round picks.
The Flyers used that first-round pick to select Sean Couturier, a dynamic center who is coming into his own in the NHL.
So picking up Voracek, Simmonds, Schenn and Couturier has improved the team, but was it worth getting rid of Richards and Carter?
The Flyers didn't seem to lose a step until defensive stalwart Chris Pronger went down with an eye injury that turned into concussion-like symptoms.
The Flyers have been scrambling since then, trying to find replacements on the blue line.
On Thursday, the Flyers acquired defenseman Nicklas Grossman from the Dallas Stars for a second-round pick in 2012 and a third-round pick in 2013.
Today, just two days later, the Flyers also acquired veteran defenseman Pavel Kubina from the Tampa Bay Lightning for prospect Jon Kalinski, a conditional second-round pick and a fourth-round pick in 2013.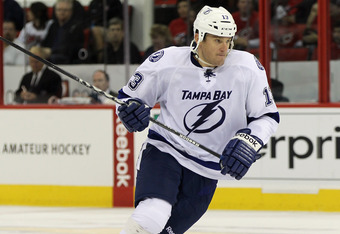 Bruce Bennett/Getty Images
That sounds all fine and dandy until looking at the fact that the Flyers are already up against the salary cap with no real cap space.
Oh, by the way, the cap may go down with the next collective bargaining agreement, which expires in mid-September of this year.
The only cap space that they actually have is long-term injury relief that they have from Chris Pronger's injury, and that cap space only exists as long as Chris Pronger doesn't retire.
That's right. I said retire.
Pronger's attempt to recover from his eye injury turned concussion hasn't been doing too well, and he has been effectively shut down for the season.
Seeing Chris Pronger retire at the season's end wouldn't be out of the question just for the sake of a better quality of life after hockey.
So since Pronger's injury, Philadelphia has been up against the cap, but with the long-term injury relief the Flyers were able to sign Grossman and now Kubina.
But that hasn't changed their cap problem situation.
What's worse is that Grossman and Kubina are both unrestricted free agents at the end of the season, and Grossman (with just a $1.625 million cap hit) is due for a raise.
So effectively, the Flyers (who would be unable to retain neither Grossman nor Kubina at the season's conclusion) are going all out for this year's playoffs. But Philadelphia has just given up a second-round pick, a third-round pick, a fourth-round pick, a conditional second-round pick and a prospect.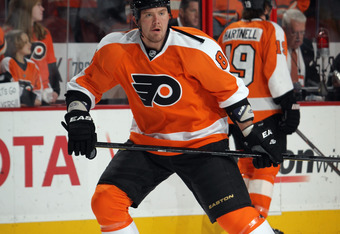 Bruce Bennett/Getty Images
And if the Flyers fall flat on their faces again like they did last year against Boston when they were swept, what will the Flyers have in return for the draft picks that they've given away?
The word "nothing" comes to mind.
But maybe that's just me.
Flyers fans: Are you worried yet?
For more article updates, Follow @isaacesmith91