Colorado Avalanche Trade Rumors: Spotlight on David Jones
February 18, 2012

Doug Pensinger/Getty Images
With many players who will either be restricted or unrestricted free agents at the conclusion of the 2011-12 NHL season, many teams are contemplating trades.  Who should (and will) they trade? How can they avoid letting their players walk for nothing in return at the end of the season?  For the Avalanche, the spotlight falls on forward David Jones.
Jones' career has certainly been a roller coaster ride.  After being drafted in the ninth round, 288th overall, in the 2003 NHL Draft, Jones holds the distinction of being the latest Colorado Avalanche draft pick to make the team.  He had a fine collegiate career at Dartmouth, where he was named Ivy League Player of the Year and was also a finalist for the Hobey Baker Award in 2007.
He went pro the next season, and after 45 games with the Lake Erie Monsters, he was called up by the Avalanche and has been with the big club ever since.  During his first few seasons, he showed signs of becoming a goal-scoring winger and a potential top-six forward.  However, injuries (including a serious shoulder injury and a torn ACL) limited him to just 90 games over his first three seasons.
Last year, however, he was able to stay healthy for most of the season and accumulated a career-high 27 goals and 18 assists for a total of 45 points in 77 games.  His 27 goals was tied with Matt Duchene for the team lead.
This season, Jones has tallied 12 goals and 11 assists for 23 points over the course of 48 games.  He has played most of the season on the Avs' top line with Paul Stastny centering.  But he has also found himself in Coach Joe Sacco's doghouse—often logging third or fourth line minutes, and he was a healthy scratch as recently as February 2nd against Minnesota.
Jones was reinserted into the lineup the following game against Vancouver and has played very well since.  He has seven points in six games in the month of February and had his best game with two goals and an assist in a 5-2 win against Chicago last Tuesday.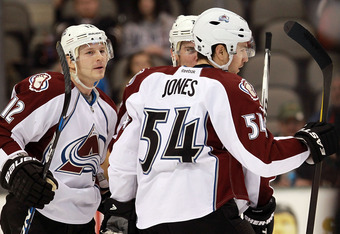 Ronald Martinez/Getty Images
Jones' improved play is a good sign for the Avalanche.  If they hang on to him, they will need him to play like a top-line winger down the stretch.
However, as previously mentioned, he has certainly been mentioned in the trade rumors of late.  He is currently on a one year, $2.5 million contract and will be an unrestricted free agent come July 1st.  If the Avs do not trade him, they will need to decide if they want to re-up his deal or lose him for nothing.
At 27 years old, Jones is approaching his prime and has proven that he can be a top-six forward when healthy and on his game.  His injury history may be worrisome to prospective suitors, and like many scorers, he's a streaky player.
A number of teams will certainly be interested in him; it's just a matter of what the Avs will be able to get in return.  Since this is not Jones' most productive year, his trade value will be less than what it would have been a year ago.
A likely scenario would be for the Avs to package him with a defenseman like a Kyle Quincey or a Ryan Wilson to try to get a more consistent top-line winger or draft picks.