Detroit Red Wings Trade Rumors: Why Pavel Kubina Is Worth the Risk
February 18, 2012

Bruce Bennett/Getty Images
The Detroit Red Wings have reportedly submitted an offer for Tampa Bay Lightning defenseman Pavel Kubina.
Kubina has a limited no trade clause in his contract, which requires him to submit five teams to Lightning GM Steve Yzerman within seven days or else Yzerman can trade him anywhere.
Kubina seemingly holds the keys to his future, but Yzerman has made Kubina a healthy scratch over the past few games, and Kubina will likely be playing elsewhere within the week.
The biggest question as far as Detroit fans are concerned is how much will Kubina bring to Detroit?
Based on that analysis, the next logical question is what should Red Wings GM Ken Holland be willing to give up to acquire Kubina?
Kubina is not getting any younger—he's 34 years old and will be 35 by the time the first round of the playoffs is done.
Kubina has just 11 points in 52 games, but playing on a struggling Tampa Bay Lightning team that sits eight points outside of the Eastern Conference playoff race has likely not done any wonders for his point total.
The real reason I would like to see Kubina in Detroit is that Kubina is a right-handed shot, something that is hard to come by in Detroit with Jan Mursak and Ian White being the only right-handed shooters.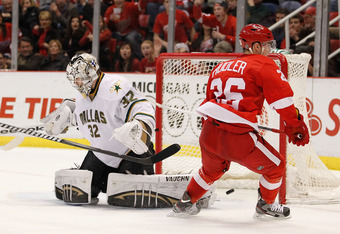 Gregory Shamus/Getty Images
Pavel Kubina also brings something to the Detroit lineup that some Red Wings fans might argue that Detroit does not have enough of—size.
Kubina stands at 6'4" and 258 pounds; this would make him easily the tallest and heaviest player on the Red Wings' roster.
Kubina does not mess around with his size either, throwing 95 hits and blocking 100 shots.
I can't stress enough how important it is to have a big, strong, physical, right-handed shooting defenseman on that third defensive pairing.
Kubina also averages over a minute of power play time (as a right-handed shot that would be a great addition for Detroit), as well as over two minutes on the penalty kill per game.
Both power play and penalty kill are areas in which Detroit can improve.
Detroit's own Jakub Kindl has done a good job bulking up this past season, going from 199 to 216 pounds (per NHL.com), but last night against Nashville, the Red Wings barely managed to pull out the game after Kindl was muscled off the puck by a smaller but stronger Jordin Tootoo, who set up the game-tying goal.
Pavel Kubina will be an unrestricted free agent following this season, so if he steps up his game with Detroit, he might be the subject of a two or three-year contract extension.
But at this point, Lightning GM and former Red Wings legend Steve Yzerman is looking to pick up prospects and draft picks to help the team in the future.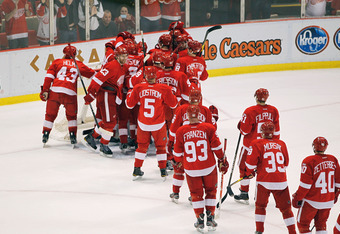 Gregory Shamus/Getty Images
If I had to make a trade proposal, it would be a third-round pick this season and a sixth-round pick next season along with a prospect.
The compensation would be higher, but Kubina is a UFA at the end of the season.
Either way, Detroit needs some help on that third pairing.
Jonathan Ericsson is still coming into his own in the NHL, as is Jakub Kindl.
A veteran player like Kubina would be a great addition for Detroit and a relatively cheap one, considering what the Red Wings would give in return.
For more article updates, Follow @isaacesmith91