Toronto Maple Leafs: Contender or Pretender?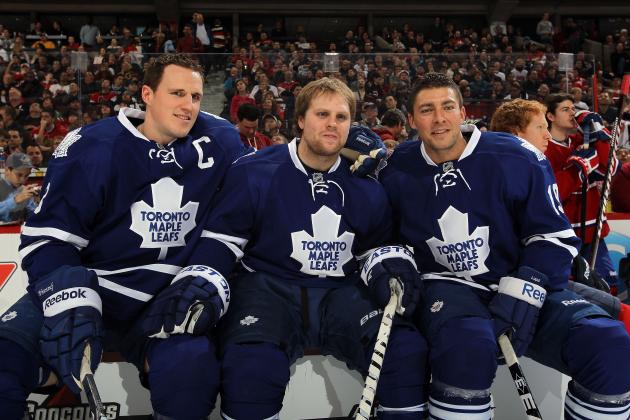 Bruce Bennett/Getty Images

The Toronto Maple Leafs are so close to the playoffs they can almost taste it.
Still, an ugly loss at the hands of the Vancouver Canucks on Saturday shows that they've still got a way to go before they're set to make their mark in the postseason.
With the Washington Capitals and Winnipeg Jets still sniffing around the the final playoff seed in the Eastern Conference, the next week leading up to the trade deadline will be crucial for Toronto if they want to solidify their chances of hanging on to their current seed.
The games will get tougher from here on out, and the upcoming schedule won't be cutting Ron Wilson's squad any slack.
However, the intensity will serve this group well.
There are 23 games remaining for the Maple Leafs to close the deal and tighten up the leaks and holes in their game.
If they can stay focused and composed, they should find themselves with a dance partner following the conclusion of the 2011-12 season.
Here are fives keys for the Toronto Maple Leafs if they want to continue to trend in the right direction.
Begin Slideshow

»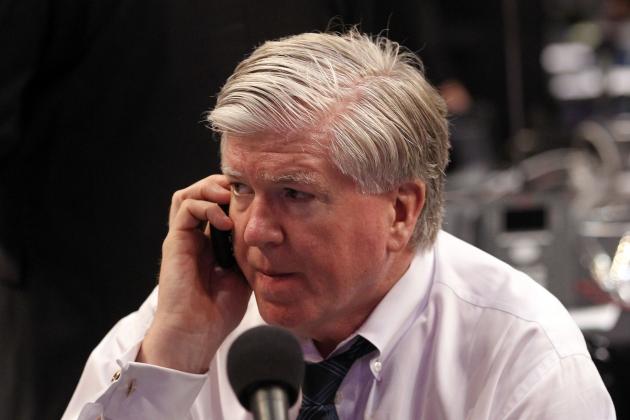 Bruce Bennett/Getty Images

At the risk of sounding like a Brian Burke cheering section, I'll keep this short and sweet.
Brian Burke has not always been a name synonymous with rejoicing and standing ovations around Leaf nation.
However, he's a huge reason why Toronto even has a look at the playoffs this late in the year.
It's been vexing and even perplexing at times, but he's brought a lot of the right pieces to the table.
A lot of skeptics gave Burke an extremely difficult time when he initially traded for Kessel, since forking over two first-rounders seemed to be an awful lot for him at the time.
However, Brian had a plan and never once doubled-back on his decision or logic.
Even after the Leafs tanked the year—supplying the Bruins with the second overall pick in 2010—he maintained that Toronto got their guy.
They were happy with how things turned out, and why wouldn't they be?
Since coming to Toronto, Kessel has been a consistent goal scoring threat, something Burke knows you can't always find in the draft.
Give the man some credit too: He's managed to make some trades where the Leafs have almost stolen talent away from teams.
Somehow, Brian Burke managed to convince Calgary to take forwards Matt Stajan, Niklas Hagman, Jamal Mayers and defenseman Ian White in exchange for Dion Phaneuf, Keith Aulie and a potential depth player.
Think about that for a second.
While losing little more than spare parts and baggage, the Leafs shed salary, and added a player that has since gone on to captain the team.
If you're not impressed yet, take his trade last year with Anaheim to see another case of his sly trade maneuvering.
Toronto picked up Jake Gardiner and Joffrey Lupul from the Ducks for the lowly price of Francois Beauchemin in return—a deal Anaheim is surely regretting after watching both players soar over the course of the year.
I could go on, but you get the point.
Even if a few draft picks for Kessel may have been a little steep at the time, it's fair to say that Burke has more than compensated for any loss, and then some.
Now that Rick Nash is reportedly on the market as well, fans are wondering if Burke will make a move for the talented forward.
While the fantasy trades pitched by Leaf supporters are laughably low, Columbus fans aren't laughing at all.
They know that if there's one man that could convince their team to part with Nash for Clarke MacArthur, and a stocked soda machine, it's Brian Burke.
Bottom Line: Burke has to stay active at the deadline to keep improving the roster.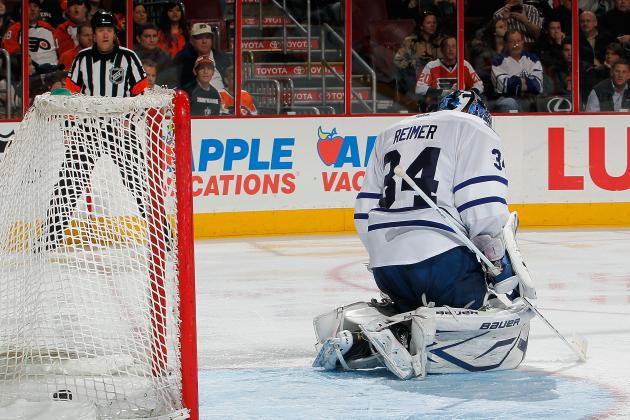 Paul Bereswill/Getty Images

Now on to a painful reality that Leaf fans are going to have to admit sooner or later.
What started out as a nice story to end last season, has been dragged out into a precarious solution for the team.
For the Leafs to have any success at all past the regular season, it must be fixed.
Simply put: James Reimer is not a No. 1 goaltender.
His wide smile and soft, humble personality are all reasons to like James as a person and a player, but he hasn't been consistent enough this year.
The problem with Cinderella stories involving players that rise from obscurity to a prominent role is that there's no way of accurately gauging the player's potential or true value.
Reimer currently owns an 11-8-4 record, accompanied by a 2.98 goals against average and .903 save percentage.
This will not cut it in the playoffs.
Heck, it's barely been enough during the regular season, and Jonas Gustavsson hasn't fared much better.
Look no further than Boston's championship run last season to see the importance of a clear number one like Tim Thomas going into the late rounds of the post season.
Now, the Leafs have young talent and trade chips to spare, and they would be wise to splurge and invest between the pipes for the future.
Either Cory Schneider from Vancouver or Jonathan Bernier in Los Angeles could be attained in a package deal before the deadline—if the Leafs were willing to bundle up Schenn with assets.
Regardless, Burke would have to be willing to open his wallet to get the right player in net for Toronto, but the rewards are certainly worth it.
Bottom Line: For Toronto to have any chance before or during the postseason, they need better goaltending.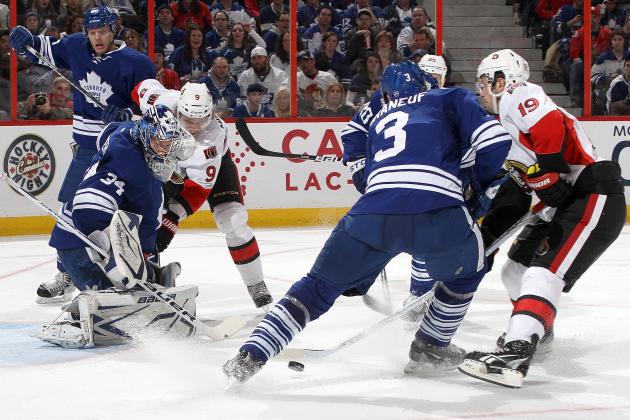 Jana Chytilova/Freestyle Photo/Getty Images

One of the main reasons for Toronto's success this year has been the improvement of their defense over the offseason.
For a pair of second round picks, Burke managed to acquire two good defensemen in John Michael Liles and Cody Franson, and they've both been able to find ways to contribute.
As a result, Toronto has been able to show case seven NHL-calibre defensemen this season, and it's paying off as its currently in the top five in league scoring among defense.
With rookie Jake Gardiner progressing nicely this season, and young defender Luke Schenn slowly developing on the back end, the team has got a good blend of youth and size that makes the Maple Leafs' back end a point of strength.
Still, even though the talent and size is in place on the blue line, they can still be prone to mistakes and inconsistency at times, which hasn't done the team any favors.
Ill-advised pinches or an over-aggressive foray into their opponents offensive zone has been known to backfire on occasion and create problems.
If the team's defense can focus on keeping things simple and playing with consistency—and with an edge—things should improve in their own zone as the season finishes.
Limiting chances and space are key during the playoffs, and Toronto will have to find a way to excel in that area of the game.
As it stands, the Leafs should be happy with where their defense stands.
They have a good blend of physical defenders and puck movers that has made their transition game and physicality dangerous this year.
Bottom Line: Tweaks aside, the defense needs to continue to produce, but find a balance between offensive support and safe, low-risk play.
Paul Bereswill/Getty Images

Now here's where things begin to fall on the coach's shoulders.
Ron Wilson is misusing his offensive assets too often and it's hurting the team. The Maple Leafs have a lot of offensive resources at their disposal, but they can't keep trading chances with teams all the time and expect to continue to win games.
It didn't work earlier in the year against an offensive powerhouse like the Boston Bruins, and it didn't work on Saturday against a similarly strong offensive team like Vancouver either.
The emergence of a bona-fide number one line has been a godsend for the team, and a key cog in the machine so far.
However, the team's still not deep enough to go toe-to-toe with teams on a nightly basis.
Despite a break out season for Joffrey Lupul playing beside star forward, Phil Kessel, the secondary hasn't been there to help alleviate some of the pressure the pair is under to produce.
Grabovski has struggled with consistency at times this year, and players like Kulemin and MacArthur haven't managed to replicate the success they both had last season either.
Against the league's top teams, Toronto has—and will continue to—run into problems if they don't find a better balance to their team game.
That falls on the shoulders of the coaching staff.
Players were turning pucks over in dangerous areas on Saturday and being burned doing it, and it has to stop.
Rather than risk losing in a swap meet against top opponents, the Leafs would be better employing a more conservative style of game instead to stifle their opponents.
That's not to say the Leafs never play a defense-first style of play, or haven't found success employing it,
Rather, they seem to prefer run-and-gun hockey when they have an opportunity to dictate the flow of the game.
This can be costly.
If the team's sound defensively first, the offense will follow.
Bottom Line: This team can score goals, but they have to be careful who they try and out produce.
They have to pay a bit more attention to limiting chances, rather than constantly dominating.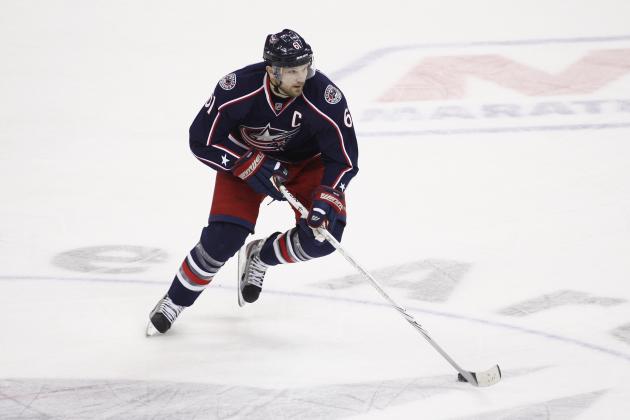 John Grieshop/Getty Images

The Rick Nash rumors are once again in full flight this week—especially with rumors of Brian Burke sitting down with Columbus GM Scott Howson to discuss the possible workings of a deal.
Sure, the team is desperate for a goaltender and should perhaps be saving their best bargaining chips to fix that problem.
However, it's no secret that they've been looking to add size and skill up front all season long.
Earlier, it was a James Van Riemsdyk deal involving Luke Schenn that dominated the headlines, though Philadelphia's recent acquisitions will likely terminate the possibility of that trade for now.
Regardless, it's is a big, offensively gifted power forward that's on Burke's wish list, and it's a trade that he should try and squeeze in before Feb. 27 if he can.
As previously mentioned, Toronto has a good group of gifted forwards, but their lack of a stable secondary has really caught up to them.
Dealing for Nash would be the kind of splash Leaf fans are hoping for, but his contract size and length carry with them some risk.
The team has some young players and expiring contracts to deal with over the next few years that will require cap space.
In a perfect world, names like Milan Lucic or Jamie Benn would be available for Burke to pursue, but neither are available, so he has to turn to his best option.
If nothing surfaces for the right price or seems to fit, Burke might opt to pass on making a deal before the deadline, something that could actually be the best option at this point.
You don't want to over-pay or be stuck with a bad contract for the sake of appearing to be active in improving your team, and Burke may get a better crack at a good, young player at the draft or during the summer.
Even then, the place to shell out the big money shouldn't be at a top six spot, but rather in goal.
Bottom Line: Toronto's chances of finishing in the playoffs and making noise once they're there improve if they do add a power forward before the deadline.
However, over-paying or hasty decisions must be avoided.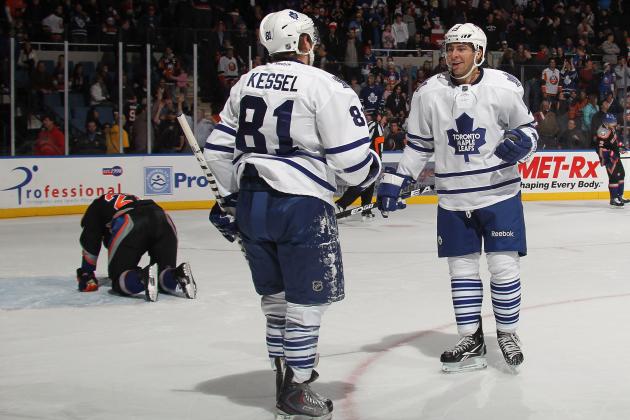 Bruce Bennett/Getty Images

The Leafs have a good blend of skill up front, and talent on the blue line, to make a playoff appearance a good possibility this year.
The extent of their playoff run, or their cup readiness, remains unknown.
However, they could still manage to surprise a few critics, and do some damage in the first round.
One thing is certain though: Going forward, this team needs better goaltending and has to make some adjustments if they want to get there.
That in itself will present a challenge for the team.
Still, they aren't in this position by accident, and they have the necessary tools to compete with most teams in the league, making them legitimate contenders.