Toronto Maple Leafs Trade Rumors: Offer on the Table for Mikhail Grabovski
February 17, 2012

Paul Bereswill/Getty Images
It is certain that the Toronto Maple Leafs would much rather extend Mikhail Grabovski's contract.
However, a possible deal from an undisclosed team has made Brian Burke think about dealing the skilled center-man. This speculation was confirmed by TSN analyst, Darren Dreger.
The deal is expected to include a high-end prospect and a second-round draft pick. However, Burke may try to stretch the second-rounder into a first-round selection, if possible.
In the long run, this deal would make sense. But right now, the Toronto Maple Leafs need to make the playoffs to consider their season successful.
Trading away their best scorer, other than Phil Kessel and Joffrey Lupul, for prospects and draft picks would benefit the Leafs in the future. However, this kind of trade would not help the Leafs' playoff push this season. It wouldn't make sense for their team.
To make the playoffs, the front office must make a deal that makes sense to achieve their main goal: making the Stanley Cup playoffs.
Just about every hockey fan knows the Toronto Maple Leafs' biggest need is another top-six forward.
The Leafs' criteria for this position is very specific. The Leafs want a big, top-six forward that can score goals. He must also bring a physical presence to the table and be able to muck it up in the dirty areas.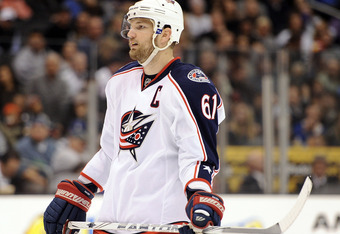 Harry How/Getty Images
Players that meet Toronto's needs include Rick Nash of the Columbus Blue Jackets, James van Riemsdyk of the Philadelphia Flyers and Ryan Getzlaf of the Anaheim Ducks.
All of these players have size and a good, physical presence. These players can also score goals while mucking it up in the dirty areas: exactly what the Leafs want.
The Leafs would likely have to trade away many valuable assets to acquire players of this calibre. These assets include:
Mikhail Grabovski
Luke Schenn
Nazem Kadri
Nikolai Kulemin
Clarke Macarthur
Keith Aulie
Prospects and Draft Picks
A trade where the Leafs acquire a big, top-six forward would be the type of deal that would make sense for the Toronto Maple Leafs this season.
A deal involving one of their top scorers for a prospect and an early draft pick doesn't seem to make sense at this time.
The only way this deal would make sense is if the Toronto Maple Leafs plan to miss out on the playoffs once again.
The trading wheels have only just started. Expect more trades, more rumors and more hockey from the Toronto Maple Leafs.
Keep yours eyes and ears open for the latest news around the NHL.