NHL Rumors: Rick Nash Would Make Los Angeles Kings a Dangerous Playoff Team
February 16, 2012

Harry How/Getty Images
As rumors begin to heat up surrounding Columbus Blue Jackets captain Rick Nash, the Los Angeles Kings appear to becoming the front-runner.
Craig Custance of ESPN wrote on Tuesday:
The Kings have the organizational depth to pull it off. Columbus needs a goalie and the Kings have a talented one in Jonathan Bernier who could be one of the pieces a Nash trade is built around.
Dealing Bernier wouldn't hurt the Kings, given they have the dynamic Jonathan Quick on their roster. And adding a goal-scoring veteran winger like Nash would be a huge addition to the squad.
The Kings have everything you could want in a playoff team except for an explosive scorer. They have an elite goalie in Quick, defense with Drew Doughty and strength down the middle with Mike Richards and Anze Kopitar.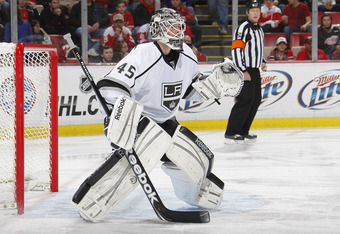 Dave Sandford/Getty Images
The Kings have scored the fewest goals per game in the NHL this season, yet still would land in the playoffs if the season ended today. That right there should tell you how strong they are in other areas.
According to Aaron Portzline of the Columbus Dispatch, the Blue Jackets are rumored to be demanding "at least one young roster player along with a combination of top prospects and quality draft picks."
Nash could be that game-changer for the Kings and he still has some years left in him, at 27 years old. If the Kings can package a deal around Bernier, without parting with defenseman Jack Johnson, that would be a huge score. Even parting with Johnson may be enough to make a run in the playoffs if they land Nash.
Nash hasn't had the same year as last season (with 39 points through 57 games), but he also hasn't been surrounded by a lot of talent. Columbus is going nowhere this season (with 40 points) and there's no reason for the Blue Jackets to keep Nash around, especially when they have an opportunity to fill a big area of need for them in a goalie.
There's reason for both teams to make this trade, as it addresses their most serious issues this season.
In that sense, it's hard for me to see Nash not going to the Kings.
And it makes the Kings a potential dark horse come the playoffs if they land the highly coveted captain.