ABN AMRO World Tennis Tournament: Updated Hot-to-Trot Tips
February 16, 2012

Julian Finney/Getty Images
The ABN AMRO World Tennis Tournament is now in full swing in Rotterdam, with quarterfinal matchups being determined as we speak.
If you missed my article at the start of the tournament, outright selection Roger Federer is looking promising after moving through to the quarterfinals. Advised at 5/2, best price for the Swiss maestro is now around 2/1.
However, all hope is not lost, and as the tournament progresses, so too do the hot-to-trot tips for upcoming matches.
Whether you're an avid tennis follower or simply someone interested in making an easy dollar or two, here's your tips for the remainder of the tournament to make sure that whatever the result, this tournament is a memorable one for you.
Roger Federer to win the tournament

If being on the opposite end of the draw to Tomas Berdych and Juan Martin Del Potro wasn't already an advantage enough, Federer's hopes have taken a further step or two forward with results already in the tournament going his way.
Unseeded Lukasz Kubot knocked out the dangerous Alexandr Dolgopolov; qualifier Paul-Henri Mathieu toppled Feliciano Lopez and to add to that, Federer's opponent in the second round withdrew—giving the No. 1 seed an easy pass to the quarterfinals.
Whilst many will say that he hasn't proven himself in this tournament, Federer truly is a class above the remainder of this field and should win the entire tournament.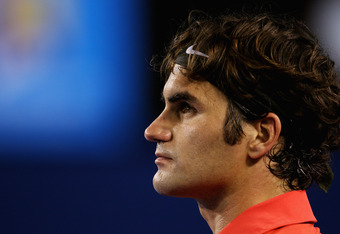 Lucas Dawson/Getty Images
With Del Potro pushed by Michael Llodra in the opening round, the Argentinian appears to be off the pace in Rotterdam and will surely still be thinking about the flogging he received from Federer at the Australian Open earlier in the year.
The Swiss' only threat appears to come in the form of Tomas Berdych, who will need to pass through the likes of Marcos Baghdatis, Victor Troicki and perhaps Del Potro also, before reaching Federer in the final.
And even if that is the case, Roger's defensive skills are strong enough hold off the Czech's big serve, and his ground game good enough to take the win.
Over total games in Roger Federer vs. Jarkko Nieminen
Whilst Federer had a straight-sets victory against Nicolas Mahut, the match still managed to reach a total of 20 games, and Federer didn't look as dominating as we know he can be.
He managed to land only 61 percent of his first serves—winning 77 percent of those. Against the Mahut serve, though, Federer only won 35 percent of the points, which was reflected in him winning only 55 percent of points for the match.
One thinks against a more classy opponent, the Federer match may feature at least a single tiebreak, or perhaps even a third set, and after two three-set thrillers against both Sijsling and Kubot, Nieminen may well push the Swiss star.
Even just a tiebreak would do, as long as it was followed by a close set. Either take Nieminen with the game line, which will probably sit around 3.5, or take the over total games.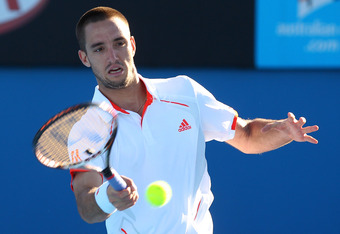 Cameron Spencer/Getty Images
Victor Troicki to beat Huta Galung 2-0

There is a severe class difference between these two players and whilst Huta Galung played well against an aging Ljubicic, the seeded Serbian poses as a much tougher player to get by.
Troicki won 60 percent of the points in his match against De Bakker, while winning nearly half of the Dutchman's service points as well.
And after watching Del Potro struggle so far this tournament, he may well fancy himself as a bit of a darkhorse in this tournament and is definitely worth watching.
Karol Beck with the game line vs. Juan Martin Del Potro
Beck is currently receiving a 5.5 game start heading in to this one, and is ranked as a 10/1 outsider to win this match against the number three seed.
Philipp Petzschner, who Beck disposed of in the opening round, is a quality tennis player and Beck played far better than expected to take a straight-sets victory over the German.
Whilst his serve was not dominant, his ground game is more than capable of sticking with Del Potro to an extent—especially considering how the Argentinian struggled against Llodra.
A 5.5 game line suggests that Del Potro will win comfortably, and whilst he most likely will, he won't have it that easy. If Beck's ground game can get going early and not give up an early break, he should be good enough to have at least one close set in the match.
With a 5.5 game line, that should be enough to see him over the line.
Cameron Spencer/Getty Images
Richard Gasquet to beat Nikolay Davydenko
Gasquet is the No. 5 seed, and is reflecting it in his style of play this tournament. He disposed of Cipolla, despite a hiccup in the middle set, and then gave the classy Russian Alex Bogomolov a bit of a tennis lesson.
Compare that to Davydenko, who beat Robin Haase, before struggling against a qualifier. He won just over 60 percent of his service points, and against a more classy opponent in Gasquet, will desperately need to turn it around if he is to win.
Add to that the fact that Davydenko could just go down with an injury at any time—as he is known to do a little—and Gasquet should be the winner, especially now that he knows that Federer remains the only other seeded player in his half of the draw.
MORE ARTICLES? Click here.
Or just follow me on Twitter: @dantalintyre