Detroit Red Wings: 5 Goaltenders Red Wings Could Pursue with Jimmy Howard Hurt
February 16, 2012

Gregory Shamus/Getty Images
The Detroit Red Wings are the top team in the league right now.  While not a perfect team, they are definitely loaded and playing very well. 
One weakness throughout the season has been the backup goaltender.  Ty Conklin started the season as the backup but has not played well at all.  When Jimmy Howard went down with a broken finger, the goalie issue became more obvious.
With the NHL trade deadline getting closer, the rumors and speculations about which goalies the Red Wings would and should go after are all over the place.
Here are five goalies that should be available and why they will or will not work out.
Evgeni Nabokov
The Red Wings tried to get Nabokov last season, but they were blocked when New York Islanders GM Garth Snow claimed him off waivers.  The team had already agreed to a deal with Nabokov but as he was returning to the league from the KHL, he had to clear waivers.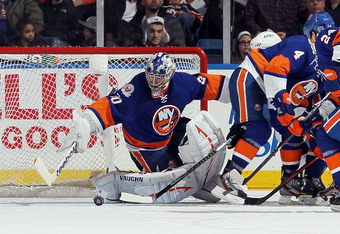 Jim McIsaac/Getty Images
A battle ensued between Snow and Nabokov which did not help either of them, more importantly the Red Wings.  This season, Nabokov has played well for the bad Islander team.  He has 13 of their 23 wins and has posted a 2.29 GAA with a .923 save percentage.
He will be a free agent after this season and it is doubtful that he stays with New York.  The trouble is Snow will likely want way too much for him and since he would only be here in a backup role, it will not be worth the cost.
Nikolai Khabibulin
Nikolai Khabibulin started the season strong with a 1.12 GAA for the first month of the season.  This had the surprising Edmonton Oilers as one of the top teams early in the season.
Since then, he and the team have fallen off.  The team is now the second worst in the Western Conference and his GAA is 2.52.  He has since given way to Devan Dubnyk.
Despite still having better stats than Dubnyk, Khabibulin has been losing starts to him and now sits behind him on the depth chart.
While Khabibulin would provide a solid backup presence, the cost is too high.  He is set to make $3.75 million this season and the next.  The team will not want to eat up that much of their cherished cap space on a backup player.  It also would not be good to bring in a player making more than their own star goalie Howard, who gets $2.25 million per year.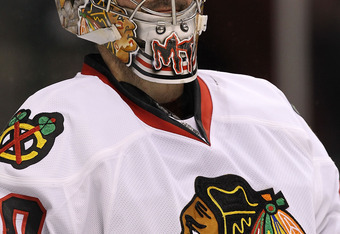 Ronald Martinez/Getty Images
Antero Nittymaki
Nittymaki has played well in sports throughout his career but not long enough to hold onto a goalie job for the long term.
One positive side to this is that he should come cheaply.  He has already cleared waivers and San Jose sent him to the minors earlier this month.  They likely would not ask for too much in return.
On the down side, he has not proven to be a long-term help and likely is not any better than Conklin at this point.
 Marty Turco
Marty Turco is an interesting option.  He is currently playing in Austria for EC Red Bull Salzburg.  He played last season for the Chicago Blackhawks but lost his starting job during the season.
No teams were interested enough in him over the offseason so he went to Austria.  He does have an NHL out-clause in his Austria contract.  To fill out the rest of the season and especially for a major contender, one would think he would come along at a decent price.
There are two issues with Turco.  The first is if he has anything left.  His last three seasons in the league were not good.  His numbers declined to the point where he was over three goals a game during his last season in Chicago.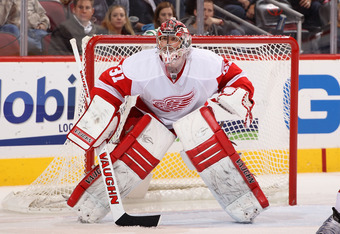 Christian Petersen/Getty Images
Over his last three years, per season he averaged 2.82 goals against with only a .902 save percentage.  In fact in two of those three seasons, he recorded below .900. 
Between league play and the European Trophy, he has played six games for Salzburg.  He has a combined .947 save percentage with an impressive 1.93 goals against.  Now obviously that is not against NHL level talent but does it show that he still has enough left?
The other issue is that like Nabokov, he will have to clear waivers before he could join the Red Wings or any other team.  We all now Garth Snow likes to carry roughly 17 goalies on his squad.  Might he try to grab yet another goalie to hold for ransom?  Will other teams be either out of need or out of desire to block the Red Wings and claim him off waiver?
After getting burned once on the waiver deal, the Red Wings should skip Turco.  While waiting for him to clear, they could miss out on other options then be too late if Turco's move was blocked.
Joey MacDonald        
Last season, Joey MacDonald had a knack for being called into a game when a goalie was pulled and playing great.  On games he started though, his stats were not good.  This is why the team did not offer him the backup spot this season and instead offered him a two-way deal.
He has played in the minors this year and has done well.  With Conklin blowing his chance in the first game following Howard's injury, MacDonald has seized the moment.  He has won four of his five starts.  The only loss was in his first game in Phoenix.  He only gave up two goals (Coyotes added an empty net), although the team only scored once in support of him.
He has posted an impressive .930 save percentage with a 1.72 goals against.  With those numbers, he has earned the chance to take hold of the backup goalie spot.
While some may point to his four-game win streak all happening at home, that is part of the reason he deserves the chance.  With the Red Wings chasing, and then setting the record for home wins, MacDonald came into a pressure-packed situation.  He did not want to be the goalie to cost the team the streak.
The games have been as close to the pressure of a playoff situation as you will find in the regular season.  He has handled it better than anyone could have expected.  With his rise, the team does not have to part with any players for a backup player.  They can focus on other options at the trade deadline.
No need to look for a backup goalie.  Howard should return over the weekend and MacDonald can serve as the backup if he were to get hurt again.