NHL Trade Rumors: How Detroit Red Wings 21 Home Wins Could Quiet Any Trade Talk
February 15, 2012

Gregory Shamus/Getty Images
There is one thing we know for sure.
Last September, when Mike Babcock was readying his troops in training camp, into the exhibition season and into the beginning of the 82-game grind that is the NHL regular season, he never talked about setting any records.
In fact, if one were to have surveyed the entire roster during training camp, asking them which team holds the record for most consecutive home wins (and what that record was), it's almost certain none of them could have come up with the either the 1929-30 Boston Bruins or the 1975-76 Philadelphia Flyers.
The fact is, unless it involves a Stanley Cup Championship, setting records just isn't a priority in Detroit.
Still, about two weeks ago, the team became aware that they were inching ever closer to an NHL record that none of them cared about, until they realized they might have a chance of matching it, maybe even beating it.
On Friday night, they matched it.
On Tuesday night, they beat it.
It wasn't until the game ended that the sheer scale of their accomplishment set in.
The entire team skated to center ice, faces aglow, and raised their sticks to the crowd in a rare recognition of what will surely become an unexpected source of pride for the team, the fans and the city itself.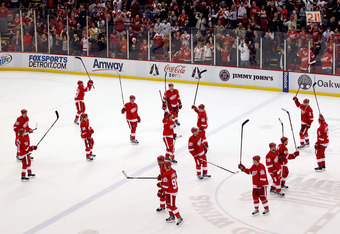 Gregory Shamus/Getty Images
No one sets out to set the NHL record for home wins, but damn if it doesn't feel good when you do it.
What does this have to do with the NHL trade deadline?
Well, thinking back to the things Mike Babcock said to his team during training camp, while setting records wasn't among them, consistent effort and team cohesion certainly were.
This roster, at least on paper, certainly looked good, but not nearly as impressive as that of Red Wings teams past.
If this team was going to make some noise in their own division, let alone the league, it was going to take unexpected contributions from guys on the southern end of the depth-chart, solid goal-tending and star players playing up to that billing.
58 games into the season, the Red Wings have all of this in spades.
They have this because they've found a level of consistency and team cohesion some teams take years trying to develop and still never find.
To a man, this team believes in each other, they believe in their system, they believe in their coach and they believe they can win a Stanley Cup.
Winning 21-straight games at home doesn't happen by accident and it isn't something that can be ignored when considering the chemistry and cohesion of a team.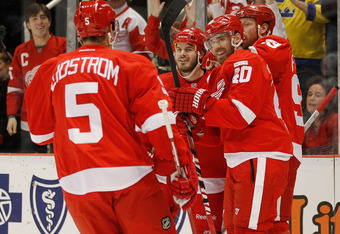 Gregory Shamus/Getty Images
This Red Wings team isn't a collection of 20-odd men, it is a single, massive organism uniquely designed to win hockey games.
Cutting a piece of that organism off in order to replace it with something that might make it better doesn't make a lot of sense.
There are bound to be trade rumors flying around with greater intensity and frequency over the next two weeks, some of them are sure to involve the Detroit Red Wings.
But this team just proved to themselves, their GM and the rest of the league that the old adage that suggests trying to fix something that clearly is not broken is a fool's errand is no more true than in Detroit.
Follow Matt on Twitter: http://twitter.com/MAhutter12