NHL 2012: 10 Best Goaltenders in the League Right Now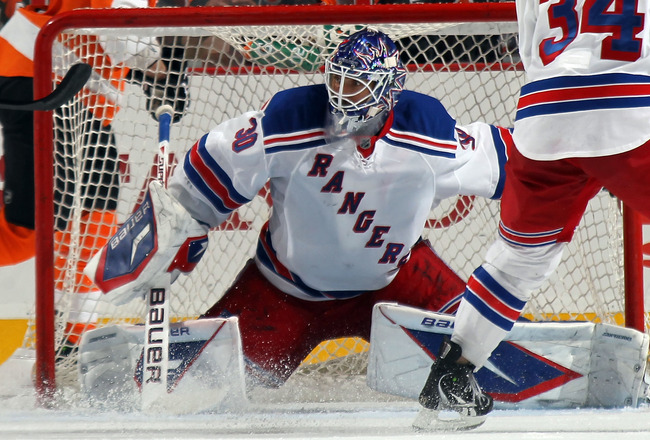 Bruce Bennett/Getty Images
In today's era of the National Hockey League, when scoring is promoted above anything else, goaltending is more important than ever. Teams without dependable goalies are rarely near the top of their respective conferences, but a team with an elite netminder often gets to raise Lord Stanley's Cup.
A few of the guys on this list are big names and no-brainers, but others are not household names. Here are the top 10 most dependable goalies in the league right now, guys that can single-handedly carry a team.
10. Tuukka Rask, Boston Bruins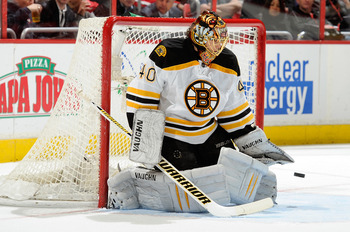 Greg Fiume/Getty Images
The Boston Bruins are in a position that most teams would die to be in. They have two great goalies and have the enviable choice of starting Tuukka Rask off the bench. Widely considered Boston's goaltender of the future, Rask ranks fifth in the league with a 2.01 Goals Against Average (GAA) and fourth in save percentage at .932.
While these stats would be superb on most teams, Rask hasn't even started the most games for his own team. Boston will be just fine with this guy moving forward.
9. Antti Niemi, San Jose Sharks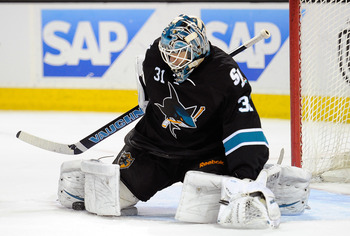 Thearon W. Henderson/Getty Images
In somewhat of a down year by his standards, San Jose's Antti Niemi ranks 13th in GAA at 2.34, but is in a tie for ninth with 23 wins. However, much of Niemi's excellence lies in the plays he makes on a regular basis.
Niemi has made some excellent saves this year and is a guy that San Jose has come to rely on. Without Niemi in net, San Jose would undoubtedly not be sitting atop the Pacific Division.
8. Pekka Rinne, Nashville Predators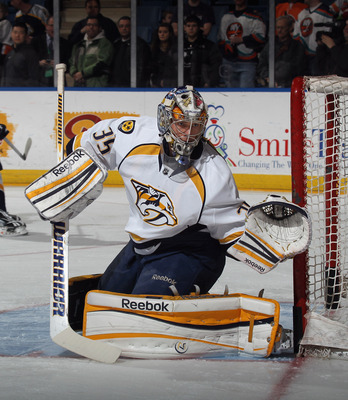 Bruce Bennett/Getty Images
After breaking out in a big way last season, 29-year-old Finnish product Pekka Rinne is perhaps the largest reason for Nashville's sustained success. With a 30-12-6 record this season, Rinne also boasts a .924 save percentage, good for eighth in the league. Nashville has gone from projected sellers to probable buyers at the trade deadline, and much of that can be attributed to their netminder Pekka Rinne.
7. Corey Schneider, Vancouver Canucks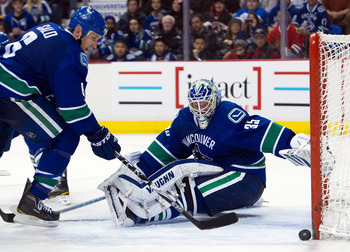 Rich Lam/Getty Images
The second player on this list who currently sits in second on his team's depth chart, Corey Schneider is perhaps in an unfortunate position due to starter Roberto Luongo's huge contract. A would-be starter on most other teams, Schneider has posted a 12-5 record with a .927 save percentage (sixth in the league) in his 21 appearances.
Maybe Schneider will get a starting chance somewhere else soon because Luongo won't be an attractive option with his hefty paycheck, despite the buyout option after this season.
6. Jaroslav Halak, St. Louis Blues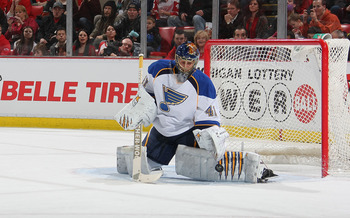 Dave Sandford/Getty Images
Despite being his team's starter and ranking fourth in the league with a 1.97 GAA, Halak doesn't even have the top GAA or save percentage on the St. Louis Blues. The Blues are the team with perhaps the best possible scenario in net because no matter who they start, they should expect a sterling performance. Each keeps the other rested, and Halak has been on the top of his game this season.
5. Jimmy Howard, Detroit Red Wings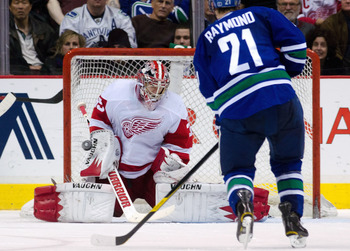 Rich Lam/Getty Images
The Detroit Red Wings won their NHL record-setting 21st straight home game on Tuesday night against Dallas, and a large part of that has been their starting goalie, Jimmy Howard.
Although Howard wasn't in net for the record-setting win, his 32-11-1 record and 2.03 GAA speak for itself. The 27-year-old former star at the University of Maine has been a stalwart in net for Detroit and will continue to be a huge part of Detroit's Cup run this season.
4. Tim Thomas, Boston Bruins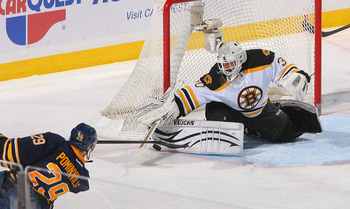 Rick Stewart/Getty Images
Despite what you may think of his political views, Tim Thomas' dominance on the ice in unquestionable. The 37-year-old Bruin may be getting up there in age, but it doesn't show in his play. Night in and night out, Thomas makes spectacular save after spectacular save and always gives the audience its money's worth. Teamed up with Tuukka Rask, Boston definitely has no problems in net.
3. Brian Elliott, St. Louis Blues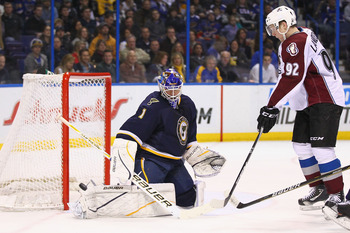 Dilip Vishwanat/Getty Images
Brian Elliott is having one of the best seasons of any goaltender in the NHL this year but surprisingly isn't even his own team's starting goalie.
Behind Jaroslav Halak on St. Louis' depth chart, Elliott is tops in the NHL 1.61 GAA and .939 save percentage. As mind-blowing as that may be, the rotation is currently working, as St. Louis is in fourth in the Western Conference and only five points behind the top-seeded Red Wings.
Brian Elliott is the real deal.
2. Jonathan Quick, Los Angeles Kings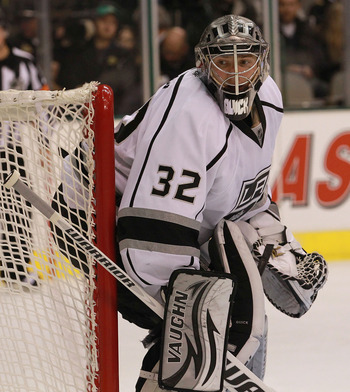 Ronald Martinez/Getty Images
The Los Angeles Kings' Jonathan Quick is not a guy that immediately comes to the casual hockey fan's mind when naming the NHL's top goaltenders. But household name or not, Quick has been one of the best goalies this season, as seen by his .934 save percentage and 1.91 GAA, both third in the NHL.
Often left out of the conversation due to his location on the west coast, Quick has LA in the playoff picture and has made a name for himself rather Quick-ly.
1. Henrik Lunqvist, New York Rangers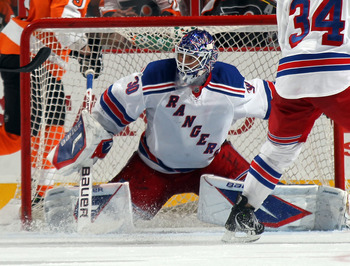 Bruce Bennett/Getty Images
The New York fans have affectionately dubbed their goalie Henrik Lundqvist "King Henrik", and rightfully so.
Lundqvist is the best goaltender in the league at this point and he has his team sitting in first place in the Eastern Conference with 79 points. His .939 save percentage leads the league and his 1.81 GAA is second to only St. Louis' Brian Elliott, who has played 15 less games than Lundqvist.
New York has ridden their goalie this far and will surely continue to lean on him in search of their first Stanley Cup since 1994. They don't get much better than Hank.
Keep Reading