Rafael Nadal: How Many More Dominant Seasons Does His Body Have Left in It?
February 14, 2012

Clive Brunskill/Getty Images
Going into the 2012 Australian Open, plenty of mystery shrouded second-ranked Rafael Nadal.
What would he have to do in order to beat a player (Novak Djokovic) who simply dominated him throughout 2011? Would his body be healthy enough, or would a minor knee injury hold him back? Would Melbourne be a huge first step towards regaining the No. 1 spot that he had enjoyed for so long?
Although Rafa failed to emerge victorious from Down Under, he was able to show the tennis world that he still has what it takes to remain among the top players, by taking down long-time rival Roger Federer in the semis, and putting on quite a fight against Djokovic in that historic marathon of a final.
The question remains, though, whether or not he will ever be able to get back to the way he was before Djoker's breakout in 2011. While Rafa will almost definitely win at least a few more Grand Slams, achieving the dominance that he exhibited during his reign at number one will be an incredibly difficult task for the Spaniard.
As hard as it will be, it's not something that is completely out of reach. The first step would obviously be to beat Djokvoic in a big match.
Nadal's last victory over the Serb was all the way back in December of 2010. Since then, Djokovic has undoubtedly been the superior player, beating his rival in seven straight matches. If Rafa hopes to once again take command of the ATP tour, he will need to start with a win over the current No. 1.
His best chance will come at Roland Garros this May. For a long time now, Nadal has been the king of the clay surface, with a whopping six French Open titles since 2005. Assuming the rankings remain the same between now and then, Rafa and Djokovic will very likely meet once again in the final, which would be a must-win for the Spaniard.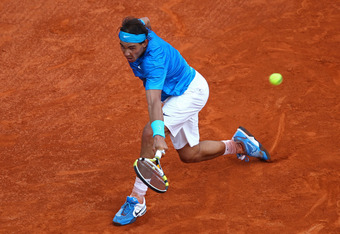 Clive Brunskill/Getty Images
Once again, this won't be an easy task, considering the fact that Djokovic did beat him in two clay finals last year (Rome and Madrid). If he does pull off the win, though, it will certainly be a step in the right direction.
If all of this occurs in May, Nadal may just have the momentum he needs to win one, or even both, of the remaining 2012 Slams. In, he would be back to his previous success, and we could expect a few more dominant seasons from him.
Now, let's take a look at the alternative. Djokovic definitely has what it takes to win the 2012 French Open, consequently completing the Career Slam for him, and clinching the non-calendar Grand Slam. In this situation, Djoker will be near impossible to stop in the following months.
This would inevitably cause Rafa's mental game to deteriorate, with little (if any) confidence going into each of their encounters.
If things play out this way, it is not likely that we will see much more from Nadal. A few more Grand Slam titles could still be coming his way, but if he doesn't find a solution to the Djokovic problem soon, his days as a dominant figure in tennis will begin to slip away.