10 of the Worst Sucker Punches in NHL History (Video)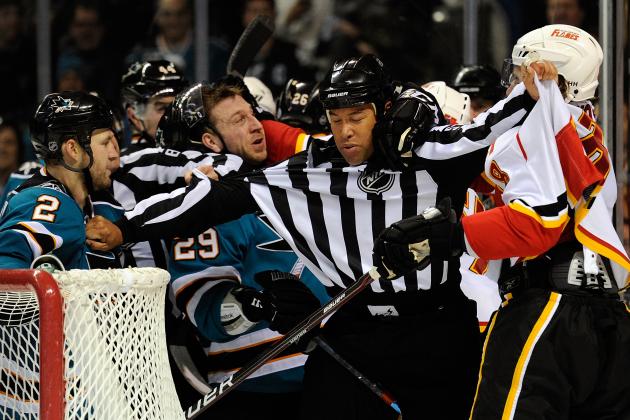 Thearon W. Henderson/Getty Images

Throughout the NHL's great history, there have been cheap shots handed out. Some were handled on the ice later in the game, while others caused enough damage that the victim was never the same.
What follows are videos of 10 of the worst sucker punches in the history of the league. Obviously there have been many, many sucker punches in the game's history. Unfortunately, video isn't available of all of them. But these are 10 of the the worst.
We do have to warn readers/viewers that some of the images that follow can be considered graphic in nature, and you should continue reading/viewing with the understanding that some of these clips are intended for mature audiences of hockey fans.
Begin Slideshow

»
Apparently Scott Nichol didn't appreciate getting run into the net. His response? Socking Jaro Spacek in the side of the head. Even pre-Brendan Shanahan, this got a call from the commissioner's office.
Two of the bigger names in the game get into a little kumbaya session against the boards. What's surprising is that Tampa's captain clearly throws a questionable shot into the face of Evgeni Malkin while the players are being restrained.
This is a classic case of "look over there—smack" as Staal introduces his fist to the side of an unsuspecting player's head. Unfortunately, cheap shots like this are what plagues the game today.
The now-retired Owen Nolan gets a good head start (pun intended?) and delivers a knockout blow here. As an aside, was anyone else surprised to find out that Nolan hadn't retired five years ago?
The color commentator in this clip nails it on the head (pun intended, again). If you're going to run somebody, and there's an enforcer on the ice like Walker, you have to keep your head up and know where Walker is at all times. Obviously that advice was news to at least one skater.
It doesn't matter that two players are clearly engaged here, now-Canucks head coach Alain Vigneault decides the mature way to finish a fight he isn't a part of is to sucker punch Al Secord in the side of the head. At least in this situation, the cheap-shot artist got appropriate return on his fist's investment.
Now the coach in Washington, Hunter was never one to shy away from contact. Indeed, Hunter may have been allergic to legal hitting. This is an example of how Hunter aimed high and didn't think twice about consequences.
Don't worry. Hunter will be back again in the list.
The hit was brutal, but what followed was classless. Gillies attacks Eric Tangradi, who is clearly out cold, and then taunts him after throwing a number of punches at a defenseless player.
There are still goons getting paid to play in the NHL, but thankfully Gillies isn't one of them.
One of the most infamous sucker punches in the history of the game, Hunter decided to take out his frustration on the back of Pierre Turgeon's head. This attack may be what Hunter's career is remembered for most, which is unfortunate because there was more to him that just cheap shots.
Fans in Denver (and other cities) still refer to this incident on a regular basis. This is one of the ugliest moments in NHL history, and Steve Moore was never the same.