Winnipeg Jets Find Scoring Touch but Can't Beat Pittsburgh Penguins
February 11, 2012

Justin K. Aller/Getty Images
The Winnipeg Jets were off to a remarkable start this afternoon in Pittsburgh as they got off to an early 2-0 lead just eight minutes into the game. Unfortunately, that lead didn't last too long.
The Penguins scored four unanswered goals and completely took over the game en route to an 8-5 win.
A goal-plagued Jets team finally struck gold and managed to fetch high-percentage scoring chances, scoring five goals to boot.
For the Jets, a five-goal game should be enough to win—especially at a time when goals come at a premium—but today it wasn't even close.
The Penguins took advantage of mishaps by the defense and an uncommonly shaky performance by Ondrej Pavelec. Pavelec was far from rare form today—which is rare in itself.
It was likely Pavelec's worst game this season, but Claude Noel didn't show any love for the team MVP.
Pavelec was kept in the game for all eight goals for what now appears to be a head-scratching decision by Noel.
But as is often the case, it wasn't all Pavelec's fault.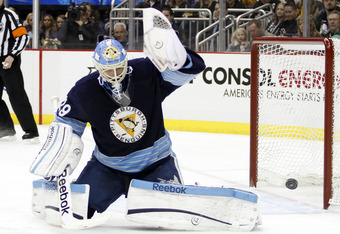 Justin K. Aller/Getty Images
Dustin Byfuglien's fluctuant play had him exposed often as an offensive-pinching defenseman, which allowed the Penguins to take advantage of multiple odd-man rushes, including a few which resulted in goals.
Byfuglien scored once and assisted on a goal, but it was far from enough to make up for his lackluster defensive effort.
Evgeni Malkin tied his career high for points in a game with five, and the Jets had no answer for him or the rest of the Penguin forwards.
The Jets scored enough to win, but yielded enough to lose. I have to wonder how different it would have been if Pavelec was pulled earlier in the contest.
Putting Chris Mason in relief of Pavelec could have certainly changed the outcome of the game.
Instead, Pavelec's confidence could be shattered and Noel leaves Pittsburgh with more questions than answers.
Blake Wheeler had two assists, giving him a team-high 38 points on the season.
Jets forwards Kyle Wellwood and Tim Stapleton both scored goals in their returns to the lineup.
Eric Fehr was a healthy scratch for the Jets.