NHL Trade Rumors: Jeff Carter and Stars Sure to Stay Put
February 8, 2012

John Grieshop/Getty Images
I'm designating February as "NHL Rumors" month.
Until the trade deadline on February 27th, you'll hear enough rumors of players coming and going to fill a pond with. 
But which stars being rumored as trade bait are more likely to stay put?
Jeff Carter, Columbus Blue Jackets
Poor Jeff Carter hasn't enjoyed his time in Columbus after being traded to the Blue Jackets from the Philadelphia Flyers in the offseason. It's reached a point where he's made it known that he wants to be traded once again. The only problem is Carter's reputation is scaring teams away.
From Elliotte Friedman at CBC.ca:
Had a good email conversation last week with one of Jeff Carter's defenders. He pointed out that Carter is still very hurt by how he feels the Flyers misled him, and this is still a 40-goal talent. Totally fair; being traded can be devastating for a young player. But, there comes a point where you have to say, "All right. It happened and now I've got to move on." Carter's rep is taking a huge hit. At least one team has backed off because of what they're hearing. If he wants to leave Columbus, he's got to give other teams an incentive to take that 10-year commitment.
Oh yeah, that's the other thing that will make Carter difficult to move—he's signed to a huge and very long contract. You might want to get used to Ohio, Jeff.
Tuomo Ruutu, Carolina Hurricanes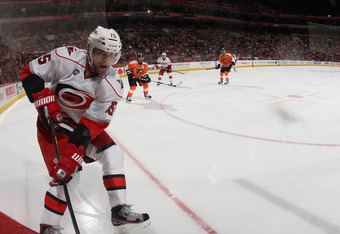 Bruce Bennett/Getty Images
Ruutu has been a popular name on the market, mostly because he's an unrestricted free agent after the season and Hurricanes general manager Jim Rutherford isn't the sort of fellow who negotiates new contracts during the season.
Then again, as Chip Alexander at NewsObserver.com found out, Ruutu may be sticking around:
"I want to talk to him about where he's at, this season and in the future," Rutherford said. "We'll talk about that and see where it goes. We're closing in on the (NHL) trade deadline, so we need to make a decision.

"I've had casual conversations with his agent the past month or so. The next step is to meet with (Ruutu) and make a decision on what direction would be the best for everyone."
I think Rutherford will genuinely try to keep Ruutu around. He broke precedent by re-signing Tim Gleason this season, after all.
It could be a ploy to drive Ruutu's price up, of course. But given his talent and the signing of Gleason, it seems more likely Mr. Ruutu isn't leaving Carolina come the deadline.
Ryan Suter, Nashville Predators
I would direct you to the Elliotte Friedman article listed above again for why Nashville should hold onto both Suter and Shea Weber come the deadline:
They've paid Rinne. They're going to throw money at Suter and Weber. Adding an offensive piece or two -- even if it costs you prime prospects -- puts the onus on the players.

"Alright," GM David Poile can say, "We're loading up. We're going to do what you've asked. Now you've got to deliver. No more excuses."
Nashville is built to win now and should actually be buyers at the deadline, not sellers. If they don't win the Stanley Cup this year, well, that's the price of contending for championships sometimes. Just ask the 2010 Chicago Blackhawks, who—as Friedman notes—knew they would have to gut their team but went for broke and won the Stanley Cup anyway.
And if they do win or come close, Suter and Shea Weber will suddenly be in the position of either taking slight hometown discounts because they want to win, or leaving solely for the money. At that point, Nashville can at least tell the fans, "Hey, we tried to win. We tried to surround these guys with talent, but they were only interested in money."
I say Nashville keeps them and takes their chances this year. And who could blame them if they go for broke?
Hit me up on Twitter—my tweets never accidentally fall over the goal line.

Read more here: http://blogs.newsobserver.com/cane/rutherford-ruutu-to-meet-discuss-future#storylink=cpy