Gordie Howe: Mr. Hockey's Battle with Dementia Is Raising Awareness for Disease
February 2, 2012

Bruce Bennett/Getty Images
UPDATE: Since the time this article was published, there have been conflicting reports on whether Gordie Howe has dementia or not. The Detroit Free Press tweeted on Thursday that Mr. Hockey does not have dementia.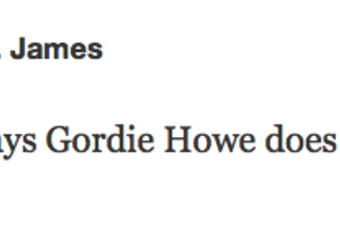 Gordie Howe, Mr. Hockey, is battling a medical condition called dementia, but despite the hardships it causes, he still has the same personality his fans and family love.
His son Marty recently told USA Today about his father's battle with dementia:
"For people who are dealing with this, you have to have a sense of humor," he said. "Nobody wants to see their family members go through this. It gets harder. Towards the end, it's really no quality of life whatsoever. Pretty depressing, but you have to find the humor in some of it. Otherwise, it will kill you, too."

Marty and Murray are just grateful the dementia hasn't changed their father's personality or attitude so far.

"We're enjoying the times we have now," Marty said.
Since Colleen Howe, Gordie's wife, died from dementia in 2009, the Howe family has made appearances at several hockey tournaments to raise funds for the Colleen Howe Fund for Alzheimer's. Thus far, over $16 million has been raised for the cause.
For those who are unfamiliar with dementia, according to WebMD:
[Dementia is] the loss of mental functions -- such as thinking, memory, and reasoning -- that is severe enough to interfere with a person's daily functioning. Dementia is not a disease itself, but rather a group of symptoms that are caused by various diseases or conditions. Symptoms can also include changes in personality, mood, and behavior.
Alzheimer's disease affects an estimated 5.1 million Americans, and is the No. 1 cause of dementia, which affects about four to five million people in the United States. Not only does dementia affect many people throughout the world, it can an issue with hockey players given the physical nature of the sport and the head injuries like concussions that are a result of physical play.
Concussions were not recorded when Howe played professional hockey and that is one reason the family is not willing to make the connection to Gordie's condition with the affects on the brain we now know concussions have.
However, with the amount of concussions in the NHL over the last few seasons and the deaths of former players this past summer, mental health is at the forefront of the sport. Not only is the health of the players a concern while they're playing, their well-being after they retire from hockey is just as, or even more important.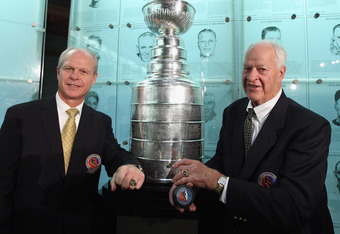 Bruce Bennett/Getty Images
The Howe family is doing a great thing for hockey in raising awareness for this medical condition, because if today's hockey players aren't treated with the utmost medical care when there's even a small chance they may have a head injury, they could be at risk for having mental issues later in life such as Alzheimer's and dementia.
By making his battle with dementia public, hopefully some significant process in finding the best ways to treat, and maybe even cure Alzheimer's will come to fruition.
On Thursday, Howe will be at a Vancouver Canucks game to promote a Scotiabank Pro-Am hockey tournament that will take place in British Columbia in 2012.
Despite battling dementia, Howe is still making appearances and helping raise the level of awareness for the condition. His support for this cause resembles the strength and courage he showed during his amazing hockey career.
At 83 years old, Gordie Howe is still one of the most popular figures in hockey, and even though his playing career ended many years ago, he is still making a profound and positive impact on the sport.