2012 NHL All-Star Game: How Alex Ovechkin Cheated the Hockey World
January 30, 2012

Justin K. Aller/Getty Images
The NHL put on a perfect All-Star event yet again this past weekend in Ottawa. The changes the NHL has made to its All-Star Weekend in recent years, most notably the Fantasy Draft and new or altered events in the Skills Competition, have added new life to a once-stale formula.
The new and improved All-Star festivities have been so successful that no one noticed one of the game's brightest stars opted out of the game—some may say rather childishly. Alexander Ovechkin—"Alexander the Great", "The Great 8", "Ovi", whatever you want to call him—decided he was bigger than the game this weekend.
Why didn't we see one of the league's biggest superstars in Ottawa?
Ovechkin's Washington Capitals were in action a week ago facing their biggest rival, the Pittsburgh Penguins. In the second period Ovechkin launched himself into Pittsburgh defenseman Zbynek Michalek along the end boards. Ovechkin appeared to make contact with Michalek's head, which then caromed off the glass.
Ovechkin was suspended three games for the hit by the NHL's primary disciplinarian Brendan Shanahan, mainly because Ovechkin left his feet prior to making contact with Michalek's head. Ovechkin argues he was not penalized for the hit nor was Michalek injured on the play (neither stipulation is a primary classification for a hit to be deemed a violation by the NHL, mind you).
Needless to say, Ovechkin was not in agreement with Shanahan's assessment, and he took out his frustrations, indirectly, on the fans.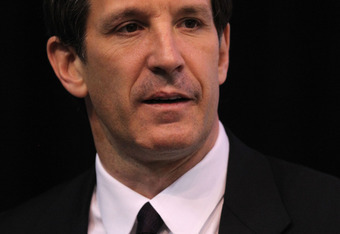 Bruce Bennett/Getty Images
Last week Ovechkin told Katie Carrera of the Washington Post, "My heart is not there. I got suspended, so why I have to go there?" He continued, "I don't want to be a target. I feel I'm not deserving to be there right now. I got suspended; I have to be suspended, so that's why I give up my roster [spot]."
Well, Alex, you got one part right. You didn't deserve to be there, but not because you got suspended. You didn't deserve to be there because you haven't played like an All-Star to this point of the season. NHL suspensions have no effect on All-Star Game eligibility.
Ovechkin clearly doesn't feel he earned the suspension that Brendan Shanahan handed down just prior to the All-Star break. He's a competitor, he plays a physical style, and he wants to contribute and help his team. He was angry with the suspension. Anyone with a competitive fire can relate to that.
The Capitals' captain, however, still collects a paycheck. Those paychecks not only come from the team that employs him, but from the sponsors that shower him in free swag thanks to the league that puts him on a marketing pedestal. All are things made possible by—you guessed it—the fans.
No matter what the sport, the All-Star game is always a time for the fans to enjoy the best and the brightest stars of the game they love all in one place at one time. When one player decides he is bigger than the game, he insults the league, he insults his fellow colleagues, but most of all he insults the fans.
Dallas Stars forward Jamie Benn was so honored to be named among the elite group of players chosen to participate that he made the trip to Ottawa despite undergoing an emergency appendectomy just a few short weeks ago. Ovechkin, on the other hand, apparently felt his personal grudge with Brendan Shanahan was more important than that honor.
Good riddance, Alex.
I'll be the first to admit that Ovechkin was hardly missed during the four day All-Star event. There were certainly plenty of characters in attendance—Carey Price, Patrick Kane, and Scott Hartnell, just to name a few—that more than made up for Ovi's absence.
I for one am glad Ovechkin chose to opt out of the game; I just feel bad for Capitals fans. They were the ones who were cheated this weekend, not Ovechkin or the NHL. Caps fans missed out on seeing their star compete with the very best players in the world, and now they can't watch him over the next two games either.
The NHL's second-biggest superstar cheated the very league, and its fans, that make it possible for him to do what he does every night. After seeing other NHL stars shine last night, I think it's safe to say we'll all get over it much sooner than Ovechkin himself.